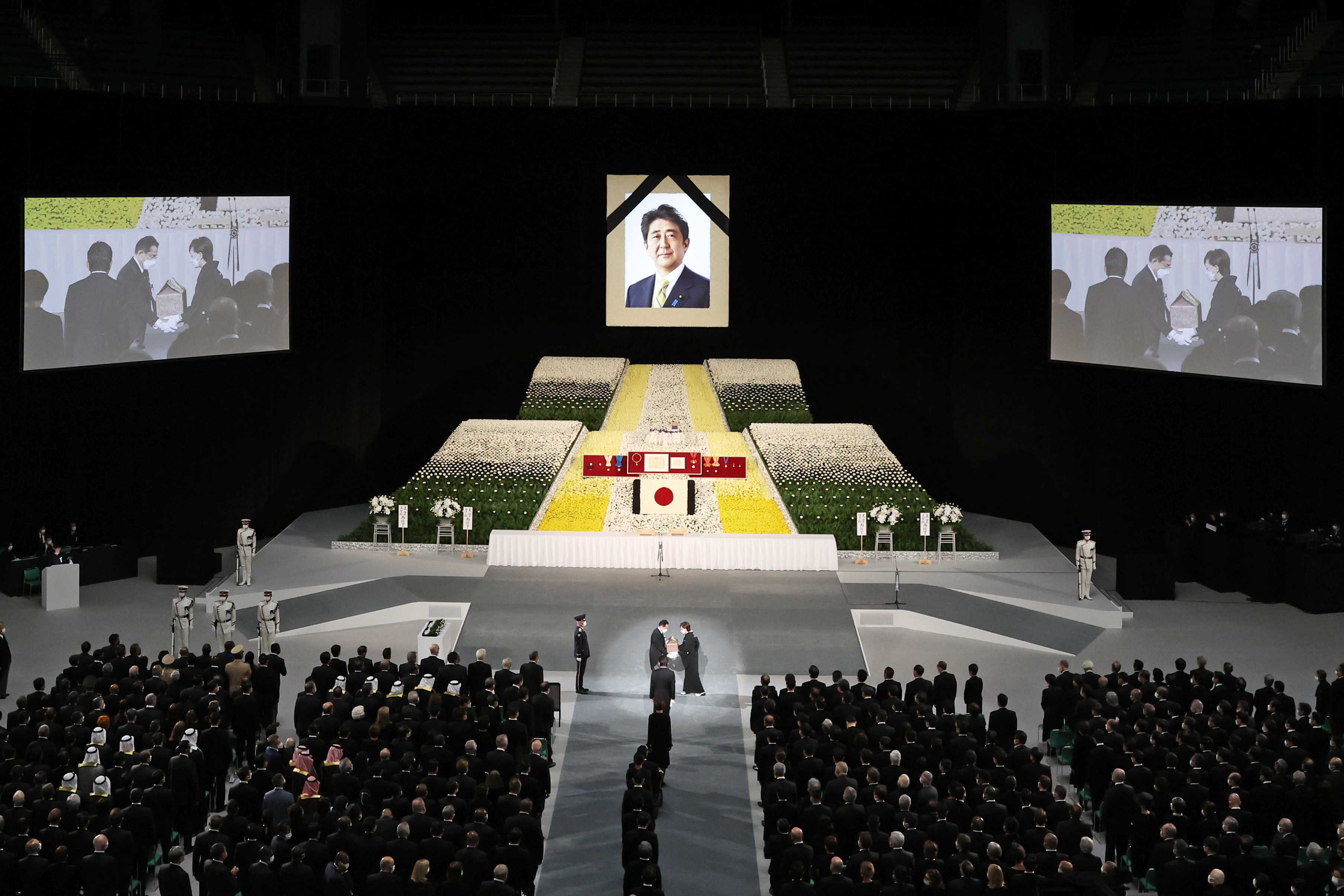 Zuma Press Wire / Kyodo News Images
Shinzo Abe's Contribution to Peace, Security, and Global Health
October 4, 2022
R-2022-051
Former Prime Minister Shinzo Abe was a global champion of providing "health for all" who emphasized that universal health coverage was indispensable to the achievement of global peace and security.
* * *
On July 8, 2022, Shinzo Abe, the longest-serving prime minister in Japan's constitutional history, was shot and killed during a campaign speech. As a politician, Abe had many accomplishments, with the promotion of global health being among the most prominent ones.
As in many countries, health care and social welfare, which directly affect people's daily lives, constitute an important political issue in Japan. Abe himself had long worked to solve the problems of Japan's health and social welfare system. Japan currently enjoys the longest life expectancy in the world, and one of the most notable features of its health care system is universal health insurance.
Established some 60 years ago, Japan's system of universal health insurance guarantees equal and affordable access to medical care for all residents of Japan. Of course, there are many causes for concern, such as the sustainability of financial resources for medical and social welfare costs due to the aging population and the increased cost of medical care.
Nonetheless, the fairness of access to medical care without disparities is commendable and has contributed significantly to Japan's thrust toward a "longevity society" that takes advantage of people living longer through changing how humans age.
Perhaps because he was proud of the fairness of Japan's health care system and well aware of its significant contribution to people's health and longevity, Abe had been actively involved in health issues not only in Japan but also globally during his tenure as prime minister and had consistently emphasized the importance of "health for all."
Commitment to Global Health
In 2013, the year after Abe became prime minister, he wrote an article for The Lancet, one of the most prestigious medical journals. At the time, the impact of growing socioeconomic disparities on health was an increasingly urgent issue, and Universal Health Coverage (UHC), which aims to ensure that everyone has access to health care without disparity and that access to such care does not lead to poverty, had started to gain global attention. In his 2013 The Lancet article, Abe emphasized the importance of UHC and expressed his determination for Japan to lead UHC.
Abe's commitment to global health was further demonstrated during the 2013–14 Ebola epidemic in West Africa. Abe advocated, on various occasions, for the importance of global health that encompasses appropriate preparedness for and response to public health emergencies. He also highlighted the importance of a resilient health system that can contribute to crisis response and the need to achieve UHC as an umbrella framework for both better crisis management and a resilient health system. In 2015, in a rare move by any world leader, Abe again contributed to The Lancet, stating that health is inseparable from achieving human security and that solidarity among countries is necessary to achieving people's health.
In the same year, he launched Japan's new Global Health Strategy, entitled "Basic Policies for Peace and Health," which reiterated that the world must unite to tackle health challenges for a peaceful and healthier world, and that Japan would contribute to this area in anticipation of the G7 Ise-Shima Summit scheduled to be held the following year. Indeed, the G7 Ise-Shima Summit in 2016, over which Japan presided, also addressed health issues, particularly the importance of UHC.
Subsequently, in December 2016, Japan hosted a high-level meeting on UHC in Tokyo, and in 2019, the G20 Summit again addressed UHC as a major agenda item. In September 2019, Abe delivered a speech at the UN High-Level Meeting on UHC held at the United Nations General Assembly, where he repeatedly stressed the importance of UHC. Abe was unequivocally a global champion of UHC. It is a great achievement for the global health community that a world leader such as Abe would emphasize the importance of health, especially fair health care without disparities, and its inseparability from peace and security as being directly related to human security. Although global health indicators have been deteriorating owing to the impact of the COVID-19 pandemic since the end of 2019, the importance of UHC's basic principles of providing equal access to basic services and financial protection has not wavered but has rather grown in importance.
Sowing Many Seeds
Abe's contributions to global health are not limited to the G7, G20, and UN agencies. In recent years, Abe proposed the concept of a free and open Indo-Pacific region and advocated the Quad as an important framework. While its primary role is to ensure regional security, the Quad has also played an active role in global health, such as providing vaccines to the region during the COVID-19 pandemic.
The Quad Summit was held in June of this year, and discussions have continued in health-related working groups. Their scope has expanded from the provision of vaccines to various other initiatives in the fight against infectious diseases, such as strengthening the intelligence function of health security within the region and advancing the research and development of novel medical countermeasures. Expectations are high for the future role of the Quad in the area of global health.
Abe's shocking death was followed by a worldwide outpouring of condolences. Many praised him for his contributions to global health, particularly in the promotion of UHC. It was also a moment when his longstanding contributions to world peace and health were recognized.
At his funeral, his wife Akie said, "My husband has planted many seeds as a politician. I am sure that they will sprout from now on." One of the seeds he had sown is undoubtedly the promotion of global health through the achievement of UHC worldwide, which will lead to a peaceful society where everyone can enjoy good health.
Next year, Japan will again hold the G7 Presidency, and the UN High-Level Meeting on UHC, where Abe once gave a speech, will be held again. The unstable global situation today represents a threat to the realization of a society where everyone can enjoy health care as a matter of course. We need to continue to nurture the seeds he had planted—at the G7 next year, the UN High-level Meeting on UHC, and beyond.