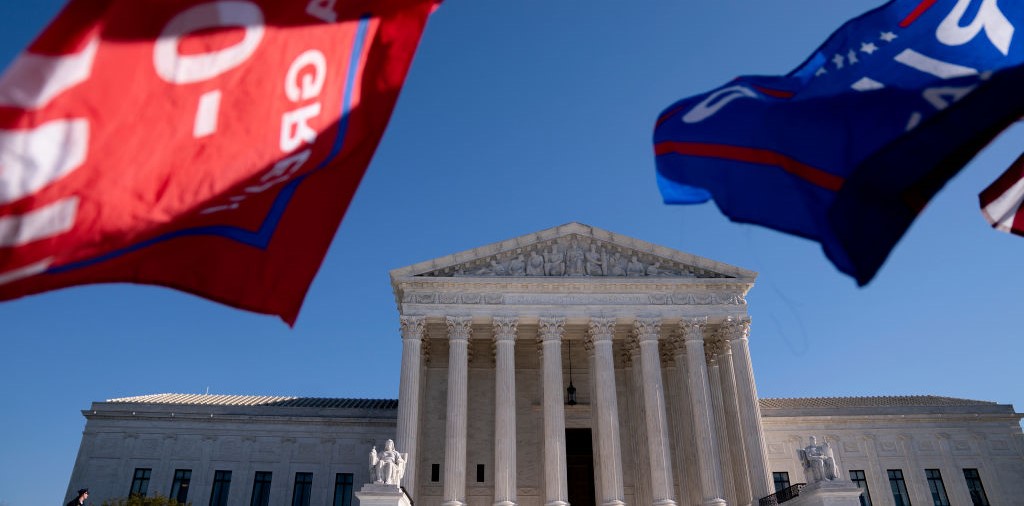 ©Stefani Reynolds / Getty Images News
Trump 2024?
December 14, 2020
A new, pro-Trump populist political party, Paul Saunders writes, would guarantee the outgoing president the unquestioning support that he wants while ensuring that he and trusted allies would control such a party's fundraising, spending, and other activities.
* * *
For some time, many have looked forward to President Donald Trump's defeat in the 2020 elections as the end of an aberrant period in American politics. Since the election, however, it is increasingly evident that Trump's loss is far from the end of an era; on the contrary, the 2020 presidential election cycle might prove merely to be the end of the first phase in a longer period of political and electoral turbulence. If so, Trump's twenty-first century American populism might be its engine.
A Trump 2024 Campaign Seems Likely
Many expect that Trump might announce plans to run again in the 2024 election cycle, possibly even around the time of President-elect Joe Biden's inauguration. There are several reasons that this seems likely.
First, such an announcement might appeal to President Trump as a way to attempt to continue to control the political narrative. This has two dimensions. One is that announcing his candidacy would provide the president with opportunities to undercut Biden's inauguration, to draw attention to himself and his election-related grievances, and to demonstrate to his supporters that he is continuing to fight. The other dimension relates to his pending legal and tax troubles; announcing a new presidential campaign would help him to frame any charges or claims as politically motivated.
Second, announcing another presidential run could allow Mr. Trump to leverage the campaign to bolster his businesses and/or to launch new ventures. Trump's existing businesses reportedly face substantial looming debts, while some sources claim that the outgoing president wants to create a new digital media company to challenge Fox News. A presidential campaign could help to attract investment, especially to a new media project. And a digital media property built around Trump could in turn aid a new presidential campaign, if he wants to start one.
Finally, there is big money in American politics. Trump's presidential campaign has raised $495 million since mid-October, including over $170 million since the election. Campaign funds could buy advertising from a new media company, creating yet another synergy among Trump's many potential activities.
Would Trump Run as a Republican?
Should Trump announce a new campaign, another interesting question arises. Would he run as a Republican?
Runoff elections for Georgia's two Senate seats illustrate the complex dynamics now operating in Republicans politics. President Trump and his supporters—perhaps most visibly the Atlanta attorney Lin Wood—have publicly challenged Georgia's vote-counting in the presidential election. State-level Republican elected officials, including the governor and secretary of state (who oversees elections, among other functions), have defended it. Senate Republicans want to win the two seats to secure a 52-48 majority and fear that undermining the electoral process will discourage Republican voters from participating in the January 5 balloting. As a result, Republican officeholders have faced growing pressure to defend the voting that Trump challenges.
There is a fundamental tension between Trump's die-hard supporters, who are prepared to pay almost any price in seeking to keep him in office, and career Republican politicians, who put the party's interests above Trump's personal aspirations. This reflects Trump's lukewarm commitment to the Republican Party as an institution, something visible during the 2016 election cycle and earlier. Since the 2020 election, President Trump has questioned the value of electing Republicans if they don't support him personally. Pro-Trump attorney Lin Wood has gone further, saying at a December 2 press conference, "maybe it's time to look beyond the Democrats and the Republicans. Maybe it's time for a party of the people."
A pro-Trump populist political party, separate from the Republican Party, seems like a plausible outcome—it would guarantee Mr. Trump the unquestioning support that he appears to want while ensuring that he and trusted allies would control such a party's fundraising, spending, and other activities. Needless to say, creating such a party would also divide Republicans. One key consideration in taking this path would be whether major political donors who have supported Trump as a Republican, and contributed to the GOP, would back a third party at the Republican Party's expense.
Would Trump Run to Win?
In assessing Trump's options, it is important to make a clear distinction between Trump's possible announcement that he is running for president again and his personal determination to compete and win in 2024. None of the factors that might make a 2024 campaign attractive actually require Trump to work seriously to win the Republican Party's nomination, to build a party that could subsume or defeat the GOP, or to fight hard to defeat the 2024 Democratic candidate. Moreover, deciding to campaign hard, or not, isn't an isolated one-time event; it is a continuous process. In 2016, Trump himself probably did not expect that he could win the election, much less become president, and his resolve hardened as his chances improved. His commitment to winning the 2024 election could rise and fall many times in the intervening years. And while Trump is a fighter, he could find many excuses for failing to see through a campaign to the end.
Whatever America's outgoing president decides to do, he maintains significant support among Republicans. According to a mid-November poll, over half of Republicans surveyed said that Trump "rightfully won" the election. About 28% of Americans said that they thought the election was "the result of illegal voting or election rigging." Twenty-eight percent support isn't enough to win a presidential election in America's two-party system, but it is more than enough to wield considerable political clout.