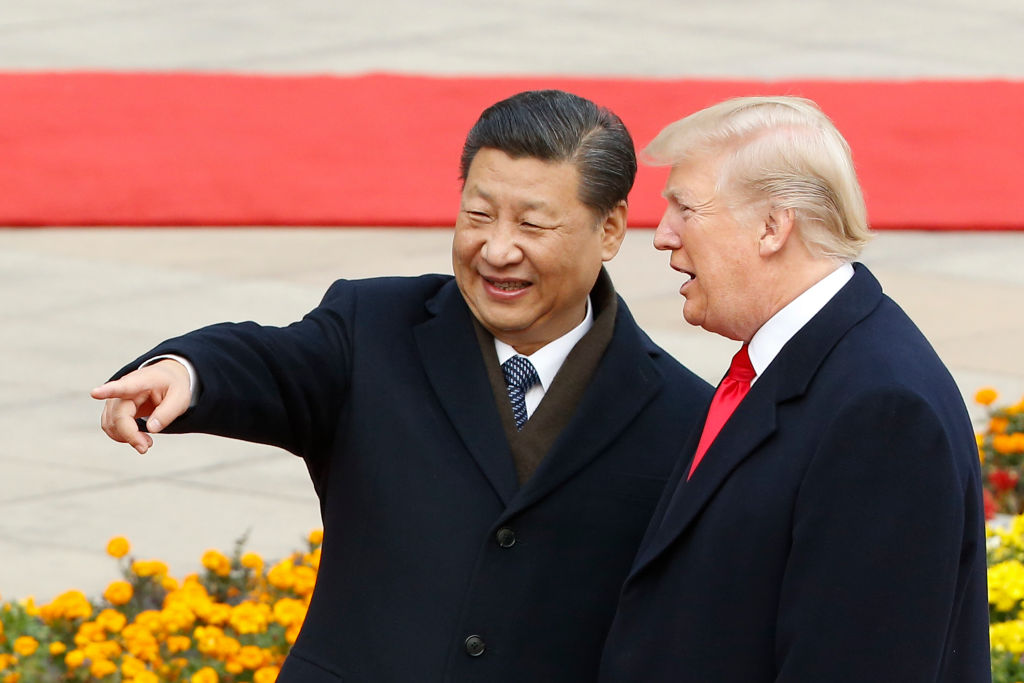 Chinese President Xi Jinping and US President Donald Trump attend a welcoming ceremony in Beijing in 2017. ©Thomas Peter-Pool / Getty Images
The November Elections Won't Solve Washington's China Problem
June 22, 2020
US-China tensions are unlikely to ease substantially regardless of the US presidential election outcome, notes Paul Saunders, especially as Congress and the Pentagon also appear intent on pressuring Beijing.
* * *
With US-China competition escalating and America's presidential election just over four months away, it might be an opportune time to assess the possible differences between the Donald Trump administration's policy toward China and a potential Joseph Biden administration's approach. There are many factors to consider in making this comparison, but two seem especially important: first, President Trump's and former Vice President Biden's records, and second, the roles of the Congress, the Department of Defense, and US elites in shaping policy toward China.
Trump's Statements and Policy
President Trump's signature China policy has been his trade confrontation with Beijing. During the 2016 presidential campaign, Trump described China's trade practices as "the greatest theft in the history of the world." After his election, he called for stronger tariff enforcement and other measures several days before his first meeting with Chinese President Xi Jinping, during which the two agreed to new trade talks. When the talks failed, Trump imposed escalating tariffs on various Chinese goods, launching a spiral of new tariffs and tariff threats.
During 2019, the two sides renewed talks while continuing to exchange economic threats, ultimately reaching a so-called "Phase 1" agreement to deescalate the conflict and to address some US concerns. More recently, Trump has expressed disappointment with the Phase 1 deal.
Trump's tone in statements about China and President Xi began as quite positive, apparently reflecting a desire to avoid alienating Beijing while pursuing the trade talks. Even in January 2020, he said that it had been "terrific working with President Xi" on the trade agreement in a Twitter post. This positive tone regularly provoked domestic criticism, such as when one House Democrat described Trump's reaction to Xi's indefinite extension of his presidency in 2018 as "the most un-American sentiment expressed by an American President."
Trump's tone has hardened as Washington and Beijing have exchanged accusations surrounding the COVID-19 pandemic, its origins, and their domestic and international efforts to combat it. In May, for example, Trump tweeted that China's official spokesman "speaks stupidly on behalf of China, trying desperately to deflect the pain and carnage their country spread throughout the world." "It all comes from the top," he added, in a clear personal attack on Xi. In excerpts from a forthcoming book, former National Security Advisor John Bolton writes that Trump's interactions with Xi appeared driven largely by efforts to use the trade dispute and its resolution to advance his re-election, without particular regard to US strategic goals.
As vice president, Biden supported President Barack Obama's policy toward China. That policy was generally consistent with Washington's post-Cold War efforts to engage China where possible and confront it when necessary, though the military component of the Obama administration's rebalancing policy often seemed weaker than its rhetoric. Welcoming US and Chinese officials to a Strategic and Economic Dialogue meeting in 2011, Biden recalled a trip he had taken to China in 1979 and stated that "I believed then what I believe now: that a rising China is a positive, positive development, not only for China but for America and the world writ large."
Nevertheless, US-China relations have clearly evolved over the last nine years; moreover, Biden is now running for president rather than serving as vice president. More recently, the former vice president said that "we should be calling the rest of the world to condemn" China's planned imposition of new national security rules on Hong Kong.
Biden's campaign website likewise suggests an intent to press China, especially on climate policy, stating that "Biden will not allow other nations, including China, to game the system by becoming destination economies for polluters" and that "Biden will rally a united front of nations to hold China accountable to high environmental standards in its Belt and Road Initiative infrastructure projects, so China can't outsource pollution to other countries." Biden's campaign surrogates have signaled their intent to attack Trump over "a colossal gap between tough talk and weak action" in his policy toward China.
Congress, the Department of Defense, and US Elites
While there are differences in President Trump's and former Vice President Biden's statements and their apparent priorities, their recent positions suggest that current US-China tensions are unlikely to ease substantially regardless of the US presidential election outcome. On top of this, the US Congress is increasingly preoccupied with China; a search of the official website finds that during the 116th Congress (from January 2019 to present), over 400 bills refer to China. In addition to defense, cyber-security, and similar measures, these include several efforts to impose sanctions on China, proposals to support US nuclear energy research, mining of critical minerals, and other steps aimed at economic competition and economic security, and resolutions condemning China's handling of COVID-19, its persecution of Christians, and the June 1989 Tiananmen Square crackdown. As with Trump's and Biden's statements, Democrats and Republicans may focus on different issues, but seem fairly united in their concern about China and its domestic and international behavior.
This bipartisanship is also apparent among former senior defense and foreign policy officials from Republican and Democratic administrations. Thus, while the portions of the Trump administration's 2017 National Security Strategy addressing trade and immigration were controversial, its attention to growing US competition with China (and Russia) was not. Similarly, the statement in the Department of Defense's 2018 National Defense Strategy that "inter-state strategic competition, not terrorism, is now the primary concern in US national security" has won broad support among America's national security and foreign policy elites. The National Defense Strategy—which forms the basis for US military planning—further states that "China is a strategic competitor using predatory economics to intimidate its neighbors while militarizing features in the South China Sea," language that implies a Chinese expansionist policy and requires a US response.
Though some remain hopeful that Washington and Beijing can manage their differences, this appears to be a minority view among the US establishment. Moreover, public opinion is aligned with elite concerns; in an April poll, 66% of Americans surveyed expressed unfavorable views of China, while 62% considered China's power and influence "a major threat." Republicans were more likely than Democrats to have unfavorable views of China, but even among Democrats, 62% had this perspective.
Taking all of this into account, America's November presidential election may be less important in determining whether or not US-China relations continue their downward trajectory than in shaping which issues become the new flashpoints between Washington and Beijing. Indeed, even if a re-elected President Trump or a new President Biden sought to deescalate tensions between the United States and China, America's next president would likely face considerable opposition in trying to do it. The bottom line is that the November presidential election won't solve Washington's China problem.