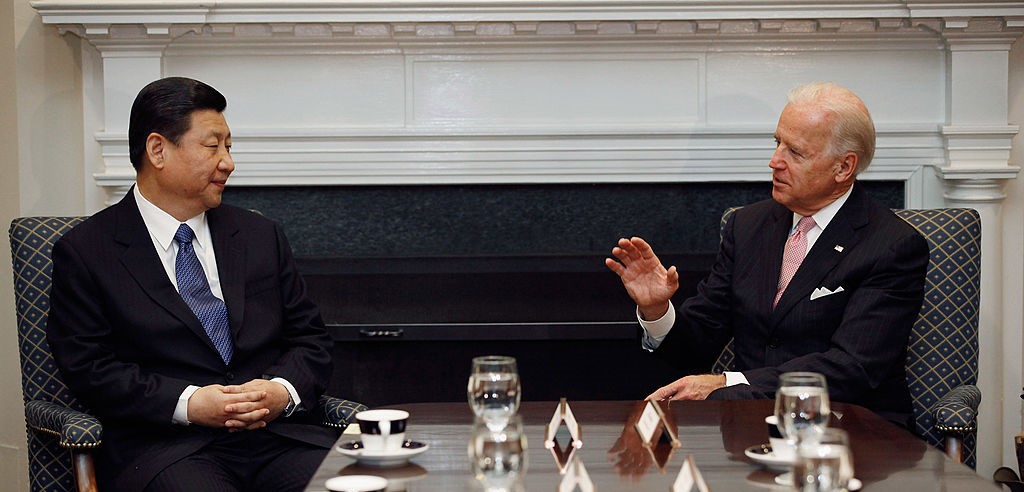 ©Chip Somodevilla / Getty Image News
China Seems Set to Drive US Asia Policy—But Where?
March 8, 2021
The Biden administration's stated aims in East Asia appear well-intentioned, but the complexity of competing with China while coordinating with allies will force difficult choices in such areas as trade, climate change, and national security.
* * *
While the Biden administration remains a very new administration, it is increasingly possible to assess its redefinition of US foreign policy—at least in broad terms. Less apparent is how the Biden team will respond to the inherent dilemmas in any superpower's diverse and at times conflicting interests and goals. As the central theater in intensifying competition between the world's two leading powers—the United States and China—the Indo-Pacific area seems likely to require many of these difficult decisions.
In fairness, there are limits to what one can and should expect US officials to explain in advance. Though both planning and instincts are important, leaders inevitably make critical decisions (and key aides make recommendations) in specific circumstances and not as abstract calculations. From this perspective, some of the administration's priorities may emerge only as reality forces choice. Second, as Mr. Biden's predecessor liked to point out, policies that are too predictable can sometimes undermine America's effectiveness. On top of this, the White House has yet to fill many important positions at the State Department and in the Pentagon.
Focus on China
That said, the Biden administration has clearly signaled that China will be a central focus of US foreign policy and that competing effectively with China will be a significant driver of its domestic agenda. For example, the White House defined China as "the only competitor potentially capable of combining its economic, diplomatic, military, and technological power to mount a sustained challenge to a stable and open international system" in the Interim National Security Strategic Guidance to US government agencies. Mr. Biden himself referred to China as "our most serious competitor" in a February speech at the Department of State.
Biden, Secretary of State Antony Blinken, and National Security Advisor Jake Sullivan (among others) have also repeatedly stressed their determination to rally US allies so that the United States can work with China "from a position of strength." As Deputy Secretary of State during the Obama administration, Blinken launched quarterly trilateral meetings with his Japanese and South Korean counterparts. This hints at the ongoing consultation that the administration might seek.
Harder than It Sounds
Nevertheless, neither competing with China nor coordinating with US allies is quite as simple as it seems—both have meaning primarily with respect to specific issues. In China's case, the Biden team must reconcile multiple priorities, including nuclear arms control, a de facto conventional arms race in East Asia, a major trade dispute, sharp disagreements surrounding Taiwan, Hong Kong, and Xinjiang, the Belt and Road Initiative and China's economic diplomacy in Europe, Latin America, and Africa, and global problems like climate change and potential future pandemics. Acknowledging this complexity, Secretary Blinken has suggested that "our relationship with China will be competitive when it should be, collaborative when it can be, and adversarial when it must be."
Though it appears quite pragmatic, such an approach seems unlikely to work in practice. Consider US-China trade. Is it an area where America "should" compete, where it "can" collaborate, or where it "must" consider China an adversary? The administration's first formal statement on its 2021 trade agenda suggests that Washington is not looking for a quick end to the US-China trade war and rhetorically places the trade relationship somewhere between competitive and adversarial. The report, prepared by the Office of the US Trade Representative on behalf of the White House, states that "the Biden administration is committed to using all available tools to take on the range of China's unfair trade practices that continue to harm US workers and businesses" and that it will be a "top priority to address the widespread human rights abuses of the Chinese Government's forced labor program" in Xinjiang and elsewhere in China. Notwithstanding continuing tensions, trade was the foundation of U.S.-China relations for decades.
Climate appears 27 times in the 21-page Interim National Security Strategic Guidance and is an issue that administration officials regularly identify as an area for potential collaboration with Beijing. Yet how will the United States and China collaborate in addressing climate change while competing (at best) in trade and technology, which are the real-world drivers of clean energy? Meanwhile, China is unlikely to commit to binding emissions reductions—especially reductions that go beyond what China's economic planners expect to achieve anyway—and has consistently insisted that Washington and other developed-world capitals have greater responsibility for historical emissions than China or developing nations and, accordingly, should do more. And Mr. Biden can't commit to binding reductions anyway, at least not without Senate ratification of a treaty that seems improbable in a body in which Democrats have no more than (and likely less than) 50 of the 67 votes needed.
Trade and climate change likewise illustrate that working with US allies will be challenging too, particularly if the United States approaches allies such as Japan and South Korea primarily to secure their support in ensuring that Washington can deal with Beijing "from a position of strength." While Tokyo, Seoul, and other allied capitals share many American complaints regarding China's trade practices, their nations have deep trade ties to China, and few will eagerly embrace the opportunity to become involved in an ongoing dispute between many US allies' two largest trade partners. Nor will some of America's key allies in East Asia happily join a multilateral effort to pressure China over its domestic reliance on, or international exports of, coal-fired power. After signaling such plans during the campaign, the administration is beginning to explore how to implement this idea.
Challenges and Choices
The Biden administration's stated aims appear to be a well-intentioned effort to address the broad range of US interests in East Asia as the administration defines them. Yet the complexity of America's relations with China, and with its allies, seem likely to force difficult choices not only with respect to trade and climate change—described briefly here—but also in national security (where the administration faces growing budgetary pressure from exploding deficits as well as pressure to modernize and expand the US military), in its handling of human rights and democracy (where the administration faces domestic pressure to advance and defend American values but has diminished international moral authority and few other reliable tools), and nuclear arms control and non-proliferation (where the United States and its allies face significant threats, but also have limited tools, especially at a time when Americans remain visibly skeptical toward the use of force). How the administration approaches these challenges, and the hard choices it makes, could shape US foreign policy for some time to come.