China, Russia, and America after Xi Jinping's Trip to Russia
April 3, 2013
Chinese President Xi Jinping's recent high-profile visit to Russia—his first international trip since his formal installation in his new post—has prompted considerable discussion of China-Russia relations and their impact on global politics. The Chinese leader in particular appears to be making a special effort to play up his meetings in Moscow; speaking to Prime Minister Dmitry Medvedev, Xi said "the results have far exceeded my expectations." [1] Nevertheless, Beijing-Moscow ties are far more complex than meets the eye, and the longer-term significance of the Chinese-Russian relationship remains uncertain.
Notable Agreements
Xi's meetings in Russia appeared generally warm—he and Russian President Vladimir Putin had only nice things to say to one another and frequently praised the development of their the China-Russia bilateral relationship. In fact, in an ironic echo of former US President George W. Bush's statement after an early meeting with Putin that he was "able to get a sense of his soul," the Russian translation of Xi's opening comments in his meeting with his counterpart has Xi saying to Putin that "we always relate to one another with fully open souls." [2]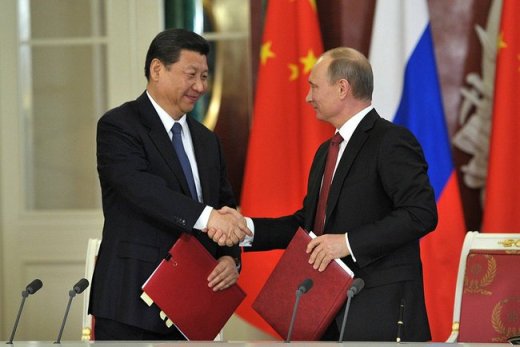 Perhaps more important than Xi's and Putin's souls, however, were some 35 bilateral agreements the two men signed during the visit. Although some of the deals sounded peripheral—like an agreement on rabbit husbandry [3] —others, particularly new oil and gas agreements, appear notable. If the two sides do what they say they will do, Russian oil exports to China could double, and natural gas exports could increase sharply.
From an American perspective, Xi's call for greater foreign policy coordination between Beijing and Moscow may well be the central message of his trip. "China and Russia have similar or identical positions on key international and regional issues," Xi said after his meeting with Putin, "and in this respect, we have broad common interests. We decided that in the future, we must continue strengthening our coordination and reciprocity further to resolve the key issues. We are determined to assert the goals and principles of the UN Charter, as well as the universally recognized principles of international relations, in order to defend justice and equality in the world, to assure peace, stability and prosperity on the planet." The Chinese president also drew attention to common Chinese and Russian views regarding US and Western efforts to promote democracy in their countries, stating "We will firmly and decisively support the efforts of the other side to defend its national sovereignty, security, and development interests, emphatically back the other side's aspiration to follow its path in accordance with the real conditions of their nation, and encourage the other nation's work toward development and revitalization." [4]
In combination, these two statements explain much of Chinese-Russian cooperation on major international security challenges like North Korea, Iran, and Syria. Each opposes outside interference in its politics or anyone else's. Both insist that only the UN Security Council can authorize the use of force in situations other than self-defense. And, as a result, both have opposed US policies that deviate from these principles, whether in the Balkans, Iraq, Syria, or elsewhere.
Cooperation and Competition
Still, it is far from clear how effectively China and Russia can work together moving forward. There is little doubt that they can block whatever they like in the Security Council; if they are prepared to support one another, it would be difficult for the United States and other Security Council members to pressure either Beijing or Moscow to support actions that both oppose. Conversely, however, if they are too successful with this approach, Washington may well act without UN approval as it has in the past.
Moreover, despite their shared frustration with some aspects of US foreign policy, China and Russia have clear competing interests in other areas—particularly in Central Asia. Russia views Central Asia as vital to its security interests: instability there can quickly cross its borders.
At the same time, the regional energy producers can either cooperate with or compete with Russian firms, meaning that China's growing access to Central Asia's energy supplies threatens Russian economic interests. Finally, for many Russians, their image of Russia as a major power simultaneously rests upon and requires substantial regional influence. As China's political role in Central Asia expands, it will directly challenge Russians' national identity.
Chinese-Russian energy cooperation reflects these tensions. On one hand, Moscow is eager to diversify its energy markets, especially in the face of declining commercial opportunities in Europe and surging demand in Asia. On the other hand, however, Russia is anxious to avoid replicating its dependence on Europe in its dealings with China, a politically unified market where Moscow would be less able to encourage competition among its customers than in the 27-member European Union. The fact that Beijing and Moscow have been unable to settle on a price for Russian natural gas after years of talks similarly demonstrates that real gaps remain between the two.
One key question moving forward is whether the shale gas revolution—which is driving down Russian gas monopoly Gazprom's profits in Europe by providing new Middle East gas supplies previously planned for export to the United States—might provide the final push necessary to secure a price agreement and produce the long-anticipated contract that Gazprom officials have suggested could be signed by the end of the year. If so, China-Russia energy cooperation could finally live up to years of hype. That could in turn provide important momentum to cooperation in other areas.
Ultimately, however, US foreign policy may be one of the most significant forces shaping China-Russia relations and tipping the balance between cooperation and suspicion in one direction or the other. An activist US policy focused on overturning troublesome governments around the world would likely help Beijing and Moscow to overcome some of their mutual discomfort.
Conversely, a more restrained approach—concentrating on rebuilding the US economy, strengthening the foundations of the country's international role, and firmly protecting national security and economic interests in strategic regions—could undermine those in China and Russia seeking to make common cause against Washington.
Unfortunately, while the Obama administration seems to have given priority to domestic matters over international policy, it has not done so in a way that enhances US leadership and has managed simultaneously to poke Chinese and Russian leaders in the eyes in bilateral relations with each. This has been especially damaging in Russia, where many believe—wrongly, but not without reason—that Washington's support for radical opposition parties and politicians is part of a plan to bring Putin down.
The combination of what looks like a US retreat from international affairs with actions that irritate the two major powers most uncomfortable with the US-led international system is a dangerous one.
---
[1] http://www.government.ru/eng/docs/23492/
[2] http://kremlin.ru/transcripts/17727
[3] http://www.themoscowtimes.com/business/article/energy-rabbit-husbandry-among-35-deals-sealed-on-xis-visit/477332.html
[4] Both quotes are from http://eng.kremlin.ru/transcripts/5160