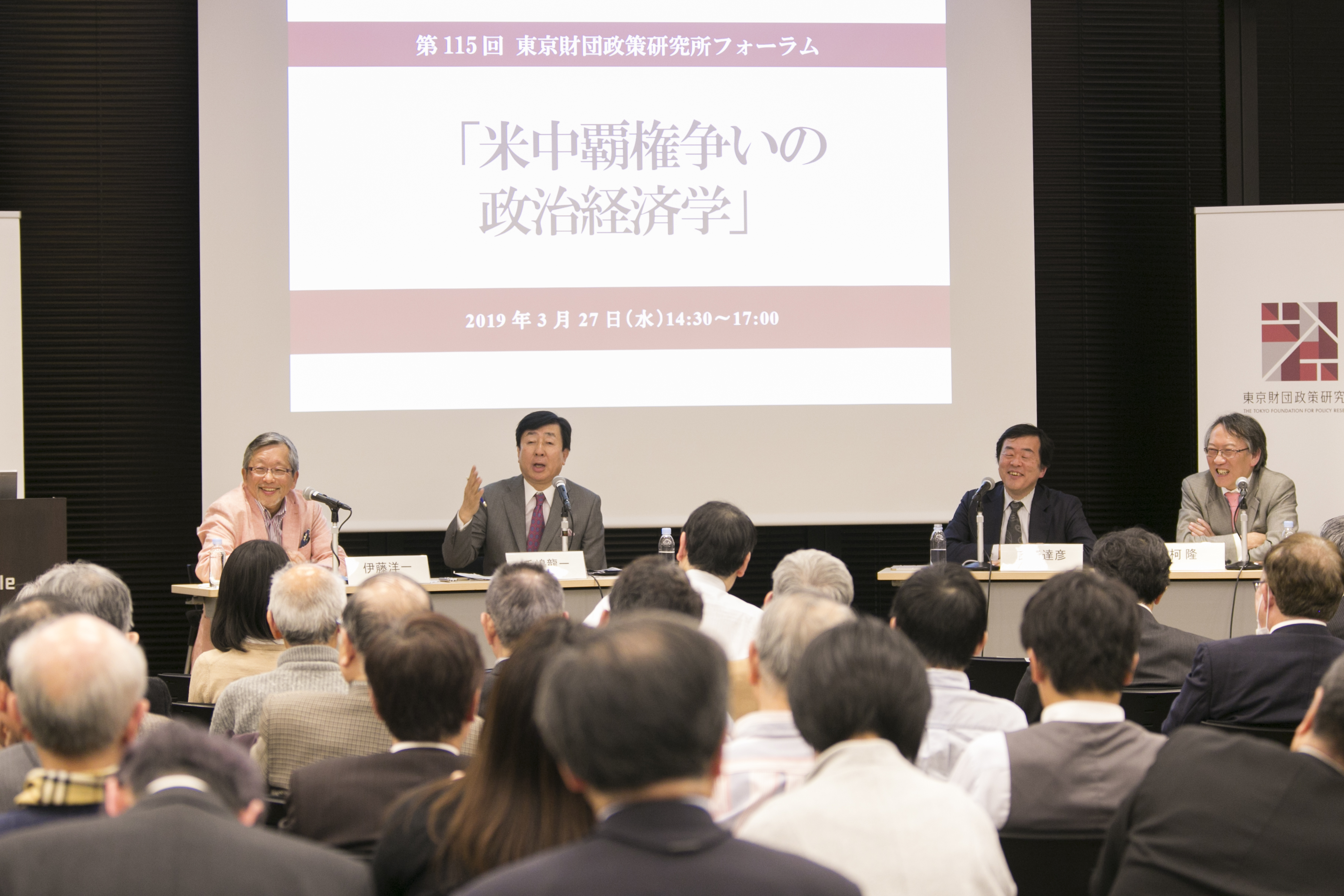 Experts Examine Escalating US-China Rivalry at 115th Tokyo Foundation for Policy Research Forum
April 10, 2019
The Tokyo Foundation for Policy Research hosted a Forum on the "Political Economics of the US-China Rivalry" on March 27, 2019, attracting 170 scholars, researchers, government officials, and media representatives.
Held at the Belle Salle Roppongi Grand Conference Center of Roppongi Grand Tower, the Forum featured four eminent speakers: Foreign policy expert and former NHK Washington bureau chief Ryuichi Teshima; Sojitz Research Institute Chief Economist Tatsuhiko Yoshizaki; Tokyo Foundation for Policy Research Senior Fellow Ke Long; and Sumitomo Mitsui Trust Research Institute Chief Analysis Yoichi Ito (moderator).
The US-China trade war is escalating into a hegemonic rivalry that could soon lead to a new Cold War, as tensions mount not only over trade but also in such areas as leading-edge technology, military buildup in the South China Sea, and relations with Taiwan. The four speakers shed light on the political economic dimensions of this rivalry from their respective areas of expertise.
Ryuichi Teshima examined the US administration's Asia policy, focusing on President Donald Trump's summit meetings with North Korean leader Kim Jong-un and confrontations with China in the Asia-Pacific. Tatsuhiko Yoshizaki focused on the strategies Japan should adopt vis-à-vis Washington and Beijing. And Ke Long provided a penetrating analysis of where the trade war stands and where it is likely to head going forward.
Yoichi Ito moderated a lively panel discussion, touching on such themes as growing wealth gaps and issues pertaining to Taiwan. Many questions were also raised from the floor during the question and answer session.