The New Silk Road and New Continentalism (2)
July 31, 2012
Continued from Part 1.
Eurasia and the New Continentalism
In addition to focusing on developments in Afghanistan alone, there is a need to take a broader look at changes taking place across Eurasia, explained Kent E. Calder, director of the Reischauer Center for East Asian Studies. There are significant complementarities among the countries in close proximity to one another, not only in Central and South Asia but also the Middle East and Northeast Asia, he said, which remained divorced from one another during the Cold War.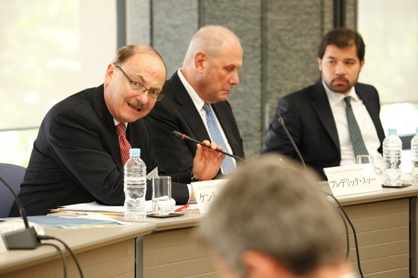 "Central Asia has greatest energy potential in terms of reserves and production capability," he noted, "and there could be extremely rapid growth if the region can become a supplier for China and India, whose demand is growing." Afghanistan is centrally located in this zone, but its borders with Iran, Pakistan, and Central Asia have historically been very static.
Over the past 30 years, though, there has emerged much greater interdependence, leading to "a rebirth of Central Asia," Calder explained. A proposed trans-Afghanistan pipeline from Turkmenistan to India could lead to closer ties with China and Southeast Asia, producing a "transcontinental transformation" buoyed by complementarities not just in energy but other resources as well. Japan's private sector, especially trading companies, he added, can contribute great economic dynamism to this process.
Although Afghanistan had the "richest city in the world in 1027," boasting an illustrious scientific and cultural tradition, the country "withdrew from the world," being squeezed by three big powers, British India, Russia, and Iran, pointed out S. Fredrick Starr, chairman of the Central Asia-Caucasus Institute of Johns Hopkins University.
After decades of isolation from perceived threats and turmoil, including civil war, Afghanistan has emerged since 2001 as a "state with an admirable constitution" that is slowing opening its doors to the north and east, Starr said. There are three great routes across the Eurasian landmass, with the southernmost corridor from Southeast Asia and India going through Afghanistan. The government has embraced the idea of opening its doors for such a corridor, but this would not just be a regional idea. "It would have continental implications involving Europe, East Asia, and everything in between. Afghanistan would be in the position of a 'land Suez,'" Starr noted.
With the United States advancing the idea of a New Silk Road and substantial investments being committed both to the west and east of the route, the only need is to "solve problems in the middle, which is Afghanistan."
Such a new corridor would also have "huge potential for Japan," Starr noted. "Japan has amassed an extremely impressive amount of moral capital in Afghanistan and Central Asia over the last forty years. Japan can use this capital through the ADB, which doesn't have a plan for the southern corridor right now, to develop this route."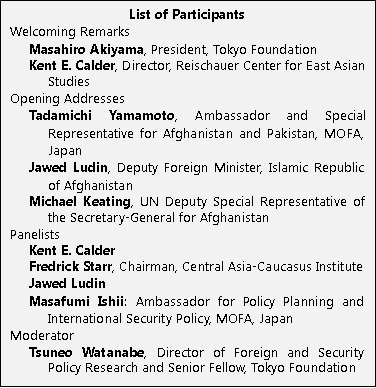 Japan can also collaborate with the United States and India in opening such a corridor. "Trilateral cooperation would be very effective, and the whole would be greater than the sum of its parts," Starr claimed. "Japan has proven expertise in the development of border facilities, an area that is a bigger impediment for Afghan growth than lack of infrastructure. If borders were opened, trucks would be moving through tomorrow morning."
Japan can also contribute through private investment, he said. "Someone needs to provide trucks, railroad equipment, logistics, storage facilities, hotels, and insurance. Japan can and should be there. Action is needed right now; if your wait, the opportunity will be lost."
At the same time, "There are real problems and we shouldn't have illusions," Starr cautioned. "Yesterday's remarkable conference filled the budgetary gap, but it didn't fill the income gap" of the country's workers. The development of mineral resources is promising, "but that will take years. Open up the corridors of trade, though, and this generate real income straight away." Still, noting that the situation is "much better than that faced by Korea fifty years ago," Starr posited that the Afghanistan of tomorrow can look like the South Korea of today.
Missed Opportunities
Afghan missed historical opportunities at the wrong time, noted Afghan Deputy Foreign Minister Ludin. "We locked ourselves out when the world was undergoing a technological and social transformation in the twentieth century."
The result is that today, although there is talk about Afghanistan becoming a "land bridge," the country has instead become a blockage, Ludin lamented. "It's sad that railway networks come from the southeast, west, and north but stop at the Afghan border. This is intolerable not just for us but for the entire region."
The reason for the disconnect, Ludin noted, is because "We ignored the politics of regional cooperation for reasons of prudence, as the region had become the most politically divided and fragmented on the planet. For us to play a true land bridge role, we need infrastructure, particularly railways," Ludin said. "If the border management issue can be resolved, we're technically open. Cars can go from Central Asia to India; the roads may be substandard, but they're there. Railways, though, is still a must."
While public investment helps, private spending is also essential, Ludin added. He referred to the recent Delhi Investment Summit on Afghanistan, organized by the Confederation of Indian Industry, noting the importance of shifting the focus from a trade agenda to an investment agenda. "Absent in Afghanistan is international investors, and addressing this lack requires improvements in security, infrastructure, and energy supply."
There is considerable regional investment from China, India, and Turkey, he noted, but very little from the United States, Europe, and Japan. "In our move toward normalization and integration into the global economy, we will need Western investment as well," Ludin said. "This can provide credibility and promote cross-country partnerships with Afghan businesses."
Politically, the Istanbul Process has much promise, he said, as "for once, the countries of the region are truly confronting shared challenges." The view that Afghanistan has been a source of terrorism has been proved wrong, he claimed: "The Taliban and al-Qaida were imposed on us from across our borders, and we were made into a haven of terrorism. We were the worst victim, not the source. We have shared responsibilities, though, and we have to stop being the object of conferences and become an agent. That's essence of the Istanbul Process."
Japan's Ties with Central Asia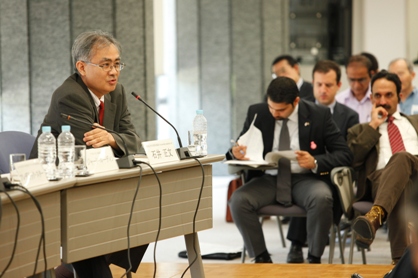 Japan welcomes and shares the views contained in the New Silk Road and the New Continentalism, noted Masafumi Ishii, ambassador for policy planning and international security policy in the Foreign Policy Bureau of the Japanese Ministry of Foreign Affairs. "These concepts are focused on enhancing mutual economic dependence, and Japan believes that economic development contributes to stability."
Japan seeks an "independent, open, stable, and prosperous" Central Asia, a region with which it has both deep historic ties and close modern diplomatic relations, Ishii commented. "For Japan, the region is important for its geopolitical implications."
He also noted that Afghan stability is a necessary but not sufficient criterion for regional stability. "Afghanistan now needs to work for the region, just as the region has worked for Afghanistan." Sustained US commitment is crucial, he added, in the light of the withdrawal of the International Security Assistance Force at the end of 2014. "This will be the start of a new US commitment, not the end."
Regional countries will play a key role in political stability, Ishii said, and confidence building measures with neighbors like Pakistan, India, Iran, China, and Russia will be very important. Japan also needs to open up to and deepen its involvement in regional frameworks, including the Shanghai Cooperation Organization.
Talk of continentalism, though, Ishii noted, must take into account the fact that there are so many types of countries—both large and small, poor and rich—so "cooperation must be tailor-made for each country. An especially important consideration is to address the needs of potentially fragile states and border management."
Responding to a question from the floor about Pakistan's role in regional development, Ludin noted that after ISAF leaves, "We will take over, and dealing with security issues will require peace in the region, and the role of Pakistan, as well as Saudi Arabia, Turkey, and the United Arab Emirates, will be absolutely vital."
He was encouraged by Pakistan's public announcement of support for the peace process and expressed the hope this will be followed by action. "We will meet the new Pakistani prime minister next week. We have a good understanding with the civilian government in Islamabad, but there are elements in the military that need to be convinced that peace is good not just for Afghan security and stability but also for Pakistan."
Starr added that the Afghanistan-Pakistan border is the greatest impediment to the southern corridor and that the issue is how to "remove the cork." He placed hope on the bilateral transit trade agreement. "It hasn't been implemented at all," Starr conceded, but even if there is no "official" recognition of trade ties, he pointed to the fact that there is already 5 billion dollars of official transport across the India-Pakistan border, which also is nominally closed, in addition to up to 12 billion dollars in "unregistered" transport.
US Commitment
Asked whether the US commitment beyond 2014 can really be sustained, Calder was cautious, noting that the origin of the US commitment was the 9.11 terrorist attacks. Given Washington's financial constraints, he noted that there would be a need to rely increasingly on its allies.
Starr believed that not enough was being done to publicize the achievements already made at great cost and with many lives. "The United States has emphasized what it is not doing, what it is ceasing to do," he said, adding, "This is a leadership crisis, not merely a financial one. We've just turned a corner, and we should be talking more candidly about what is being accomplished and what will be done in the future."
Calder added that in addition to the challenges and complexities, Afghanistan and the surrounding region also present great possibilities through an intensification of intercontinental interdependence. "This is an issue," he said "that Japan, the United States, and other countries will need to look at much more carefully." (Compiled by Nozomu Kawamoto)