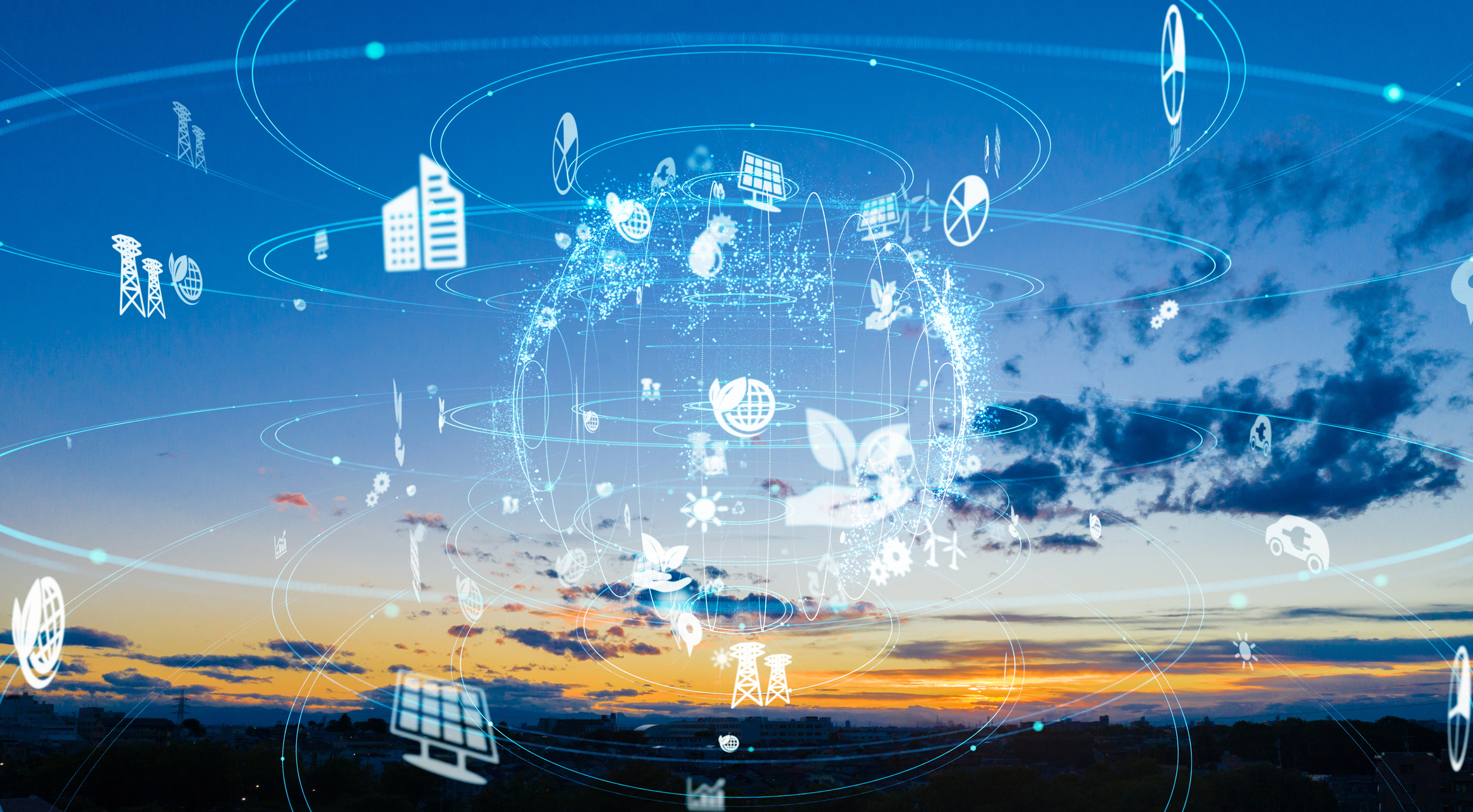 ©Getty Images
Ten Types of Innovation for a Sustainable Society: ESG Management in the SDGs Era
April 12, 2021
Amid a climate crisis and a global pandemic, businesses need to create social value as a "new primal goal" during the Decade of Action, embracing innovative solutions for a sustainable society to help achieve the SDGs by 2030.
* * *
Innovation in the corporate context has hitherto primarily been viewed as a tool for enhancing customer and corporate value. New technologies, products, and services have led to a higher quality of life for the customer, while new approaches to R&D, procurement, production, distribution, marketing, sales, organizational management, and revenue generation have improved efficiency, productivity and profitability for the companies themselves. But in recent years, particularly amid a climate crisis and a global pandemic, businesses are being called to create social value as a "new" primal goal and one of their chief purposes in line with a prominent mandate, namely, the UN Sustainable Development Goals (SDGs) adopted in 2015 (Figure 1).
Figure 1. Creating Social Value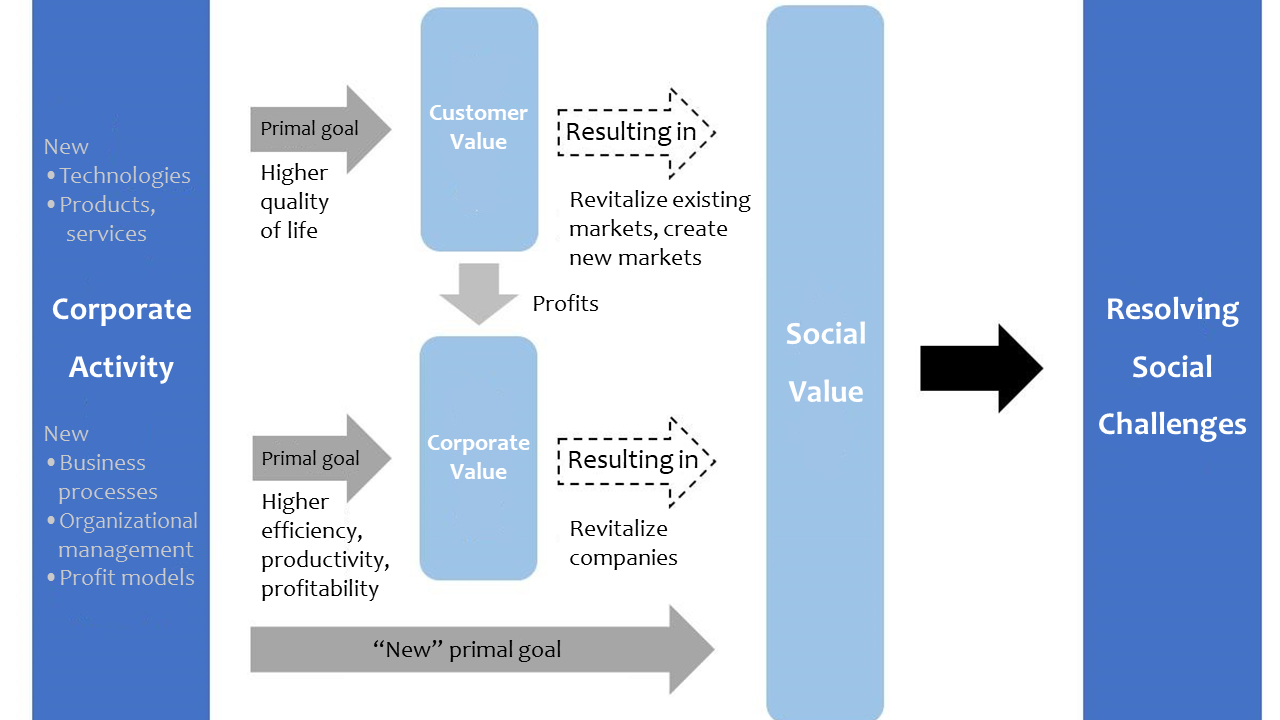 Created by the author.
Below I will examine the types of innovation that can contribute to a sustainable society, basing my analysis on the framework developed by innovation "guru" Larry Keeley and his co-authors in their groundbreaking 2013 book, Ten Types of Innovation: The Discipline of Building Breakthroughs. While the book focuses on creating customer and corporate value, I will apply its framework to identify and analyze 10 types of innovation that lead to social value, drawing on cases centered on the initiatives undertaken by NTT DATA, a leading global IT services provider.
Keeley identifies 10 types of innovation in three categories, as follows:
• CONFIGURATION: profit model, network, structure, process
• OFFERING: product performance, product system
• EXPERIENCE: service, channel, brand, customer engagement
For this paper, I have reorganized these innovations into 10 types that lead to social value, omitting "product system,"[1] adding "corporate philanthropy," slightly renaming some others, and classifying them into three categories. In the following, I will describe what each type of innovation for a sustainable society entails in turn (Figure 2).
• SOCIAL IMPACT:[2] product/service, business process, corporate philanthropy
• STAKEHOLDER EXPERIENCE: stakeholder engagement, channel, follow-up, brand
• CONFIGURATION: structure, profit model, network
Figure 2. Two Frameworks for Innovation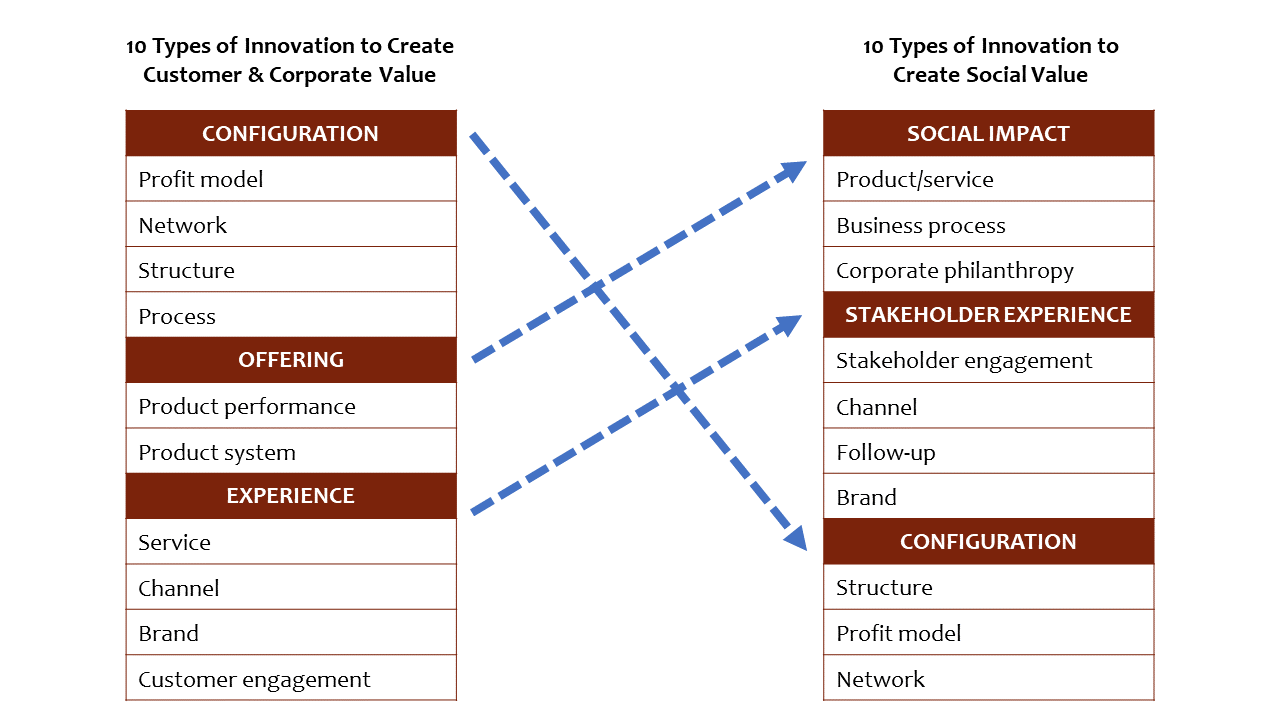 Created by the author.
Social Impact
Product/Service
This is equivalent to "product performance" under Keeley's 10 Types of Innovation framework. It refers to the "distinguishing features and functionality" of a company's line of products and services, including ease of use, simplicity, eco- and social friendliness, and customizability.
The most desirable features in the SDGs era would be those that can resolve social challenges, one pertinent example being for pharmaceutical companies to develop vaccines or drugs for COVID-19. Health-related innovations are not limited to new vaccines or drugs for prevention or treatment, though; NTT DATA, for example, is now conducting proof-of-concept assessments at the Ruby Hall Clinic in Pune, India, to apply its artificial-intelligence-based diagnostic imaging support solutions—originally developed for tuberculosis—to COVID-19 diagnoses.
It is important to distinguish between products/services that can contribute to resolving social or environmental challenges from those that can reduce the social or environmental footprint in the process of manufacturing a product or arranging a service. The innovations being discussed here are those that create social value when products/services are purchased and used by customers.
Many of the "smaller footprint" ideas, though, may warrant inclusion as a "business process," the next type of innovation examined.
Business Process
This refers to the "signature or superior methods for doing your work," such as lean production, process standardization, and predictive analysis, and may be implemented for a broad array of processes, from R&D and procurement to production, distribution, marketing, and sales. While Keeley focuses on innovations that boost efficiency and lower costs, the main criterion from a sustainability viewpoint would be the extent to which a new process reduces the burden on society and the environment.
The first task in measuring a business process's impact on the SDGs is to identify negative externalities through value chain mapping, as recommended in the SDG Compass, and to take steps to either minimize or internalize those diseconomies. Examples of environment-related business process innovations include introducing energy-saving facilities or making them compatible with renewable sources, launching initiatives to protect biodiversity, and establishing recycling systems. In the domain of human rights, new steps can include respecting employee rights and the rights of workers and communities in the supply chain, preventing discrimination and violations of customer privacy by reinforcing AI ethics and information security, and using marketing and advertising that respect and support children's rights.
Corporate Philanthropy
This is an innovation not found among Keeley's original 10 Types but one that is essential—along with the preceding two types—from the viewpoint of creating social value.
Corporate philanthropy encompasses a range of activities, such as donations of cash and goods, the sharing of assets, community volunteering and pro bono work by employees, and initiatives via corporate foundations. Until recently, this type of charitable giving in Japan was premised on not seeking anything in return, but since the adoption of the SDGs, a bigger determinant of its value has been the contributions it can make to the sustainability of society. Companies are no longer likely to be castigated for seeking benefits in the form of new business opportunities, favorable investment ratings, improved workforce morale, and future recruitment advantages, as long as their contributions produce sizable and positive social value. In fact, initiatives with such returns can be more sustainable.
Many of the global businesses at the forefront of sustainability have two approaches to social innovation in common. They are both premised on a give-and-take strategy whereby corporate giving is designed to elicit a reciprocal response from society.
The first is employee engagement in a diverse range of community activities, one format being international corporate volunteering (ICV), under which companies contribute the skills of their workers on a pro bono basis to international NGOs, local governments, and other groups.[3] ICV programs have been adopted by some of the world's largest pharmaceutical companies and consulting firms, as well as by some electronics makers in Japan. While many companies have had to suspend their programs following the outbreak of COVID-19, ICV can not only help promote sustainable development—notably goal 17 of the SDGs calling for global partnerships—it can also contribute to creating corporate value by improving the cross-sector communication skills of employees, promoting team-building efforts, and providing market development opportunities.
The second is the pooling of resources in social innovation funds to support startups and nonprofit groups offering promising solutions to the various challenges facing society. There are some who question whether supporting private startups really qualifies as a form of corporate giving, but providing small, innovative groups an opportunity to put their ideas into practice can be an invaluable learning experience, even if not all schemes succeed. Donors also benefit from the option of developing the more promising ideas and solutions into business investments.
In June 2020, for instance, NTT DATA and Microsoft announced a strategic collaboration to enable new digital solutions. Of the four key initiatives, one was a form of corporate philanthropy in which NTT DATA contributes its AI imaging expertise to improve the health of people and communities in partnership with Microsoft.
Stakeholder Experience
Stakeholder Engagement
This is called customer engagement in Keeley's framework and refers to distinctive innovations that foster compelling interactions with a company's products and services to build a solid, loyal community of users.
I have broadened the concept to engaging with all stakeholders from the viewpoint of promoting sustainability and achieving the SDGs. Initiatives may include hosting ESG-themed briefings and workshops for shareholders, investors, and analysts or conducting regular dialogue with the social sector regarding human rights due diligence. The room for innovation arises in the personal involvement of top management in such forums. For stakeholders, direct contact with corporate executives offers insights into the sincerity of a company's social initiatives. And for companies, stakeholder engagement represents golden opportunities for building trust, the key factors to keep in mind being—according to a variant of the PDCA (plan-do-check-act) cycle that I have originally developed: "perform," "disclose," "communicate," and "appreciate" (Figure 3).
Figure 3. A PDCA Cycle Geared to Building Trust


Created by the author.
Some sustainability-friendly companies invite a broad cross section of stakeholders to engagement conferences and publish the results in their integrated or sustainability reports. Around a decade ago, I was asked to participate in such a meeting by an automaker. Looking back on that experience, I realize now that this was an innovative initiative that anticipated the adoption of the SDGs. I was among 20 or so experts from government agencies, industry groups, companies, the social sector, think tanks, and academia. We were divided into groups of around 5 people each to discuss the future risks and opportunities of such issues as human rights and the environment. Toward the end of the conference, we were joined by the automaker's employees to explore in concrete terms what the company "should" (not "could") do to address those challenges. It was a socially engaged exercise in backcasting the way toward a more desirable future.
Normally, stakeholder dialogue involves assigning a panel of sustainability experts to comment on what a company is doing well and what needs more work. But the focus of the automaker's conference was not on its own performance but the needs of society and the planet. This created an open-ended atmosphere that not only enabled participants to learn from each other's area of expertise but also engendered a spirit of collaboration toward the goal of building a sustainable society.
Channel
In the 10 Types of Innovation framework, this refers to the avenues through which a company's offerings are delivered to customers and users and includes such activities as setting up a flagship store as a showcase for the brand or conducting a limited-run campaign.
A common channel innovation aimed at creating social value is the innovation lab, tasked with turning the creative ideas of employees into practical solutions. NTT DATA added a twist to this experimental format, establishing SPLAB™ in the Otemachi district of central Tokyo in August 2020 to help mainly its financial-sector clients—insurance firms, brokerages, and banks—develop new services that address social challenges. It researches and analyzes those issues and devises, communicates, and implements potential solutions, working with partner firms to renovate their business portfolios by adding new services or incorporating them into an existing lineup. The impetus for SPLAB came from the recognition that new initiatives should be guided from the outset with the SDGs and ESG in mind. The global outbreak of COVID-19 has also highlighted the need to prepare for an unpredictable future marked by volatility, uncertainty, complexity, and ambiguity (VUCA) in the financial sector. Using backcasting and other strategies, SPLAB works to develop new services that could become essential over the next 5 or 10 years.
Another example of channel innovation is a global community of designers called Tangity™. NTT DATA operates a network of 16 design studios in countries around the world to offer customers a seamless range of design services, from planning and prototyping to proof-of-concept trials, using online and other tools. Tangity is an outgrowth of this network that, in collaboration with the Central Community Chest of Japan, conducts service design workshops free of charge for intermediary nonprofit groups. By helping them identify community issues, the initiative seeks to create social value; it is an illustration of an innovation that targets not just "customers" but "stakeholders" more broadly.
As these examples show, enhancing stakeholder experience through corporate channels and special offerings to communicate a company's eagerness and capacity for social action can encourage partnerships that lead to significant social value creation.
Follow-up
Larry Keeley calls this innovation "service," referring to the surrounding enhancements that boost the value of a company's main offerings, such as new uses for a product, access to maintenance resources, the existence of a user community or support system, personalized service, and money-back guarantees.
An example of a follow-up innovation in my matrix is a collaborative project launched in 2018 by the Japan NPO Center, Code for Japan, and Entrepreneurial Training for Innovative Communities (ETIC.) to develop "Social Technology Officers"—the civil-sector equivalent of chief technology officers and a new job category created in Japan—who can advise nonprofits on the use of digital technology from a management perspective. The project is aimed at increasing the number of STOs in Japan to advance the sector's digital transformation, reinforce its institutional foundations, and enhance the social impact of its activities.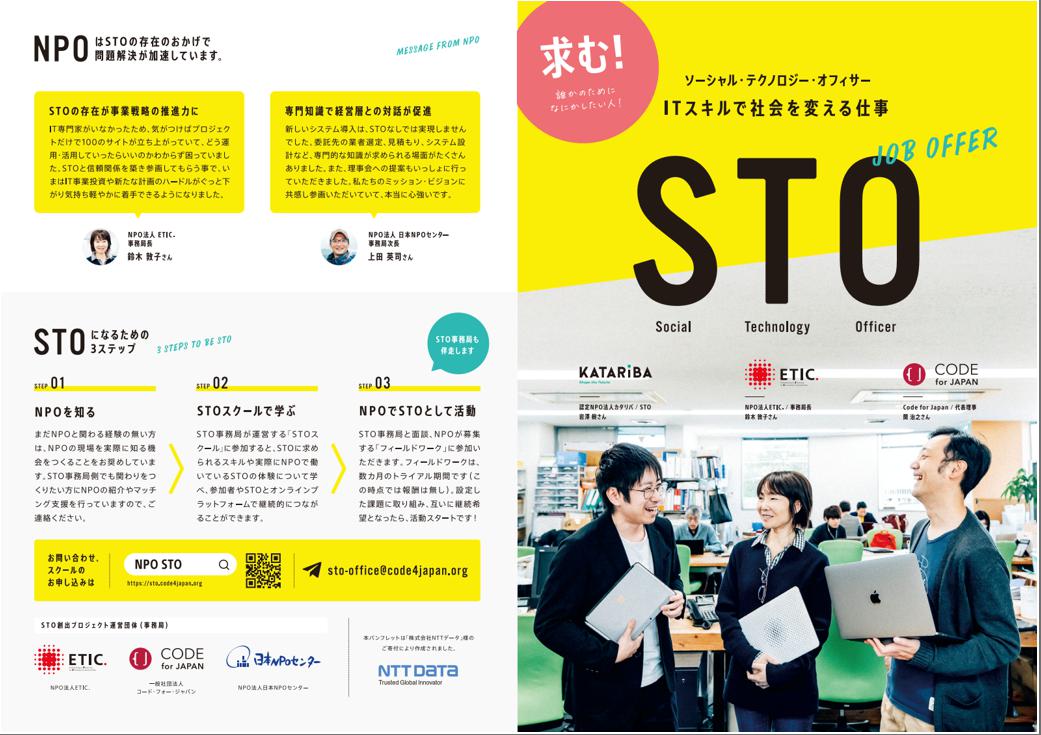 A pamphlet promoting the concept of a Social Technology Officer.
NTT DATA began supporting the project with a donation in 2019 and launched pro bono services the following year, inviting employees to apply for positions to help run the project. Rather than simply make a charitable gift and be done with it, NTT Data followed up with a stronger, hands-on commitment. There have been numerous instances of employees engaging on a voluntary or pro bono basis with NPOs and NGOs supported by their companies, but rarely have workers become integral members of such projects, toiling alongside the staff to create social value.
Brand
Brand innovations, according to Keely, are how companies represent their offerings and business to their customers.
Effectively communicating a company's sustainable branding strategy would benefit greatly from the strong commitment of top management. At SDG-related events, videoconferences, and shareholder meetings, more top executives are framing their raison d'être (or purpose) in terms of how their companies are addressing social challenges while securing profits. Direct participation in forums of sustainability professionals and influencers can also encourage positive media attention.
Effective branding vis-à-vis the financial community entails being included in leading ESG indices, while efforts targeting students and the general public require consistently winning high marks in media-sponsored sustainability rankings. With SDG-related advertising awards being added to the Cannes Lions International Festival of Creativity in 2018 and the Dentsu Advertising Awards in 2020, companies can strengthen their sustainable branding through creative communications, as long as they avoid the traps of "SDG washing"—making excessive claims about their sustainability contributions while maintaining business as usual.
Configuration
Structure
Structure innovations, as defined by Keeley, are how companies organize and align their talent and assets. They include creating incentive systems, standardizing assets to reduce operating costs and increasing connectivity, and setting up corporate universities.
The following five steps are often adhered to in aligning a company's overall operations with the SDGs:
Formulate or redefine the corporate mission or purpose in line with the SDGs
2. Incorporate ESG concepts into the long-term vision or management plan
3. Identify material issues on which to focus the company's CSR initiatives
4. Establish companywide key performance indicators (KPIs) for those issues
5. Formulate KPIs for specific departments based on the companywide KPIs
Applying these five steps will require coordination throughout the company. Advancing to step 4 may be enough to earn a reasonable ESG rating, but only when KPIs have been established for each department can a company be said to have fully achieved ESG management. NTT DATA began preparatory work to align the company's operations with the SDGs in the second half of fiscal 2018, completed steps 2 and 3 the following year, and implemented steps 4 and 5 in fiscal 2020.[4] Each department is now educating its employees on how ESG management can contribute to achieving the SDGs and, in line with its respective KPI targets, is undertaking various projects and initiatives to address social challenges.
Structural innovations can also be advanced through the hiring of staff who can engage and collaborate across the private, public and social sectors. Many companies at the forefront of sustainability are actively tapping such "tri-sector leaders" with experience in government or international organizations, civil society and private business.
Profit model
Keeley defines this innovation as the "way in which you make money" and includes pricing strategies for premium or auctioned products, as well as new ways of collecting revenue, such as pay-as-you-go and subscription models.
Demand for products and services to address society's myriad problems and help achieve the SDGs arises not just from consumers and client businesses but also governments, international organizations and corporate foundations that seek to fulfill the pledge to "leave no one behind." In 2020, the United Nations Office for Project Services opened a Global Innovation Center in Kobe to support access to UN procurement processes. Developments like these are likely to spawn innovative profit models aimed at winning procurement contracts from the public and social sectors.
There have been isolated cases of nonprofits placing orders for the development of customized systems and apps to expand the market for their innovative ideas. But because budgets tend to be limited, such requests—even when expected to lead to positive social outcomes—may be difficult to accommodate for large tech firms. Businesses will need to adopt a more flexible approach to work around such deterrents, for example by applying digital technologies to keep costs down and eyeing the broader and long-term benefits and social value these projects are likely to engender.
Network
This innovation involves connecting with others to create value and includes the advancing of partnerships, consortiums, alliances, and open innovation.[5]
Many leading sustainable companies are members of multisectoral networks that also include international organizations, civil society, and research institutes. Membership in these groupings can provide insights into emerging social risks and opportunities, enabling the formulation of more appropriate and effective business plans. The following are three prominent network-type organizations with corporate sustainability initiatives.
United Nations Global Compact (UNGC): A voluntary initiative based on CEO commitments to implement universal sustainability principles comprising some 15,000 organizations, including 5,000 major corporations and 3,600 NGOs and research institutions.
World Business Council for Sustainable Development (WBCSD): A CEO-led organization of over 200 international companies working to accelerate the transition to a sustainable world.
Business for Social Responsibility (BSR): A global network of more than 250 member companies working to build a just and sustainable world.
These frameworks invite the participation of relevant businesses, UN agencies, governments, civil society, academic researchers and think tanks, establishing working groups to address specific issues, draft sustainability rules, or launch initiatives for collective action.
Over the course of my professional career, I have found it particularly fruitful to join these groups in a rule-making capacity. Participation in the Global Compact LEAD initiative enabled me to learn about the International Integrated Reporting Council's pilot program to draft a framework for integrated reporting, helping strengthen the report published by my employer. I was also able to apply my involvement in drawing up access guidelines in the BSR healthcare working group to contribute to a management plan that addressed this issue, leading to policies aimed at achieving a high ranking in the .
Conclusion
The essence of the 10 types of innovation to create social value described above can be summarized as follows:
Figure 4. Summary of the 10 Types of Innovation for a Sustainable Society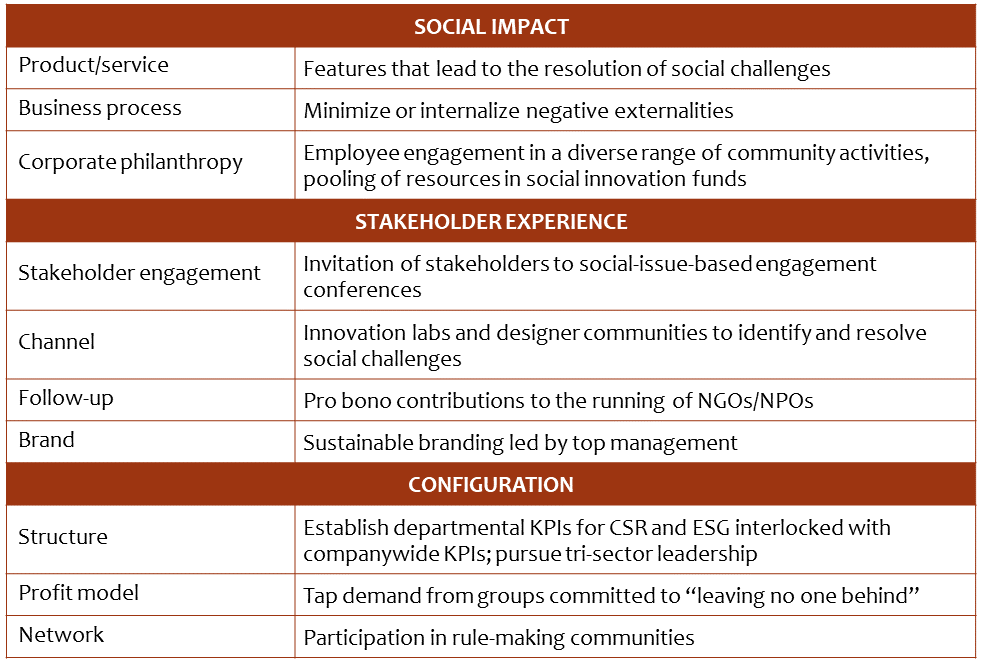 Created by the author.
We have less than a decade left to achieve the SDGs by the 2030 deadline. As a corporate sustainability officer, I hope that new frameworks, such as the 10 types of innovation for a sustainable society described here, will spur many more businesses to take concrete steps during the "Decade of Action" to accelerate sustainable solutions to many of the world's biggest challenges.
a
Translated from "SDGs jidai no 10 taipu inobeshon furemuwaku: Shakai kachi soshutsu no tame no ESG keiei moderu," CSR hakusho 2020, Tokyo Foundation for Policy Research.
b
[1] Under Keeley's classification, "product systems" was defined in terms of "How you create complementary products and services," that is, connecting or bundling together otherwise distinct and disparate products and services to captivate and delight customers. In my innovation framework for a sustainable society, this is regarded as one component of a "product/service" innovation.
[2] The three innovations in the social impact category, namely, product/service, business process, and corporate philanthropy, correspond roughly to the three basic approaches to CSR. See my article on this website, "SDGs and Dynamic Capability: Future-Oriented Corporate Self-Transformation."
[3] The nonprofit Cross Fields is a major supporter of international corporate volunteering in Japan.
[4] See NTT DATA's 2020 Annual Report and Sustainability Report.
[5] Since 2014, NTT DATA has been sponsoring a global Open Innovation Contest comprising regional contests in more than a dozen countries and a finale in the Toyosu district of Tokyo. The aim is to co-create new digital business opportunities and solutions for societal challenges that result in a win-win-win for innovative startups, client companies, and NTT DATA.