Closer US-China Ties Test Abe's "Smart Diplomacy"
May 26, 2014
US criticism of Abe's December visit to Yasukuni Shrine elicited a chorus of objections from Japanese politicians, most insisting that the prime minister has been misunderstood. Takashi Sekiyama sees the incident and its aftermath as a sign that Japan has much to learn about "smart diplomacy" in an era of rapidly growing Chinese influence.
* * *
US President Barack Obama visited Japan from April 23 to 25, being welcomed as a state guest at Tokyo's strong request. This in itself expresses the importance Washington places on its relations with Japan. The joint statement confirmed, moreover, that America's commitment to defend its ally under the Japan-US Treaty of Mutual Cooperation and Security extends to the Senkaku Islands, which Beijing also claims. These facts would seem to suggest that the US government has strongly endorsed Tokyo's position in its confrontation with Beijing.

The reality, however, is not so straightforward. Although hardly reported in Japan, the United States and China have nurtured a very close relationship. This year marks the 35th anniversary of the normalization of diplomatic ties between the United States and the People's Republic of China, and in recent years the US and Chinese heads of state, cognizant of increasing economic interdependence between their nations, have maintained close contact on a wide range of issues, keeping diplomatic relations on a solid footing.
Meanwhile, ties between Tokyo and Beijing—already badly frayed—deteriorated further in the wake of Prime Minister Shinzo Abe's visit to Yasukuni Shrine last December. This paper offers a brief overview of the US-China relationship and explores its implications for Japanese diplomacy.
US-China Relations Since 1979
For more than three decades following the birth of the People's Republic of China, the US government withheld diplomatic recognition from the Communist regime in Beijing, treating the Republic of China in Taiwan as the legitimate government of China. The United States and China set to work normalizing relations following US President Richard Nixon's historic visit to Beijing in 1972, and in January 1979, Washington severed diplomatic ties with the ROC and finally shifted its recognition to the People's Republic of China.
In a statement dated January 1 marking the 35th anniversary of US-PRC diplomatic ties, Chinese Minister of Foreign Affairs Wang Yi acknowledged past differences while stressing high hopes for the future. "China-US relations in the past 35 years have achieved historic growth despite ups and downs," he wrote. "Looking ahead, we are fully confident in the future of our relations." At a press briefing on January 2, US Department of State Deputy Spokesperson Marie Harf responded by saying, "We remain committed . . . to building a stable, reliable, and continuous relationship with China on the military-to-military side, diplomatic side, economic side, and we welcome the rise of a peaceful and prosperous China that plays a constructive role in the region."
US-China relations have deepened over the past 35 years. In the 1980s, during the Cold War, the relationship rested largely on the common strategic goal of containing the Soviet Union. In the 1990s, following the Tiananmen Square incident, it entered a period of tension and turbulence. Since the start of the twenty-first century, however, the two nations have been cultivating ever-closer economic, diplomatic, and person-to-person ties.
On the economic front, the volume of bilateral trade has grown about 200-fold over the past three and a half decades, from less than $2.5 billion in 1979 to over $500 billion in 2013. Today the United States is China's biggest export market, China is America's leading source of imports, and the two countries are one another's top trading partners.
Figure 1. Value of US-China Trade, 2002–12
($US billion)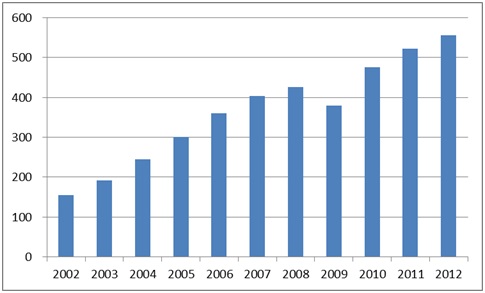 China is also the world's largest foreign holder of US government debt—a distinction it has held since it overtook Japan in September 2008 at the peak of the financial crisis. Today China holds approximately one-fourth of all foreign-held US Treasury securities.
Figure 2. Major Foreign Holders of US Treasury Securities (as of end of November 2013)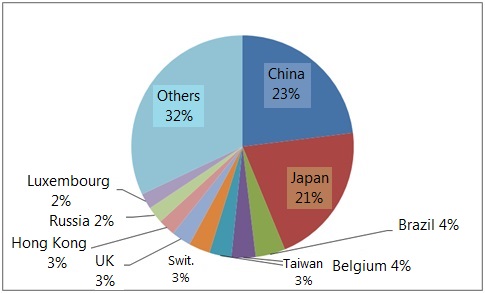 Not surprisingly, travel between the two countries has skyrocketed as well. From a few thousand visitors in 1979, the number of people traveling between the United States and China has soared to about 4 million (2013).
On the political front, diplomatic ties have improved dramatically of late. Top US and Chinese leaders have met for bilateral summit talks 14 times over the past five years. In 2013 alone, Presidents Barack Obama and Xi Jinping met twice to reaffirm their nations' cooperative ties. By contrast, Xi has yet to agree to a summit meeting with Prime Minister Abe, who came to office in December 2012.
Washington's focus on improving ties with China predates the advent of the Obama administration, and it crosses party lines. Under the Republican administration of George W. Bush, the United States and China stepped up high-level dialogue under the frameworks of the Senior Dialogue (six meetings between August 2005 and December 2008) and the Strategic Economic Dialogue (five meetings between December 2006 and December 2008).
Since Obama took office, these discussions have continued under the framework of the US-China Strategic and Economic Dialogue. Although the Democratic Party may be the party of international cooperation, the current US emphasis on stronger ties with China is clearly a bipartisan phenomenon.
Building a "New Type" of Bilateral Relationship
During their summit talks last June, President Xi reiterated his proposal for building a "new type of great-power relations"—a cooperative, nonconfrontational relationship based on mutual benefit and respect, as contrasted with the tension and antagonism that persisted between Washington and Moscow and between Beijing and Moscow during the Cold War. President Obama echoed that call.
Of course, Beijing's top political priority is domestic policy, not foreign relations. In recent years, such festering problems as corruption and abuse by local public officials, unemployment among migrant workers, and poor employment prospects for college graduates have fueled growing discontent in Chinese society. Ethnic conflict and separatism are on the rise in regions like Tibet and Xinjiang. Protests and acts of violence have become grown common and widespread throughout China.
The most pressing challenge facing the country's leaders today is coping with these mounting problems while keeping the economy on track. To do this, Beijing needs to focus like a laser on the domestic situation, and this means maintaining a smooth, cooperative relationship with the United States, China's biggest trading partner and a pivotal regional player .
The Obama administration, which has trumpeted a pivot toward Asia in its foreign policy, is no less determined to maintain constructive ties with Beijing. The top political priority for the Obama administration remains the domestic economy, which has yet to post a strong recovery in the wake of the Lehman crisis. The White House views export growth as a key to reducing domestic unemployment, and it is eyeing China as the country with the greatest potential for absorbing those exports.
In fact, the United States and China have a host of common and overlapping concerns as the world's first and second largest economies and permanent members of the UN Security Council. Among the topics Vice President Joe Biden and Xi covered during some four hours of wide-ranging talks in December 2013 were the Chinese economy, Taiwan, Tibet, US-China economic ties, North Korea, Iraq, and Syria.
Given these realities, we can expect the trend toward bilateral cooperation—particularly in the economic sphere—to continue for the foreseeable future. In terms of intergovernmental cooperation, we can look forward to progress on climate change, energy, and food and drug safety, areas on which the two sides reached basic agreements during Biden's visit. In the private sector, foreign investment should pick up substantially once the two governments finalize the bilateral investment treaty now under negotiation.
In addition, despite a general tendency to regard the Trans-Pacific Partnership as a tool for containing China, participation in the TPP is the next major item on Beijing's international trade agenda after the bilateral trade treaty, according to one high-ranking Chinese economist. Premier Li Keqiang stated in September 2013, at the China-ASEAN Business and Investment Summit, that Beijing was willing to consider a range of regional frameworks, including the TPP, and China's Ministry of Commerce later confirmed that it was deliberating the possibility of joining in the free-trade initiative. Washington has sent positive signals as well; during his visit to Japan in May 2013, Under Secretary of Commerce Francisco Sanchez stated that the United States would welcome China's participation in the TPP.
To be sure, both the investment treaty and the TPP must overcome major hurdles, but there is no question that both countries are making a concerted effort at the government and private levels to strengthen bilateral ties.
Of course, this is not to suggest that the US-China relationship is one of complete mutual trust and satisfaction. Washington continues to voice concern over the Chinese government's suppression of free speech and other human rights abuses, its lack of transparency with regard to continuing increases in military spending, cyber-spying on US corporations and government agencies, and other issues. Even in the economic sphere, where bilateral ties are relatively untroubled, China's chronic trade surplus with the United States (surpassing $300 billion) and its frequent violations of intellectual property rights remain a source of friction.
Beijing, for its part, continues to demand that Washington refrain from interfering in matters affecting China's "core interests," including Taiwan, Tibet, and territorial disputes in the South China Sea and East China Sea. While Xi's foreign policy is oriented to maintaining the stable international environment his regime needs to focus on domestic issues, he has also made it clear that he will not compromise where China's core interests are concerned. On the economic front, the Chinese government remains frustrated by American restrictions on high-tech exports to China and on Chinese investment in the United States.
Still, the statement by Foreign Minister Wang cited above and the US response express a mutual determination to maintain a constructive relationship notwithstanding acknowledged differences. While disagreements will no doubt continue to crop up from time to time, both governments have embraced a basic policy of working to resolve such issues through dialogue.
The Specter of Conflict in East Asia
The real shadow hanging over US-China relations today, in fact, is not the bilateral issues noted above but the deteriorating regional situation in East Asia, which threatens to entangle the United States. Territorial claims in the South China Sea have generated friction between China and Vietnam, the Philippines, Brunei, and Malaysia. But even more troublesome from the US perspective may be the escalating territorial dispute between China and Japan, a key American ally. Given the high priority Washington places on cooperative ties with Beijing, Tokyo's efforts to bring US pressure to bear over the Senkaku dispute have placed the Obama administration in an increasingly difficult position.
The US government has articulated its displeasure with any kind of unilateral action that threatens the stability of the Asia-Pacific region. At the same time, the last thing Washington wants now, given its interest in stronger ties with Asia's fast-growing economies, is to throw a monkey wrench into US-China relations. And the United States certainly has nothing to gain from becoming enmeshed in an escalating dispute between Japan and China.
This ambivalence came through clearly in Washington's reaction to Beijing's establishment of a vast air defense identification zone (ADIZ) and its requirement that any aircraft flying through the zone submit its flight plan to Chinese authorities. In a December 4 press conference following Beijing's announcement, Secretary of Defense Chuck Hagel went no further than to call the "unilateral" policy "destabilizing" to the region, complaining that Beijing had not consulted the United States in advance. Although Washington has refused to submit flight plans for US military aircraft, it has also declined to join with Tokyo in demanding that Beijing rescind the new policy.
All of this helps explain Washington's reaction to Abe's visit to Yasukuni Shrine in late December last year. A press release issued on December 26 by the US Embassy in Tokyo publicly scolded the prime minister, saying, "The United States is disappointed that Japan's leadership has taken an action that will exacerbate tensions with Japan's neighbors." In short, Washington treated Abe's visit to the shrine much as it did Beijing's establishment of the East China Sea ADIZ—as an action to be deplored on account of its potential to destabilize the region.
Some Japanese leaders have dismissed such objections, countering that the prime minister has every right to honor the spirits of the fallen and should not be deterred by foreign criticism. The author personally sees nothing objectionable in the prime minister's paying tribute to the war dead while at the same time renewing the Japanese government's commitment to peace. But there is no denying that, by making a gesture guaranteed to further alienate China and South Korea at a time of troubled relations with both countries, the Japanese government has undercut its own foreign and security policy.
A Test of Japanese Diplomacy
Over the past few years, China has pursued policies and actions that show a determination to change the status quo in the East China and South China Seas. Diplomatically, Japan needs to respond to such behavior by marshaling international opinion in its own favor and showing the world that China is unilaterally destabilizing the region. Unfortunately, Abe's nationalistic views, as suggested by his Yasukuni visit, have created the impression among Western nations that Japan is also helping to undermine the region's stability.
On the security front, the Japanese government must take action to ensure that the Self-Defense Forces and the Japan-US alliance serve as an effective deterrent to any possible military challenge from China. Moreover, at a time when fiscal constraints are forcing the United States to trim its military budget, Washington is counting on Japan to assume a greater security role in the Asia-Pacific region.
With these challenges in mind, the Japanese and US governments are discussing the first upgrade to the Guidelines for Japan-US Defense Cooperation in 17 years with the aim of reaching a final agreement within the year. Unfortunately, with Japan-China relations as strained as they are today, any move by the United States to upgrade defense cooperation with Japan is likely to fuel mistrust and anti-American feelings among the Chinese. In short, Abe's Yasukuni visit has compromised Washington's ability to pursue constructive revision of the Guidelines. This is scarcely advantageous to Japan's national security.
Since January this year, top Japanese government officials and ruling-party politicians, including Deputy Foreign Minister Nobuo Kishi and former Foreign Minister Hirofumi Nakasone, have been traveling to Washington in an effort to convince US leaders that Prime Minister Abe's motive in visiting Yasukuni Shrine was not to provoke Japan's neighbors but to renew the Japanese government's commitment to peace. Most of the people they have spoken to have responded that, while they appreciate the prime minister's motives as explained to them, the problem from Washington's viewpoint is not Abe's motives but the all too predictable result of his visit. Given the backlash from the Chinese and South Koreans, no amount of explanation regarding the prime minister's good intentions is likely to assuage Washington's "disappointment."
Other reactions from the ruling party have been even less helpful. LDP lawmaker Koichi Hagiuda, special advisor to Prime Minister Abe, responded sharply to the US Embassy's press release, arguing that only the Democratic Obama administration would issue such a statement. "We never had to put up with such fault-finding under the Republicans," complained Hagiuda. Washington's emphasis on ties with China and stability in East Asia, though, reflects a strong bipartisan consensus, as we have seen. It would seem to be the Japanese, rather than the Americans, who are misreading the other side's motives.
Of course, one visit to Yasukuni Shrine is not sufficient to destroy the ties of mutual trust and cooperation that Japan and the United States have developed over the years. But Tokyo's current course is a dangerous one. At a time when not only Washington but also the vast majority of European and Asian governments are keen to maintain stable ties with Beijing, Japan risks isolating itself by needlessly antagonizing the Chinese and then seeking validation from the international community.
Our relationship with China is a complex one, holding within it potential for conflict as well as for great mutual benefit. As such, it must be managed holistically, with close attention to each aspect. It demands the kind of "smart diplomacy" that can secure the economic benefits of friendly ties while guarding against security risks through calm, measured cooperation with other countries that share our concerns. This is the test facing Japan in an era of ever-stronger US-China relations, and it will take all the diplomatic skills our government can muster to meet that challenge.