The Economics of Rapprochement: Can Japan and China Bury the Hatchet?
October 16, 2014
Why hasn't the second Abe cabinet placed higher priority on repairing relations with China? And why has Beijing suddenly begun signaling an openness to rapprochement? Research Fellow Takashi Sekiyama explores the economic dynamics of Japan-China relations with the Beijing APEC summit coming up in November .
* * *
With the Asia-Pacific Economic Cooperation summit just weeks away, Beijing has begun to show signs of softening its hardline stance toward Japan.
When Prime Minister Shinzo Abe first called for top-level bilateral talks to be held during the upcoming Beijing APEC summit, scheduled for November, his suggestion appeared to fall on deaf ears. Then, in late July, former Prime Minister Yasuo Fukuda flew to Beijing and met secretly with President Xi Jinping in an effort to broker a rapprochement behind the scenes. The effort appears to have paid off.
On August 9, Chinese Foreign Minister Wang Yi met with Minister for Foreign Affairs Fumio Kishida on the sidelines of the ASEAN+3 ministerial meeting in Naypyidaw, Myanmar. It was the first conference between the two countries' top diplomatic officials since September 2012, shortly before Abe took office a second time. On August 18, in a meeting with a nonpartisan delegation of young Japanese politicians, Chinese Vice-President Li Yuanchao expressed a desire to improve bilateral ties, "using history as a mirror while moving ahead toward the future" (Xinhuanet, August 19, 2018).
Such developments have raised hopes for a long-awaited thaw in Japan-China relations. But will Xi Jinping follow up on these preliminary advances?
Analysts have adduced a variety of factors to account for this apparent shift. Some have traced the change in attitude to developments in the Chinese political arena, including the corruption investigation of Zhou Yongkang. Others have stressed such international factors as the territorial disputes in the South China Sea. In this article, I would like to assess the prospects for rapprochement primarily from the standpoint of economic circumstances, focusing on foreign direct investment by Japanese businesses in China.
As many Japanese companies increasingly see Southeast Asia as their most promising market, Beijing appears interested in improving diplomatic ties in order to stem the slide in investment from Japan. Tokyo, though, does not seem to be reciprocating the enthusiasm. It remains to be seen whether the benefits of closer ties for China will outweigh the political costs Xi Jinping may wind up paying to achieve a thaw.
The Economics of Rapprochement
A key factor behind the change in Xi's attitude, I believe, is the dramatic decline in Japanese foreign direct investment in China. In the first half of 2014, the FDI flow from Japan to China was just $2.4 billion, down 48.8% from the same period the previous year.
Rising labor costs have been cited as the biggest reason for this trend, but there is little doubt that heightened bilateral tensions have further dampened Japanese industry's enthusiasm for doing business in China. In a 2014 survey of Japanese manufacturers by Mizuho Research Institute, Japan-China relations were identified by 63.8% of respondents (multiple response) as a cause of concern when it came to doing business in China, second only to "rising labor costs" (78%).[1]
Because Japan has been an important source of external investment in China in recent years (see Figure 1), a sharp decline in Japanese investment could spell trouble for the Chinese economy. It would be especially devastating for China's regions, which have been counting on the expansion of Japanese business operations to create jobs and fuel growth.
Figure 1. Top Five Sources of Foreign Direct Investment in China, 2013 (excluding Hong Kong, Taiwan, British Virgin Islands, and Cayman Islands1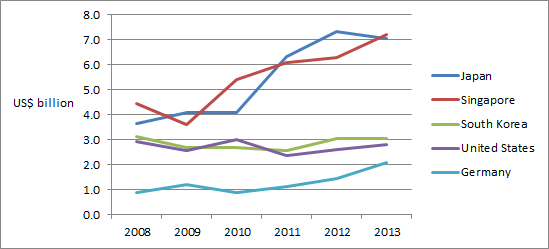 In fact, where economic relations are concerned, China began showing signs of greater openness toward Japan late spring, right around the time the recent falloff in Japanese investment was becoming apparent. In May, then Chairman of Keidanren (Japan Business Federation) Hiromasa Yonekura visited Beijing and was able to meet directly with Vice-President Li Yuanchao, who stressed that "business must go on" despite differences over historical issues and sovereignty over the Senkaku (Ch: Diaoyu) Islands. This might be seen as a harbinger of Beijing's recent diplomatic shift toward Japan.
Thus far, there are no signs of a rebound in Japanese investment in China. To be sure, it takes more than a year for a shift in business strategy to show up in government statistics, but even at the anecdotal level, one hears almost nothing about further plans for expansion. It seems likely that one key motive behind Xi's new openness toward rapprochement is rekindling Japanese industry's enthusiasm for China.
Abe's Shifting Priorities
Conversely, Japanese business's flagging interest in China appears to have caused Prime Minister Abe to become less eager—not more so—to build stronger ties with China, particularly in comparison with the policies of his first administration.
The first Abe cabinet, inaugurated in September 2006, placed high priority on improving ties with China. Abe arrived in Beijing just two weeks after entering office, before visiting any other foreign country, and this was credited with breaking the ice after the deep chill that set in during the administration of Jun'ichiro Koizumi. Yet since taking office for a second time in December 2012, Abe has done little—apart from reiterating that "the door to dialogue is always open"—to repair the relationship.
What accounts for Abe's change in attitude? As I see it, one explanation is the shift in Japanese industry's overseas focus.
A questionnaire survey conducted by the Japan External Trade Organization (JETRO) found that in 2005, a full 80% of Japanese businesses were considering expanding or launching business operations in China. By 2013, the ratio had dropped to about 50% (Figure 2).[2]
Figure 2. Japanese Plans for Business Investment in China (JETRO Survey)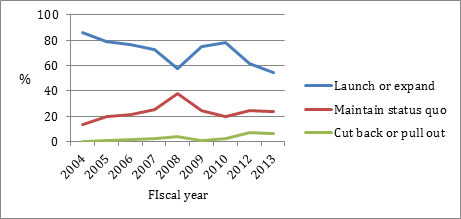 Moreover, in the previously mentioned Mizuho survey of Japanese manufacturers, only 10% revealed plans to set up new bases of operation in China, while more than 30% said they planned to to keep new investment to a minimum and work on boosting the profitability of existing operations, as by rationalizing production processes.
Consistently Attuned to Business
The fact is that the focus of Japanese industry's overseas ambitions is rapidly shifting to Southeast Asia, especially Indonesia, Thailand, and Vietnam. The JETRO survey asked respondents to identify the most promising export markets for their companies over the next three years. Figure 3 shows the difference between the 2008 and 2013 responses. Although China is still highly ranked, it no longer dwarfs other destinations, as it did in the past.
Figure 3. Most Promising Markets as Identified by Japanese Businesses, 2008 and 2013 (JETRO survey)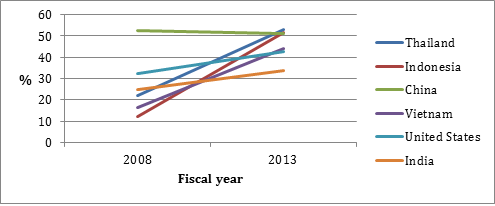 The comparison helps to place Abe's China policy in perspective. During the first Abe administration, Japanese industry was fixated on China as the most promising export market by far, placing the administration under considerable pressure to break the diplomatic deadlock that threatened to hinder business expansion. I believe Prime Minister Abe's active bid to improve relations with Beijing at that time was largely a response to this pro-China enthusiasm within the business community, which extended to the public at large.
Now, with many Japanese businesses shifting their focus from China to Southeast Asia, Abe's diplomatic emphasis has shifted as well. After becoming prime minister for the second time in December 2012, his first overseas destinations were Vietnam, Thailand, and Indonesia. By October 2013, less than a year later, he had visited every member of the Association of Southeast Asian Nations, becoming the first Japanese prime minister to visit all 10 ASEAN countries while in office.
Of course, Japanese businesses still hope for a political rapprochement with China. Asked what they seek from the Abe administration, 46.6% of the respondents in the Mizuho survey replied "improvement in Japan-China relations." This sentiment, though, has yet to spread broadly enough to the general public to influence the administration's policy. (Note that "improvement in Japan-ASEAN relations" was not among the choices in the survey question.)
Seen in this light, Abe's foreign policy has actually been quite consistent in terms of cultivating the markets Japanese business regards as most promising. What has changed is not Abe's basic policy but the focus of Japanese business.
Xi's Move: Weighing the Pros and Cons
From an economic viewpoint, then, it would appear that China currently has more to gain from mending the bilateral relationship than Japan.
To the extent that rising labor costs in China are driving the shift in Japanese industry's overseas focus, a thaw in bilateral ties is unlikely to have a significant impact on investment trends over the short term. Still, China remains a key export market, and there is no question that the cooling of diplomatic relations has been a secondary factor inhibiting additional investment by Japanese business. If Abe and Xi, meeting on the sidelines of the November APEC summit, were to send a message affirming their mutual commitment to restoring diplomatic trust and rebuilding the "mutually beneficial relationship based on common strategic interests" agreed on in 2008, it would doubtless have a positive effect on economic exchange and business interaction between the two nations.
Whether such a meeting comes to pass will hinge on whether Xi decides that the merits outweigh the dangers. In China, any leader seen as adopting a pro-Japanese stance is courting political disaster. And Xi's current anti-corruption campaign makes him a prime target for political revenge by disgruntled rivals. Especially with bilateral tensions running high over the Senkaku Islands and the history issue, Xi could run a serious risk by appearing too conciliatory.
The APEC summit is still some time off, and since Abe will be in Beijing for the conference in any case, Xi can afford to wait until the last minute to make a decision on one-on-one talks. In the meantime, he will be weighing the pluses and minuses of such a meeting, gauging the potential for a domestic backlash while keeping a close watch on the words and actions of Japan's political leadership—above, all, Abe himself.
1. Mizuho Research Institute, Questionnaire Survey of Japanese Corporate Enterprises Regarding Business in Asia as of February 2014. http://www.mizuho-ri.co.jp/publication/research/pdf/report/report14-0515.pdf . (English summary: http://www.mizuho-ri.co.jp/publication/research/pdf/eo/MEA140724.pdf )
2. Japan External Trade Organization, Survey of Japanese-Affiliated Companies in Asia and Oceania. http://www.jetro.go.jp/en/reports/survey/pdf/2013_12_27_biz.pdf
Topics photo © CSIS (CC BY-NC-SA 2.0)