The New Shinzo Abe: Eyes on the Prize
April 1, 2013
The cabinet of Prime Minister Shinzo Abe is off to a remarkably strong start. In his first press conference following his installation last December, Abe pledged to "bring back" a strong Japanese economy by pursuing a three-pronged policy: bold monetary expansion to conquer deflation, a flexible fiscal policy that puts recovery first, and a long-term strategy for growth through private investment.
At least where the first two elements are concerned, the prime minister has taken concrete action by pushing a 13 trillion yen supplementary budget through the Diet and persuading the Bank of Japan to sign a joint statement embracing a 2% inflation target. The media quickly coined the term "Abenomics" in reference to the pump-priming policies the Abe cabinet has pursued with such speed and resolve since December.
Abe's actions on the economic front have received a fortuitous boost from the happily timed US economic recovery and the euro-zone's financial stabilization, raising the hopes of investors in Japan and abroad and triggering a surge in stock prices together with a long-awaited drop in the value of the yen. Whether the market can maintain its present optimism is uncertain, but for a nation that has been mired in deflation for roughly two decades, these are extremely welcome developments.
A Breakthrough on the TPP
Abe has also moved with speed and resolve to repair relations with the United States. Citing the damage sustained by the Japan-US alliance while the Democratic Party of Japan was in power, he called for a bilateral summit in Washington at the earliest possible date. It was February 22 before President Obama—preoccupied with the "fiscal cliff" and other political challenges on the domestic front—was able to meet with Abe, but the results were not disappointing.
The biggest item on the summit agenda was the Trans-Pacific Partnership and whether Japan would commit itself to entering into negotiations for the ambitious regional trade agreement. Quite apart from the growing pressure from Washington, the previous DPJ government understood the need for Japan to play a role in the TPP. But Japan's powerful farm lobby vehemently opposed any involvement in such an agreement, and the embattled DPJ administration lacked the strength to act on its intentions.
Given that the Liberal Democratic Party has traditionally cultivated the support of the farm block, many assumed that the LDP's December election victory made the TPP a lost cause. But Abe surprised everyone by keeping the door to participation open, then made use of the February summit in Washington to make important headway on the issue.
The unusual joint Japan-US statement issued immediately after the White House talks confirmed that Japan was "not required to make a prior commitment to unilaterally eliminate all tariffs upon joining the TPP negotiations," a clause inserted in deference to Tokyo's concerns.
This was an important victory for Abe. During the December general election campaign, the LDP had promised to "oppose participation in the TPP negotiations as long as it was premised on blanket abolition of tariffs, with no special exceptions." This pledge, aimed at securing votes from the farm block, certainly conveyed the impression that the LDP was fundamentally opposed to involvement in the TPP process.
But read literally, it could also be taken to mean that the LDP would favor participation in the negotiations as long as Japan was permitted to hold out for special exceptions to detariffication. By clarifying that Japan could enter the negotiations with this intent, the February 22 joint statement enabled Abe to opt for participation without breaking the LDP's pledge. Returning to Japan, the prime minister set to work greasing the wheels within his own party, and on March 16 the decision was made official.
A Changed Man?
Abe's leadership style during these first few months stands in striking contrast to his performance as prime minister six years ago. During Abe's brief earlier tenure, from September 2006 to September 2007, his excessive solicitude for the interested parties in any given issue led to indecision, so that he was continually delaying action on major issues. Before long, the government was at a total impasse, and Abe was forced to resign amid dismal approval ratings.
It would seem the prime minister has learned something from that painful experience. This time Abe's statements and actions reveal a new strategic focus and a strong determination to get things done. Whether this change reflects an internal transformation on Abe's part or just a more competent group of advisors is difficult to say. What is certain is that the new approach has paid off, as evidenced by the cabinet's 70% public approval rating.
But Abe has changed in other ways as well, most notably in his approach to contentious foreign policy and defense issues.
When Abe took office in December, observers in the US, Chinese, and South Korean media reacted with alarm, warning of the new administration's hawkish orientation and even drawing parallels between his ideas and the militarism of the 1930s and 1940s. There is no denying Abe's right-wing orientation, even within the LDP. As recently as September last year, when he was running for party president, he made a point of publicizing his nationalist views on such emotionally charged issues as Japan's historical culpability and official visits to Yasukuni Shrine, both perennial sore points with China and South Korea. The truth is that the alarmed reaction to the new government was based on Abe's own statements. But it is also a fact that Abe has refrained from any act or deed that might serve to confirm those fears since he took office in December.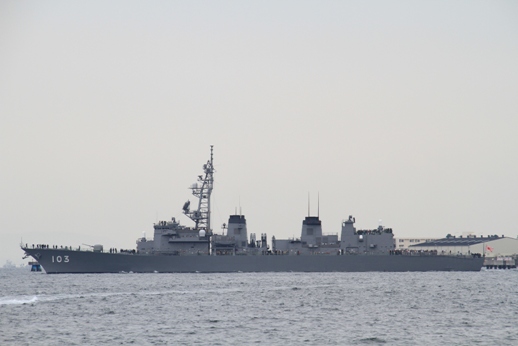 Even in the face of provocation, Abe has carefully avoided any incendiary language that could serve to escalate tensions between Japan and its neighbors. His government reacted with restraint both to the North Korea's nuclear test on February 12 and to the January 30 incident in which a Chinese frigate locked its weapons-targeting radar on a Maritime Self-Defense Force destroyer near the disputed Senkaku Islands. While letting the international community know just how threatening and unjustifiable such acts are, it maintained a calm, level-headed demeanor.
Abe has showed similar restraint in dealing with South Korea and the disputed Takeshima islets. Although authorities in Shimane Prefecture had hoped that the prime minister himself would attend the February 22 ceremonies celebrating Takeshima Day, Abe sent only a parliamentary secretary from the Cabinet Office to represent the government. By contrast, he sent Deputy Prime Minister Taro Aso and former Prime Minister Takeo Fukuda to attend the inauguration of South Korean President Park Geun-hye just three days later, on February 25. These moves were clearly calculated to head off any major backlash from South Korea.
To be sure, territorial disputes are not the sole focus of Chinese and Korean concerns over Abe's hawkish leanings. Another issue is his oft-repeated statements in favor of reinterpreting the Constitution to allow Japan to exercise its right of collective self-defense. Abe also supports the establishment of a national security council within the Prime Minister's Office to set policy on key diplomatic and security issues. Beijing and Seoul are nervous about both of these stances, which they connect with an aggressive, assertive nationalism. So far, however, Abe seems determined to steer clear of such controversy, even while moving quickly and resolutely on the economy.
Consolidating Power
This self-imposed discipline is motivated above all by domestic political considerations. Abe is acutely aware of the House of Councillors election scheduled for July this year and of its importance to the success of his long-term policy goals.
The LDP currently has a strong majority in the House of Representatives thanks to its resounding victory in the December 2012 general election. But the House of Councillors, or upper house, is controlled by the opposition, and under Japan's Constitution, non-budget legislation is exceedingly difficult to pass without the approval of the upper house. Abe knows that his government has little chance of achieving its larger policy goals while the Diet remains split in this manner. From his standpoint, it is vital that the ruling party perform well in this summer's upper house election.
Abe's previous experience can only intensify his determination to lay the groundwork for an upper house victory. When he was prime minister six years ago, Abe led the LDP into a historic defeat in the 2007 House of Councillors race, giving rise to the split that hobbled the next LDP prime minister and will hobble Abe if it persists. The 2007 upper house race was also an important factor behind Abe's decision to step down after just one year in office. The coming election is his chance at redemption.
A strategy of decisive leadership on the economy combined with a circumspect silence on polarizing ideological issues, such as defense policy and the teaching of Japanese history, makes perfect sense if the goal is to maintain a high public approval rating going into the July House of Councillors race and secure an upper house majority for the LDP–New Komeito coalition.
Thus far, everything has fallen into place for Abe. The high approval rating has strengthened his hand and allowed him to implement important policies in the face of opposition from powerful interest groups, as we have seen with his decision to participate in the TPP negotiations. In turn, this evidence of strong leadership has further solidified his popularity among voters, giving rise to a virtuous circle.
Of course, many things could happen between now and July. But if the Abe cabinet continues on its current trajectory, there is every possibility that the LDP–New Komeito coalition will emerge from the House of Councillors election with a majority in both chambers and break through the legislative gridlock in the Diet. Once that happens, Abe can breathe freely, and his government can reveal its true colors.
Will the Abe cabinet sustain its focus on the economy and apply itself to deregulation (the third prong of the economic strategy it announced in December) and other structural reforms needed for long-term growth? Or will it take advantage of its short-term economic successes to pursue such ideologically driven goals as the reinterpretation and ultimate revision of the Constitution? All will be made clear after the July upper house election.