Toward Community Solutions for Renewable Energy: Lessons from Obama Hot Springs
March 13, 2018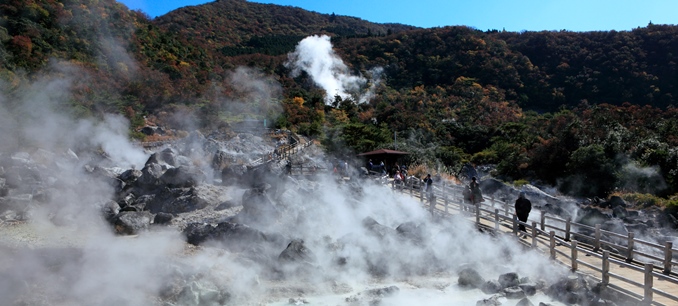 Japan's numerous hot springs offer rich potential for the development of renewable energy, but only if developers learn to work closely with local stakeholders. Tokyo Foundation energy expert Hikaru Hiranuma spotlights a southern spa town that metamorphosed from a fierce opponent of geothermal power into a pioneer in the field.
* * *
The Paris Agreement, which came into force in November 2016, is accelerating the global shift from fossil fuels like coal to cleaner energy sources. In Japan, the government has instituted a number of programs and schemes (such as the feed-in tariff) to encourage the use of renewables, particularly since the Fukushima nuclear disaster of March 2011. As a result, clean-energy projects have sprung up around the country.
At the same time, utility-scale solar and wind facilities have come under mounting attack for their impact on the local scenery and environment. Unless residents can see how they and their community benefit from renewable-energy projects, the complaints and protests are likely to escalate.
Fukushima Takes Stock
Renewable energy involves the construction of local facilities to generate electricity from that area's wind, solar, hydraulic, and geothermal resources. This requires the understanding and cooperation of the surrounding community. But in Japan, where large electric utilities have held power monopolies for some 60 years, there is little experience with power generation at the grassroots level, and even less know-how in the area of renewable energy. Outside investors hoping to take advantage of a community's renewable resources are apt to be met with suspicion and resistance.
Since the 2011 tsunami and nuclear disaster, Fukushima Prefecture has worked actively to promote the growth of renewable energy in the region, aiming to position itself as a leader in the adoption of clean energy. From the beginning, wind power was a major focus of this campaign, but a number of early projects ended up being scrapped in the face of local opposition. After review, prefectural officials concluded that the problem was a failure to actively involve local businesses, residents, and municipal authorities from the planning stages, and they took steps to correct the problem, as by making participation by local businesses a requirement for eligible proposals. At present, wind power projects totaling some 300 megawatts of generation capacity are awaiting the results of rigorous environmental impact assessments.
As the foregoing suggests, in addition to economic and technical challenges, the road to clean energy in Japan is facing new obstacles in the form of local resistance. The task now is to foster a more receptive climate and encourage active community participation in energy initiatives.
Lessons from Obama Onsen
How, then, can we overcome suspicion and opposition to renewable-energy projects at this critical stage in the shift away from fossil fuels? I believe there are important lessons to be learned from the example of Obama Onsen, a hot spring resort in the city of Unzen, Nagasaki Prefecture. This is a community that came together to support an innovative geothermal energy project a decade after blocking a similar initiative.
Obama Onsen is one of Japan's oldest spas, mentioned as early as 713 in the Hizen fudoki , a provincial gazetteer. It boasts the archipelago's hottest and most active thermal spring system, discharging about 15,000 tons of hot water daily, with temperatures close to 100 degrees C. The inns, restaurants, and other businesses that have sprung up around the hot springs are the foundation of the local economy. At the same time, approximately 70% of the hot water that gushes out of the ground at various spots flows into ocean unused.
Now, that energy is being harnessed by a cutting-edge binary-cycle power facility. Water pumped from a hot-spring reservoir is used to heat a second liquid with a lower boiling point, thus producing steam to turn a turbine and generate electricity. After a successful demonstration project, the system is now being operated on a commercial basis. But the story of this project's success begins with an earlier failure.
In 2004, after the national government designated the town of Obama a "special zone for structural reform," the New Energy and Industrial Technology Development Organization (NEDO, a government-funded research and development institute), in partnership with the Obama town government, embarked on a research and development project aimed at tapping the town's underutilized geothermal energy resources. A local landowner with property rights to an underground hot spring reservoir agreed to let the project team drill a production well for preliminary study purposes, and all necessary contracts were signed. However, when word spread among the residents of nearby Unzen Onsen, it triggered alarms that the drilling could hurt the resort. The residents organized to fight the project, and a similar campaign quickly sprang up in Obama Onsen. In 2005, the project was scrapped.
Why did the plan fail? The basic problem appears to have been a lack of outreach and public participation in the early planning stages. The project's leaders took inadequate measures to inform the community about the precise location of the well and misled residents into thinking it was intended for research purposes only—when in fact a permanent power generating facility was planned. This illustrates the importance of taking time to build understanding in communities that have no previous experience with renewable energy.
Starting Over
In 2007, the Faculty of Environmental Science at Nagasaki University forged an agreement with the Unzen municipal government and Nagasaki Prefecture to cooperate in a series of sustainability initiatives, including the development of renewable energy resources in the city. The faculty, which already had its sights set on tapping geothermal energy from the city's hot springs, formed a research team and drew up a "new energy vision" for the area. While taking steps to secure authorization for a demonstration project from the Ministry of the Environment, it organized a series of team-taught mini-courses, symposiums, and other public events to provide residents with information and opportunities for dialogue.
Eventually, this outreach effort won over the same businesses and residents that had initially opposed the use of hot springs for geothermal power generation. In March 2011, a group of community leaders teamed with Nagasaku University to form an Obama energy development promotion council, and in May that year, a foundation to advance the project was created with spa owners as voting members. Both of these entities secured financial support from Unzen, Nagasaki Prefecture, and the Japanese government, as well as ongoing technical support from Nagasaki University.
In November 2011, the project was awarded a major grant from the Environment Ministry to build and run a demonstration facility. Trial operations at the Obama binary power plant began in April 2013 and continued without mishap until March 2014. Subsequently, the plant was sold to a commercial operator committed to building a new business model involving "energy tourism." In September 2015, the facility began operating on a commercial basis.
The binary power plant has the capacity to provide about 220 households with electricity. The power it generates is distributed to users both inside and outside the local community. The plant also offers public tours in cooperation with the Obama Hot Spring Tourism Association. And it is studying other ideas for giving back to the local community, including the use of hot water discharged from the power plant to operate an onshore fish farm.
More importantly, in March 2015, the city of Unzen finalized a basic environmental plan outlining a broader policy of actively supporting the development of hot-spring energy as part of its campaign to build sustainable communities.
Keys to Success
As suggested by the case of Obama Onsen, the development of renewable energy at the local level is a multi-step process. We can compare these stages to the planting of a seed and its germination, followed by growth and fruition.
At the initial seeding stage, the basic requirement is a player committed to developing a local renewable energy resource. In the case of Obama Onsen, that player was Nagasaki University.
Even with a committed player, however, a viable plan is needed before that seed can germinate. For this purpose, the player needs not only commitment but also access to advanced technical know-how. Nagasaki University had the advantage of starting out with such expertise.
Next, the project needs fertile soil in which to grow. This means creating an organizational framework for local action. Nagasaki University did this by securing the understanding and approval of Obama Onsen community leaders and enlisting their participation in the energy development council. In this way, it successfully negotiated the growth stage.
Finally, a successful renewable-energy project must bear fruit on a sustainable basis. This requires an institutional commitment to the ongoing development of renewable energy. In the case of Obama's geothermal energy project, this was achieved with the Unzen municipal government's decision to incorporate hot-spring energy development in its basic environmental plan.
By taking the time and care to meet these requirements at each stage of a local energy project—seeding, germination, growth, and fruition—we can facilitate the spread of renewable energy to communities nationwide and set Japan on the path to sustainability.
Translated from "Chiiki shutai no saisei enerugi fukyu e no torikumi (2): Chiiki shutai no saiene jigyo o soshutsu suru ni wa —Arata ni ukabiagatta chiiki no juyosei to iu kadai ," Kosei Fukushi , November 14, 2017. Courtesy of Jiji Press.
Read the original article in Japanese: https://www.tkfd.or.jp/research/energy-resources/9elvjh