China's Remarkable Renewable Energy Advances
December 9, 2013
While environment-related news from China today tends to focus on the country's polluted air and water, great strides are also being made in the use of renewable energy. Kunio Takami, who heads a Japanese nonprofit that has been involved in reforestation activities in China for over two decades, reports on the surprising advances being made to power China's industry with wind and solar energy.
* * *
As executive director of the NPO Midori no Chikyu Nettowaku (Green Earth Network, GEN), I have been involved in reforestation activities in the city of Datong in China's Shanxi Province since 1992, and I now spend more than three months out of the year in the city. Our earliest projects were in Hunyuan County some 70 kilometers southeast of Datong, which took more than four hours to reach by bus until the middle of the 1990s.
A Barren Wasteland
One of the most difficult places to pass was near the township of Dangliuzhuang, especially following the summer rains. Although the roads were paved, a lack of funding and technical expertise meant that many had little more than a layer of blacktop. When it rained, groundwater would erode the soft soil, and given the steady stream of overloaded coal trailers that travelled on these roads, it did not take long for the blacktop to be torn to pieces. So often, the bus we were riding in would get stuck in the mud, and we would all have to get out and push.
This was the lowest part of the Datong basin, and since there is no river to carry off the rainfall, the water usually just sits there until it evaporates. This leaves behind carbonate salts of calcium, potassium, sodium, and magnesium, and the ground surface turns white as it dries. Needless to say, salt damage is widespread. At first glance, it might seem that this flat expanse of land, where water is plentiful, would be rich and fertile. But with alkaline levels about pH 9, there are no crops that will grow here.
The Japan International Cooperation Agency once provided assistance for an agricultural experiment to improve the soil quality here, but I do not know what became of it. There was also a project to replace roadside poplar trees with willows, which are much more salt hardy, but even the willows refused to take root.
Route S203 is a main artery in Shanxi Province, connecting Datong with points south. This route was finally paved with steel-reinforced concrete in the late 1990s, after which our travel time from Datong to Hunyuan was shortened to just over two hours.
The "Coal Capital" of China
Datong has long been called the "coal capital" of China and until recently was the largest coal-producing center in the country. Economic growth in recent years has been accompanied by the construction of small- and medium-sized power plants throughout China, but prior to that, the Datong No. 1 Power Plant produced all electricity supplied to Datong itself and the Datong No.2 Power Plant produced electricity for Beijing and Tianjin.
The No. 2 Power Plant was initially completed in 1988 with a capacity of 1.2 million kilowatts and produced 7 billion kilowatt hours annually. The facilities were dramatically expanded thereafter, and by 2009 they had a capacity of 3.72 kilowatts and produced 20 billion kilowatt hours annually.
On my earliest visits to Datong, I never went anywhere without my video recorder, since everything I saw or heard was so new and unusual. One day in autumn 1992, as I was shooting images of the No. 2 Power Plant, a man came up to me and said: "All the electricity goes to Beijing. All we get in Datong is the pollution."
Well, here is a man with something interesting to say, I thought, and asked him to speak to the camera.
What he said instead was, "We, the citizens of Datong, are honored to be able to contribute to the welfare of our nation."
In those days, the air pollution in Datong was hellacious. Wherever you went, it smelled of smoke, your eyes watered, and your throat became sore. In the winter, when the temperature on the ground was lower than in the air, this thermal inversion would trap the smoke just above ground level. Sometimes I would go to neighboring villages, and when I returned to Datong, it looked like the city was capped with a black dome of air pollution.
Coal at the time was used for fuel in every home in Datong for both cooking and heating. Presumably, the No. 2 Power Plant had at least a smoke treatment system of some sort, but the city nonetheless became a symbol of China's air pollution problems, no doubt contributing significantly to the mixed feelings Datong residents have toward Beijing.
This past winter, news reports of extreme air pollution levels in cities around China alarmed many Japanese residents, who feared that the pollutants would eventually reach Japan's shores. An outbreak of avian flu in China at the same time further added to the impression that everything undesirable came from China.
The truth of the matter, though, is that air quality in Datong has improved dramatically over the past several years. Perhaps the single biggest factor has been that the fueled burned in Datong has switched from coal to natural gas. Many also credit Datong's sister-city, Omuta in Fukuoka, Japan, for its cooperation in addressing environmental issues. Looking over my most recent photos of Datong following my return to Japan, I was surprised to see how blue the sky appeared. That said, the pollution in other major cities of Shanxi appears to be growing worse.
Hills Lined with Wind Turbines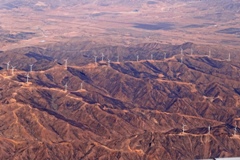 Datong lies in northern Shanxi Province, near the Great Wall of China stretching atop the range of mountains bordering Inner Mongolia. One of the peaks in this range is the 2,144-meter-high Cailiang Mountain; GEN has been implementing several reforestation projects in the foothills south of the peak, including the experimental "Magpie Forest."
From this forest, wind turbines began being spotted along the ridges of the foothills near Cailiang from around 2012. The number of visible turbines varied from place to place, and I had no idea how many had actually been built. In the spring of 2013, on a flight from Datong to Beijing, I counted no fewer than 30 turbines. But as soon as we passed over that group, another cluster of turbines came into view.
There is an old saying that the wind in Datong blows but "once a year"—starting in the spring and lasting continuously until winter. What is more, it blows in the same direction—the northwest—so Datong is an ideal location for wind turbines. Given this region's long history with coal-fired power plants, though, I had never imagined that wind power would take hold.
But things change. The city of Datong comprises four districts and seven counties, many of which are bounded by mountains. And starting around 2010, they began building wind turbines on nearly any and every hill they could find. It was around this same time that China zoomed past the United States as the world's largest producer of wind power, and I suspect that they did it by building wind turbines all around the country.
Rarely are there villages or farmhouses among these mountains, meaning that low-frequency wind turbine noise and other problematic side effects are not an issue there. The other side of the coin is that there are few existing roads available for construction and maintenance. But obviously, the China of today can find a way to overcome such hurdles and get things done.
Megawatt Solar Power
In 2012, with the opening of a new highway stretching from Datong to Lingqiu, travel time to Hunyuan was cut to less than an hour. Lingqiu, which took at least seven hours 20 years ago, was now a two-hour drive away.
In March 2013, I drove down Route S203 for the first time in years, and just as I reached the area where the salt damage is worst, I noticed that the fields to the east were shining. Stopping the car, I grabbed my camera and ran to see what it was. Sure enough, it was a field full of solar panels.
Reading a placard, I learned that this was the first part of a multiple-phase plan; for now, the facility covered 56.6 hectare and would produce 20 megawatts, or annual production of 26.78 million kilowatt hours. The project was being undertaken by GCL-Poly Energy Holdings at an investment of 220 million yuan. Once phase one of this project is operational, it would result in annual savings equivalent to 8,100 tons of coal and cut emissions of carbon dioxide by 22,108 tons, sulfur oxides by 168.4 tons, and nitrogen oxides by 57.1 tons. Given that the land is worthless for agriculture and too soft to support the structures necessary for an industrial complex, it is ideally suited as a solar power station, especially if you consider that it gets little rainfall, and the sunlight is quite strong.
GCL-Poly has close ties with the military and is also active in trade and real estate. From its headquarters in Hong Kong, the company markets its solar panels not just in China but also in Vietnam and Singapore. How, though, did a panel manufacture become involved in the construction of a solar power station?
Apparently it hopes to build a polycrystalline silicon plant on the premises using power generated by the solar power station and then using the silicon produced there to build more solar panels, ultimately developing what it calls a "self-sustaining industrial model."
Plans have been drawn up through phase five, and now with Taiwan's Foxconn Technology Group joining the project, the Datong solar plant could be producing 500 megawatts or more, which would make it the world's largest solar power station.
In August 2013, Datong hosted Solar Decathlon China. This international competition was launched by the US Department of Energy and has been held five times at locales in the United States and Europe; this was the first time the event was held in Asia. Perhaps the time has come for this once smoke-infested inland city of Datong to emerge as China's leader in renewable energy.