Benefits of Closer Japan-NATO Cooperation
September 28, 2015
Deputy Secretary General Alexander Vershbow of the North Atlantic Treaty Organization visited the Tokyo Foundation on September 14, 2015, to deliver a keynote address at a seminar on Japan-NATO relations, co-organized with the Ministry of Foreign Affairs. Prior to this meeting with Japanese security experts and foreign officials from NATO member states, he granted an interview with the Foundation.
* * *
TOKYO FOUNDATION: Can you briefly describe the purpose of your visit to Japan?
ALEXANDER VERSHBOW: I am here to continue our high-level dialogue with Japan. Japan has been a good partner, very strong partner of NATO for many years. Actually, the first partner from outside of the Euro-Atlantic area and of course the most significant contributions have been in support of our efforts in Afghanistan, but there are many other things going on, and the relationship certainly goes beyond Afghanistan and I thought that this was an especially good time to come to Tokyo to explore possible additional areas where we could deepen our cooperation and see where we can contribute to solving the very difficult security challenges that the world faces today.
TF: Can you elucidate on the areas in which you're looking for stronger cooperation, especially in the light of the Individual Partnership and Cooperation Program that was signed between Japan and NATO last year?
VERSHBOW: That agreement defines a very extensive agenda of potential areas where we could collaborate, including things that I know are of very high importance to Japan, including cyber defense, civil emergency planning, maritime security, seeing whether we can exchange some expertise and strategic communications and public diplomacy, and of course counter-terrorism. These are the immediate subjects that come to mind, but given all the different challenges that we face and the shared interest that we have, there may be additional areas that could be identified.
Contributions to Peace and Security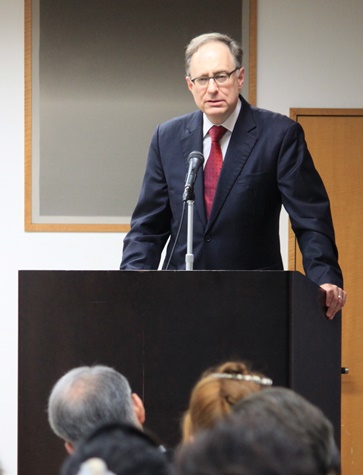 TF: How do you assess Japan's security policy, particularly the efforts being made by the [Shinzo] Abe administration to enact new and more flexible security legislation?
VERSHBOW: From the NATO perspective, Japan has been a major contributor to international peace and security for a long time, and that has enabled us to work together in Afghanistan and in dealing with other global crises, not only in the NATO context but also in the UN framework. But NATO has been following with interest the work on the proactive contribution to peace and the new legislation. While we don't stick our noses into the country's internal affairs, we're hopeful that this can give additional impetus to NATO-Japan cooperation. As I said before, with so many global challenges, this can be very beneficial to both sides.
TF: What would you consider to be some of those benefits?
VERSHBOW: NATO offers a whole range of practical programs that can be beneficial to partners, and we can tailor that cooperation to each country's needs. For some of the countries that are grappling with the threat of terrorism in their immediate neighborhoods, particularly in the Middle East and North Africa, we're stepping up our support in the area of defense capacity building in counter-terrorism. But in the case of Japan, I think that there are programs that offer ways for Japan to gain greater expertise in cyber-defense and cyber-security and in dealing with natural disasters and other civil emergencies where NATO has vast experience. There are exercises in which Japan is participating, such as the one that starts later this month in Ukraine run by our Euro-Atlantic Disaster Response Center.
Of course there is a wide range of military-to-military activities that is open to partners that can improve interoperability and professionalism among the armed forces and lay the basis for potential operations, either in the NATO or UN framework. We have a very big menu. You don't have to choose everything on the menu, but I think there is a lot that can benefit Japan.
Refugee Crisis
TF: What are humanitarian and security implications of the vast number of refugees and migrants flowing into Europe from the Middle East?
VERSHBOW: Clearly, this expanding flow of refugees is creating a very serious challenge and causing some strains in Europe. It's first of all a human tragedy. NATO isn't directly involved in the response to the migration crisis, but we're trying to contribute to addressing the root causes of this crisis.
One way we're doing that is by stepping up defense capacity by providing support to some of the countries along the Mediterranean that are dealing with the threat of terrorism and the general instability that is giving momentum to this huge flow of refugees. Members of NATO are contributing in one way or another to defeat the Islamic State in Iraq and Syria, which is the main cause of the refugees and migrants reaching Europe.
I think it's a team effort. NATO has a role to play more in dealing with the causes than dealing with the actual resettlement of the refugees, but we all have to work together because this is the most formidable challenge of its kind since the post-World War II period.
Playing by the Rulebook
TF: What is the kind of cooperation you would like to see coming from Japan in dealing with the situation in Ukraine?
VERSHBOW: This is not an area of NATO's responsibility, but the international sanctions against Russia have been one of the key forms of leverage that we as the international community have to try to press the Russians to change their behavior and to pull back from their aggression against Ukraine. The fact that Japan has aligned itself fully with the EU and US sanctions has been very important. This may not be well received in Moscow, but I think it's a clear signal that countries that break the rules have to pay a price, and I think Japan as a major power in Northeast Asia lends an extra weight to that message.
Obviously, we would like to see a political solution to the crisis, and I think Japan, through the Group of Seven and in other ways, has joined the chorus of those who say that the Minsk Agreements are the best way out. But there has to be full compliance with Minsk, not just selective compliance. We have seen some progress in the last few weeks. The violence has declined. Apparently, there have been some positive discussions among the leaders in the so-called Normandy format, but it remains to be seen—I remain to be convinced that Russia is looking for a way out that would restore respect for Ukraine's sovereignty and territorial integrity.
TF: What is your view of China's assertive behavior, not just in the South China Sea and East China Sea but also in waters closer to Europe?
VERSHBOW: We're not directly affected by the problems with which Japan and other East Asian states are faced with respect to China and its military activities in disputed waters. But our member states, of course, share some of the concerns and want to see a China that plays by the rules, that respects international law, and seeks to resolve disputes peacefully, rather than through the use of force or through unilateral action. In that sense, we hope that China doesn't follow the path of Russia in tearing up the rulebook that has governed European security for many decades.
But, we value our consultations with Japan and other East Asian partners to get a better understanding of how they see the Chinese challenge. This will help us better appreciate the nature of the problem, and perhaps we can draw some lessons that may apply closer to our main area responsibility.
Weaponization of Information
TF: Do you have any thoughts on the different narratives coming from Beijing and Tokyo?
VERSHBOW: I'm not totally familiar with the situation, but I do think propaganda and manipulative narratives are a concern, as demonstrated by the problems we've seen with respect to Russia, where the disinformation is quite pernicious. Some experts have described this as the weaponization of information.
I hope that the consultations that I am having here in Tokyo and those we hope to continue having with Japan will be a useful way to compare our assessments of the nature of the problem and the techniques that some of our competitors use when it comes to strategic communications and disinformation so that we can perhaps better equip ourselves to counter them.
TF: How seriously do your regard the threat of hybrid warfare?
VERSHBOW: The events of last year surrounding Ukraine obviously have put into sharp relief the problem of hybrid warfare. This is not entirely a new phenomenon; we've seen this as far back as the Trojan horse. But the combination of covert means, disinformation, and subversion backed by conventional military power proved to be a very challenging mix when it came to the illegal annexation of Crimea. NATO is in the process of developing a comprehensive strategy to deal with hybrid threats in the future.
At the same time, we're confident that our deterrence against hybrid or any other kinds of attacks against NATO members is quite effective, and the decisions that we took a year ago at the Wales Summit to increase the readiness of our forces and our ability to respond quickly to any emerging scenario make it unlikely that something similar to Crimea could be carried out against any member state. But nevertheless we need to be prepared. We need to fully understand the nature of this threat. We need to strengthen our intelligence, assessments, and speed with which we share intelligence within the alliance. We have to speed up our decision-making, so if even when there is some ambiguity we can begin to take steps to address potential criseis before it becomes too late.
We've learned some lessons in assessing what happened in Crimea, and we're making sure we're prepared if anybody tries to do the same against us.