Mixed Marks for India's Modi
March 20, 2015
Dubbed "the Indian Abe" by some observers, Prime Minister Narendra Modi took office late last May amid high hopes for his dynamic, reform-oriented style of leadership. Tokyo Foundation President Akiyama Masahiro reports on Modi's early successes and setbacks against a background of legislative gridlock.
* * *
India's 2014 general election, held during April and May last year, resulted in a resounding victory for the Bharatiya Janata Party and the birth of a new government headed by Narendra Modi. The BJP-led National Democratic Alliance captured 336 of the 543 seats in the lower house of parliament, and the BJP alone took 282 of those seats, becoming the first single party in 30 years to win a simple lower house majority. Voters were clearly looking to Modi—who presided over an era of rapid growth and development as chief minister of Gujarat—as their best hope to get the Indian economy back on track.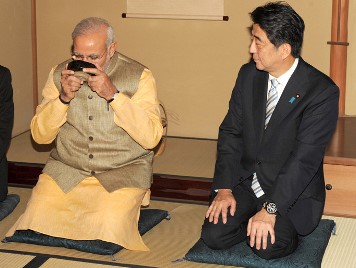 Japan was the first major country Modi visited after taking office in May. His long acquaintance and good rapport with Prime Minister Shinzo Abe, together with his warm feelings for Japan as whole, won the hearts of people here and spurred a new level of interest in Indian affairs among the Japanese. Modi's impressive debut on the diplomatic stage also included trips to the United States and Australia, and he hosted visits by Chinese President Xi Jinping and US President Barack Obama.
Prime Minister Modi has invited comparison to Abe, with his nationalist bent, innovative and dynamic leadership style, and strong foreign policy, particularly toward China. But the past few months have tended to highlight the differences rather than the similarities. In the following, I offer a brief review of Modi's domestic and diplomatic initiatives during his first nine months in office.
Early Promise and Setbacks
Indian stock prices soared after Modi took office in May 2014. In the September quarter of 2014, India's economy outpaced China's as the gross domestic product posted year-on-year growth of 8.2%. The upturn reflects the high hopes that the Indian people and the international community have invested in Modi's plans for economic reform. Japan enjoyed a very similar surge shortly after Prime Minister Abe took office in 2012.
But Modi has since run into political obstacles that Abe was able to avoid. The April–May election gave the BJP solid control of the lower house, but in the upper house, the ruling coalition holds only about one-fourth of the seats. This means a divided parliament and legislative gridlock, a situation Abe has not had to face since his Liberal Democratic Party regained control of the House of Councillors in 2013.
Prospects for breaking the legislative deadlock are uncertain. Because most of the seats in the India's upper house are elected indirectly, by the 30 state legislatures, the ruling coalition must seize control of the state assemblies before it can secure an upper house majority. Furthermore, turnover in the upper house is slow, since only a third of the seats are contested in each biennial election. Thus, even if the BJP continues to prevail at the state level, it will take another four years to secure a majority in the upper house.
In terms of momentum, the results of the February 2015 Delhi Legislative Assembly were anything but encouraging for the BJP. The Aam Aadmi Party scored a huge landslide in the National Capital Territory of Delhi, which includes New Delhi, securing 67 of the 70 seats in the legislature and leaving the BJP with just 3 (and the Indian National Congress with 0).
The AAP ran a successful campaign targeting corruption, among other issues, but an undeniable factor behind the voters' rejection of the BJP was impatience with the Modi government, which has come under criticism for failing to deliver on its promises to improve living standards and tackle corruption head-on. Now all eyes are on Bihar and Uttar Pradesh, where legislative assembly elections are to be held within the year; as two of India's most populous states, they account for a significant number of upper house seats between them.
Legislating by Executive Order
Meanwhile, much of Modi's economic reform agenda has been in limbo, including vital labor law reforms needed to spur job creation by loosening regulations that make it all but impossible to lay off an employee. The upper house had also been resisting legislation to raise the legal limit on foreign investment in domestic insurance companies from 29% to 49% and loosen the rules governing land acquisition so as to spur development.
With parliament refusing to act on these and other legislative changes needed to revitalize the economy, the Modi government has begun issuing executive orders instead. Under the Indian constitution, the president is empowered, in certain situations, to promulgate ordinances that have the force of law. Unless they are approved by parliament, however, such ordinances lapse after a period of six months and six weeks.
Apart from legislative action, the other major tool at Modi's disposal is government spending. It will be interesting to see what sort of economic policies are built into the budget plan for the coming fiscal year, which was due to be released at the end of February.
Foreign Policy Review
As his first destination outside the immediate region, Modi chose Tokyo, where he and longtime acquaintance Prime Minister Abe greeted each other enthusiastically and pledged to strengthen bilateral ties. Japanese interest in Modi and India in general has soared since his successful visit to Tokyo last September.
As a proponent of India's Look East policy, Modi places great importance on ties with the ASEAN nations, Japan, South Korea, China, and Australia. We have seen his enthusiasm for Japan, and he seems equally well disposed toward South Korea, which he visited repeatedly as chief minister of Gujarat. He is said to be actively courting South Korean businesses, especially in the wake of the disappointing withdrawal of several key foreign investors from the Indian market.
Modi's trip to Australia was the first official visit by an Indian prime minister to that country in 28 years. His government is also placing high priority on relations with Vietnam and Singapore, which it regards as key partners from a security as well as an economic standpoint, and it seeks to strengthen ties with Indonesia, recognizing that nation's great potential.
China presents a more difficult challenge. The two countries are embroiled in serious border disputes, and China's recent attempts to upset the status quo with force—as it tried to do in the eighteenth and nineteenth century—have created tensions that are going to be hard to overcome.
President Obama's official visit to New Delhi in January this year hailed a new phase in US-India relations as the two leaders pledged to strengthen their nations' strategic partnership. This is a major shift for India, which had maintained a longstanding friendship with Russia. Obama and Modi were also able to reach a "breakthrough understanding" on a stalled agreement that should open the way for US commercial investment in India's civil nuclear energy program—a big step forward for India, given the difficult issues surrounding the country's nuclear program and the nonproliferation regime. In addition, Obama appears to have heeded Indian concerns over the long wait facing skilled Indian workers seeking green cards in the United States. Progress in immigration policies on both sides promises to facilitate the bilateral exchange of human resources.
Relations between India and Sri Lanka had deteriorated under Sri Lankan President Mahinda Rajapaksa amid accusations of human rights violations against Sri Lanka's Tamil minority. Rajapaksa touted his government's friendship with China and allowed a Chinese submarine to dock at the port of Colombo, further exacerbating tensions with New Delhi. But President Maithripala Sirisena, who took office in January this year, has been pursuing a more moderate policy, and Modi's visit to Sri Lanka this March should pave the way for a more constructive relationship going forward.
Relations with Afghanistan are another key focus of India's foreign policy. Ties between India and Afghanistan go back a long way, but a major turning point in that relationship came in 1979, with the Soviet invasion of Afghanistan. Because of its close ties with the Soviet Union, India refrained from condemning the invasion and recognized the Soviet-backed regime in Kabul. Thereafter Pakistan became a major training ground for the anti-Soviet mujahideen forces that eventually gave birth to the Taliban.
The unfolding situation in Afghanistan is of great importance to Indian security, but Pakistan's influence in Afghanistan limits India's ability to maneuver. Even with US troops withdrawing from Afghanistan, New Delhi has been very circumspect about providing military aid or becoming involved in other ways that might exacerbate regional tensions. Instead, the Indian government is stressing nonmilitary assistance to Afghanistan via economic aid and technical cooperation in areas like infrastructure and agriculture. This new foreign aid focus offers significant opportunities for Japan-India cooperation.
Treating Everyone as a Friend
Reviews of Modi's foreign policy overall are predominantly positive. "As a whole, it's the area in which he's had the greatest success," comments a noted Indian political scientist. "He's taking risks and trying out new approaches."
But the same commentator faults with Modi for naiveté in security matters, especially where China is concerned, complaining that he tends to "treat everyone as a friend."
"As chief minister of Gujarat, one of Modi's most important jobs was rolling out the welcome mat for foreign investors," he notes. "But as prime minister, he needs to adopt a broader strategic perspective. This is something Prime Minister Abe knows how to do. Modi looks on China as an economic partner and wants to sweep the security issues under the rug. I think he needs to take a tougher stance."
The problem is not so much indifference to security issues as a lack of continuity between Modi's security and economic policies. For example, although the prime minister has expressed an interest in investing in Africa's energy sector, he seems largely unaware of the role energy can play in security policy. This lack of strategic sophistication could continue to raise questions about Modi's qualifications to lead the second most populous country in the world.