Valentine's Day and the Environment: A "Love Affair with Nature"
February 9, 2012
I visited Palawan, the Philippines, in 2010 and February 2011 to conduct fieldwork for a master's thesis. There, I was amazed by an annual project called "Love Affair with Nature: Mangrove Plantation" conducted in the city of Puerto Princesa.
"Mangroves are trees or large shrubs, including ferns and palms, which normally grow in or adjacent to the intertidal zone and which have developed a special adaptation in order to survive in this environment"(Spalding, Kainuma, and Collins 2010). Mangroves can be found in some northern latitudes as high as 32 degrees, even though they are usually found within 25 degrees north and south of the equator (Maltby 1986). Mangroves are considered a rare global habitat. They currently make up less than 1% of tropical forests worldwide and less than 0.4% of the global forest estate (39,520,000 square kilometers) (FAO 2006).
Dwindling Mangroves
There are two main reasons for the destruction of mangroves. One is pressure from increasing populations in coastal areas, and the other is over-harvesting of timber and other wood products. Figure 1 shows that between 1980 and 2005, there was a dramatic loss of mangrove forests in every region except Australia. Southeast Asia, North and Central America, Oceania, and East Asia showed the highest decrease of more than 20% in 25 years.
Figure 1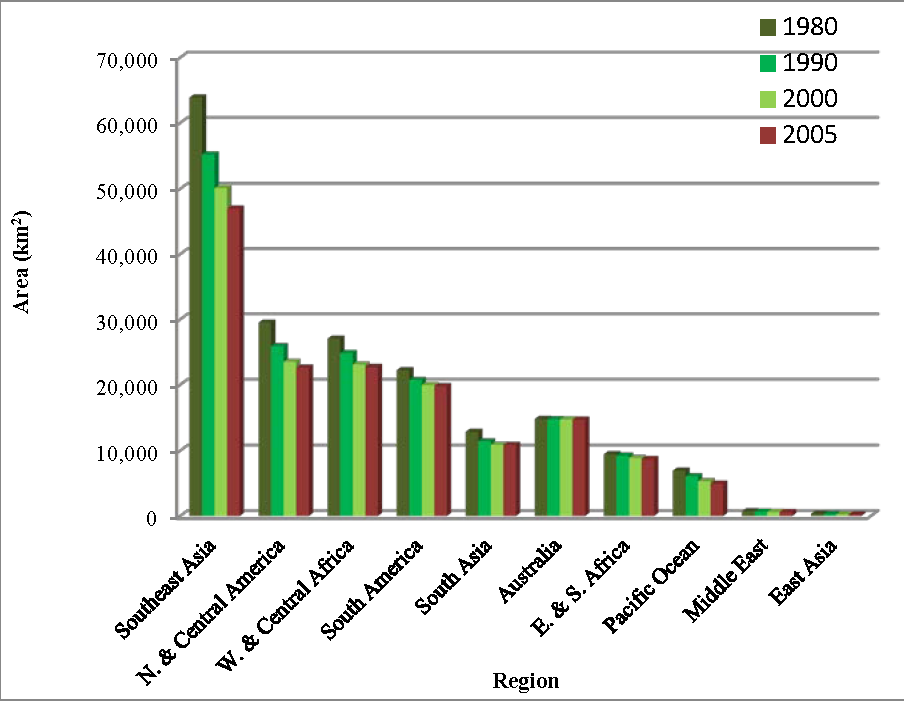 Status of Declining Mangroves in the Philippines
The mangrove forest area in the Philippines was estimated to be around 500,000 hectares in 1918. This has declined due to conversion to fishponds and salt beds, the cutting of trees for firewood and other domestic uses, and the reclamation of coastal land for industrial and other development purposes. By 1995 it had dwindled to 117,700 hectares (Fernandez et al. 2005).
Figure 2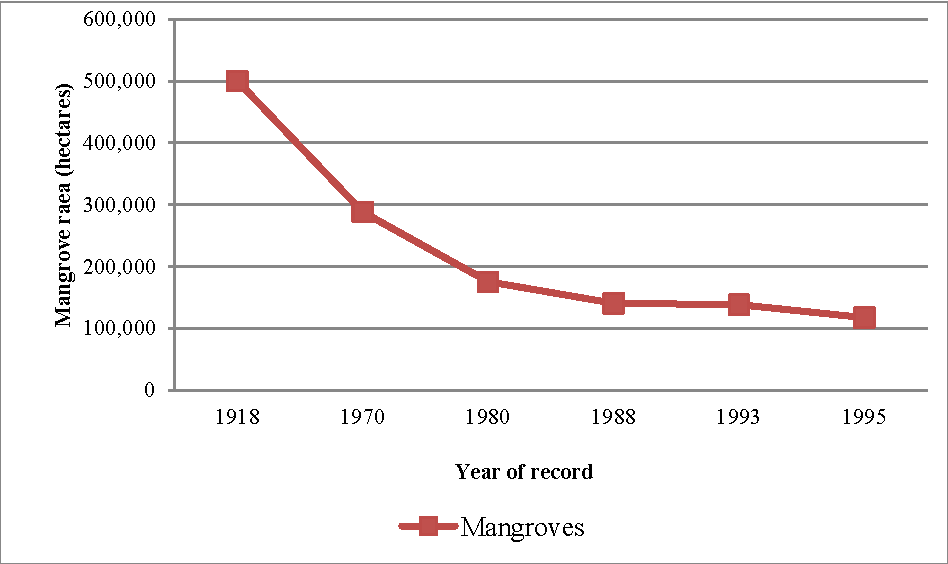 This is a rate of depletion of about 3,700 hectares per year. Between 1980 and 1991, in particular, some 20,000 hectares were lost annually.
Undoubtedly, mangroves are showing signs of degradation in every region of the world. There is one project, though, that is seeking to reverse this trend. It is an initiative in the city of Puerto Princesa in Palawan, Philippines, known as a "Love Affair with Nature."
Expression of Love
The program, spearheaded by Mayor Edward S. Hagedorn of the city of Puerto Princesa, is one answer to the problem of global warming. It was launched on Valentine's Day, February 14, in 2003 with the planting of 2,500 mangrove seedlings along a two-hectare denuded area in the village of San Jose.
Figure 3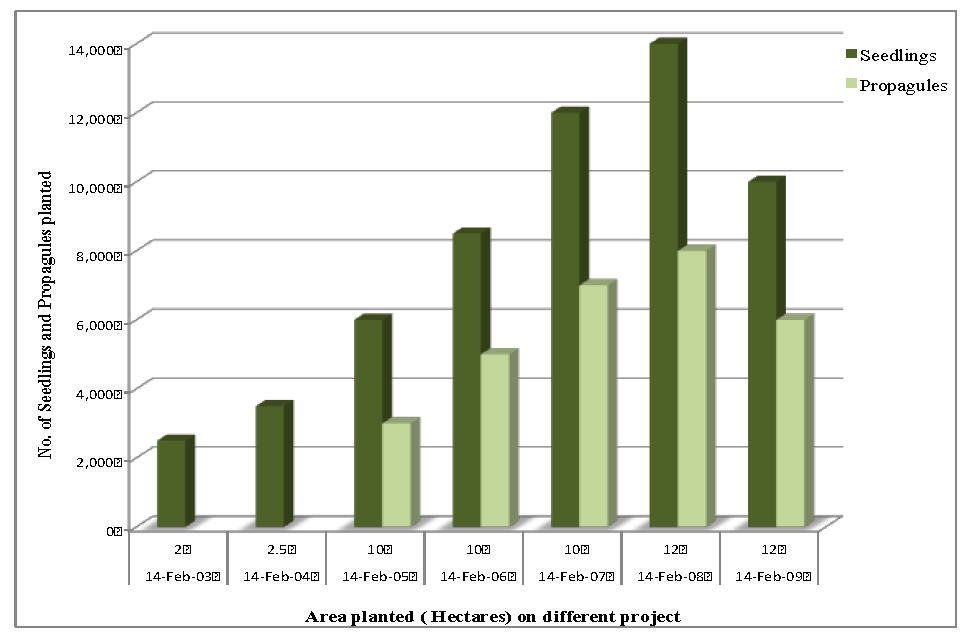 Approximately 2,500 Puerto Princesans participated in this mangrove tree-planting event, aimed at protecting and conserving the remaining mangroves and beach forest species and at reviving denuded coastal areas. As of April 2009, the Puerto Princesa city government has been able to enrich or revive 58.5 hectares of denuded mangrove areas in the adjoining villages of San Jose and San Manuel. Some 56,500 mangrove seedlings and 29,000 propagules have been planted, as shown in Figure 3, with a survival rate of 71.7% (City Environment and Natural Resources Office, 2011).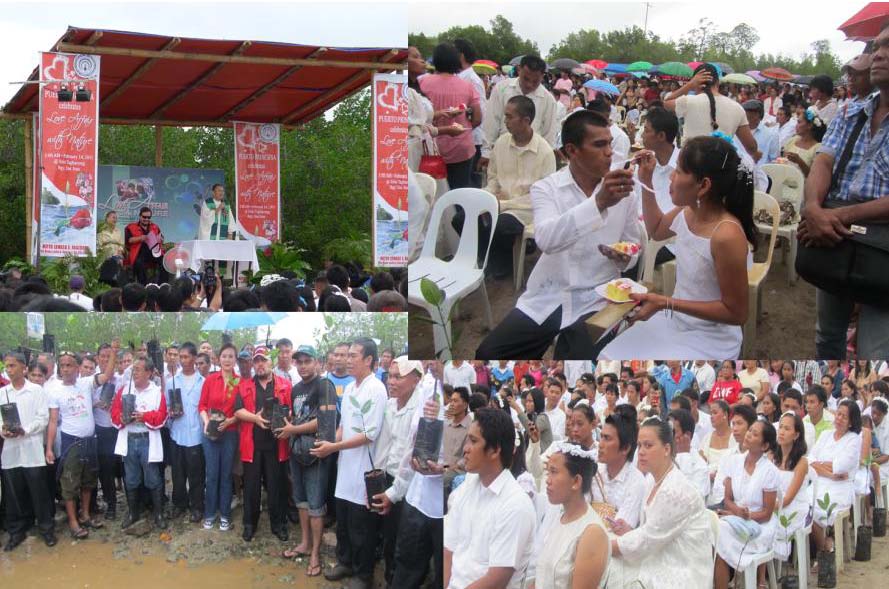 Mass weddings are now held as an added attraction to the tree planting event, with newly wedded couples planting seedlings as an expression of their marriage vows. In September 26, 2005, City Ordinance No 287 was issued declaring February 14 as Love Affair with Nature Day in the city of Puerto Princesa.
This is aimed at institutionalizing Love Affair with Nature Day on Valentine's Day as an expression of not only romantic love but also love for Mother Nature and as a continuing call for the protection and sustainable use of natural resources. Mass mangrove tree plantings and mass weddings have been conducted concurrently ever since.
Reasons for the Continuation of the Program
The municipal government, the City Environment and Natural Resources Office, the Provincial Environmental and Natural Resources Office, and the Department of Environment and Natural Resources Office have been the main providers of funds for environmental projects in the city.
Communicating the project's benefits, such as protection from storms, prevention of rising sea levels, and creation of breeding grounds for fish, has promote participation among members of the local community. Anticipated long-term benefits, such as larger fish hauls, have been enough to convince locals to join without any cash incentives.
The project represents heightened ecotourism opportunities, and the city has begun actively promoting ecotourism.
These activities have become an important social function for the local community, and for some students it is a requirement in order to receive scholarships.
A series of meetings are conducted every year to educate village leaders and to spread the program's message to local communities.
At this point, no company in the timber industry is involved owing to a law initiated by President Ferdinand Marcos in 1981. The industry has been a major cause of mangrove destruction, and only ecotourism activities that do not result in the cutting down a single mangrove tree are currently conducted today.
Many policymakers believe that once the trees mature, the task of rejuvenating the forests can be left to the forces of nature, and further plantings will become unnecessary.
Civic organizations have taken responsibility for protecting local areas and providing forest rangers to monitor the forests.
Halting the Decline
A study conducted by the Palawan Council for Sustainable Development in 2005 with the support of the Japan Forest Technology Association (JAFTA) is the most reliable and up-to-date data available to evaluate mangrove forest cover in Puerto Princesa. This study shows that the current cover in Puerto Princesa is 5,896.40 hectares, as shown in Figure 4. The mangrove forest was 4,052 hectares in 1992. PCSD conducted the survey in 1992 using SPOT Earth observation satellite images.
Figure 4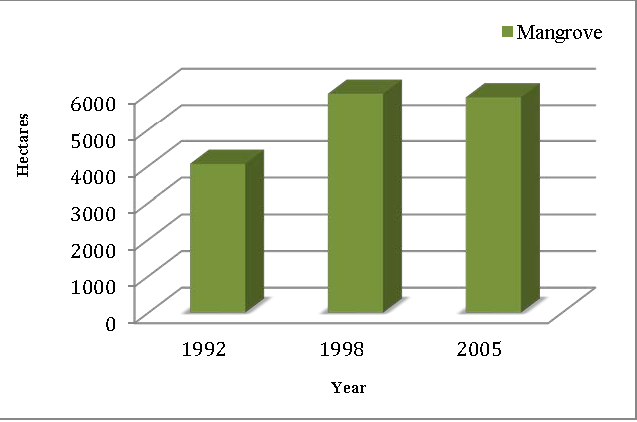 There has been positive growth of mangroves in the province of Palawan as well as in the city of Puerto Princesa.
It was just 29,910.14 hectares in Palawan in 1992 and increased to 57,386.52 hectares in 2005, as shown in Figure 5. All these planted areas were granted protected status to form part of the Integrated Protected Area System (IPAS). The increase of mangrove forests in Puerto Princesa is backed up by these policies.
Figure 5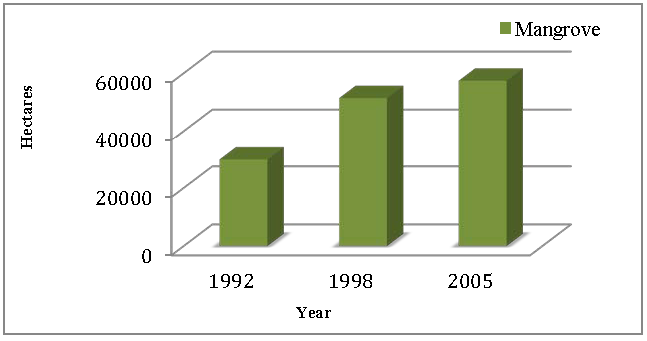 Conclusion
There is clear evidence that mangrove forests in the world are declining. In the Philippines, this decline rate has been huge over the past few decades. However, there is one example that shows a different trend.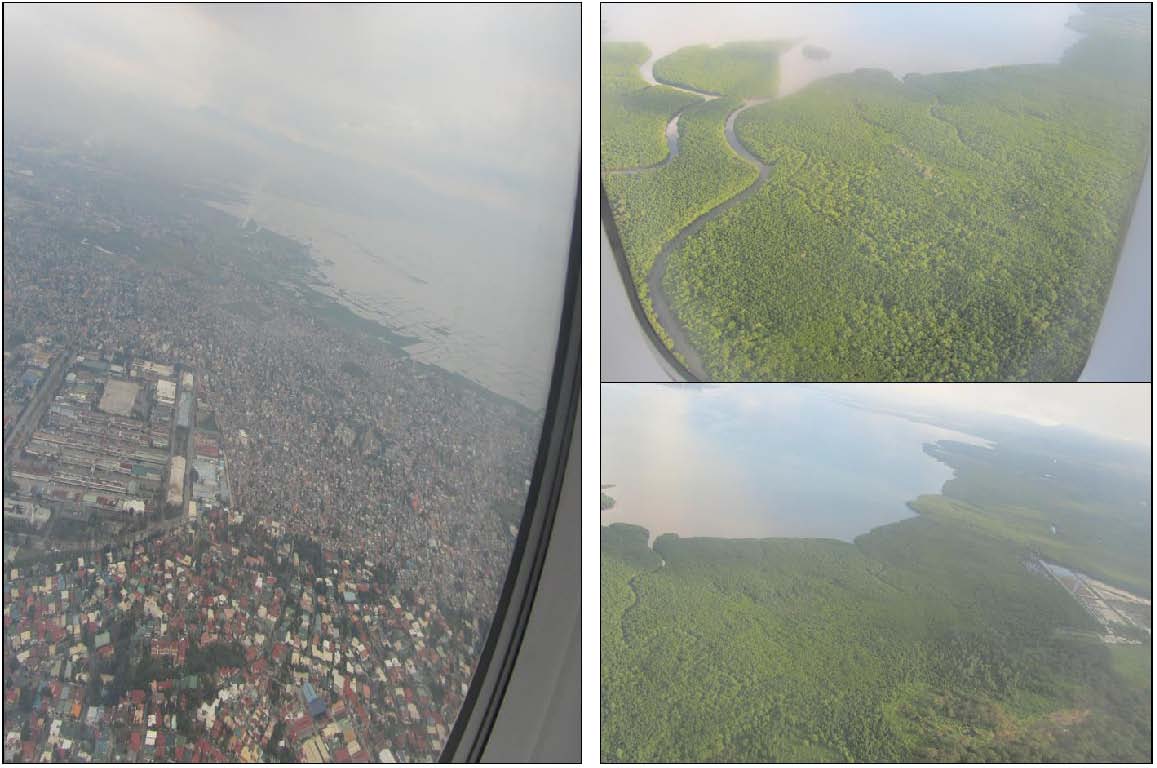 Government involvement, effective law enforcement, political will, proper leadership, community involvement, alternative livelihoods, an education campaign, involvement of local and national organizations, and the willingness of local communities are needed to change this trend of mangrove degradation.
A "Love Affair with Nature" is a successful project that combines all these ingredients. This project has been implemented and maintained by the personal efforts of Mayor Edward Hagedorn. Every citizen of Puerto Princesa is proud to be environmentally sound. The beauty of the project can be seen when flying from Manila to Puerto Princesa. The left side of the photo shows the view of Manila, where there is no greenery, while the right side shows the verdure of Puerto Princesa.
References
Fernandez, Cheryl Joy J., Rodelio F. Subade, and Paul Erwen T. Parreño. 2005. Paper presented at the 8th National Symposium in Marine Science, held at Palawan State University, Puerto Princesa, on October 20-22, 2005.
City Environment and Natural Resources Office. 2011. "Love Affair with Nature" internal communication document. Puerto Princesa.
Food and Agriculture Organization. 1994. Mangrove Forest Management Guidelines. FAO Forestry Paper 117. Rome.
Food and Agricultural Organization. 2006. Global Forest Resources Assessment 2005: Progress towards Sustainable Forest Management. Rome.
Maltby, E. 1986. Waterlogged Wealth: Why Waste the World's Wet Places? London: Earthscan Publications.
Spalding, Mark, Mami Kainuma, and Lorna Collins. 2010. World Atlas of Mangroves. London: Earthscan Publications.