The Search for a Sustainable Partnership
September 15, 2011
Stability and growth in East Asia hinge on promoting greater confidence and cooperation among the region's three key stakeholders—China, Japan, and the United States. Yet forums to promote closer relations among the three countries have been quite rare.
It was to fill this gaping vacuum that the Tokyo Foundation—a not-for-profit, independent think tank—organized a symposium focusing on the historical, diplomatic, and security aspects of the relationship among the world's three biggest economies.
Attracting over 100 prominent scholars from the three countries, including Harvard University Professor Emeritus Ezra Vogel, Chinese Academy of Social Sciences Vice-President Li Yang, and former speaker of the House of Representatives Yohei Kono, the symposium was an outgrowth of the Tokyo Foundation's extensive network with top research institutes and opinion leaders around the world.
Held at the Beijing International Hotel on September 6, 2011, the symposium on "New Patterns in East Asia and China-Japan-US Relations" was co-organized with the Institute of Japanese Studies of the Chinese Academy of Social Sciences (CASS) to commemorate the institute's thirtieth anniversary.
Shaping a New Order
One key theme of the symposium was finding approaches to overcoming the lingering mistrust that characterizes relations among the region's three biggest economies and building a more stable atmosphere conducive to advancing their common interests.
Such a theme was quite timely, noted CASS Vice-President Li Yang, as new patterns are emerging in East Asia. The three countries have a critical role in guiding the regional order, he added, as they account for over 40% of the world's total gross domestic product.
He emphasized that China seeks peaceful and harmonious development, a goal that requires a greater acknowledgment of each other's positions and strategic interests and a better political and military balance.
Former House of Representatives Speaker Yohei Kono echoed these sentiments, adding that the peaceful goals and rejection of hegemony that China has outlined need to be more effectively communicated to the world. As cases in point, he expressed concern that hard-line statements sometimes still emerge from People's Liberation Army and Foreign Ministry officials, which Kono feared only causes China to lose friends.
The veteran politician also expressed hope that the United States would make greater efforts to forge a more cooperative relationship with China, not just in economic matters but in shaping its own future—especially in the light of its overstretched defense capabilities and problems emerging from its mounting public debt.
It was noted that Japan, too, must redefine its position and role in the region, given China's dramatic rise. Kono referred to the condescending attitude that some members of the older generation still harbor toward China.
Japanese Ambassador to China Uichiro Niwa said that negative attitudes and prejudices are often formed by what people are taught as children and carried by those who have never personally met their Asian neighbors. Overcoming such attitudes takes time and must start with a fuller awareness of each other's modern reality. Hoping to promote deeper understanding, Niwa explained that he actively travels throughout China to meet local residents and to inform them of what Japan is like today.
Past and Future of Japanese Studies
One force for overcoming prejudice in China and the United States has been Japanese studies in both countries. While it has followed very divergent paths in the two countries, it has continued to evolve in both due to internal and external factors.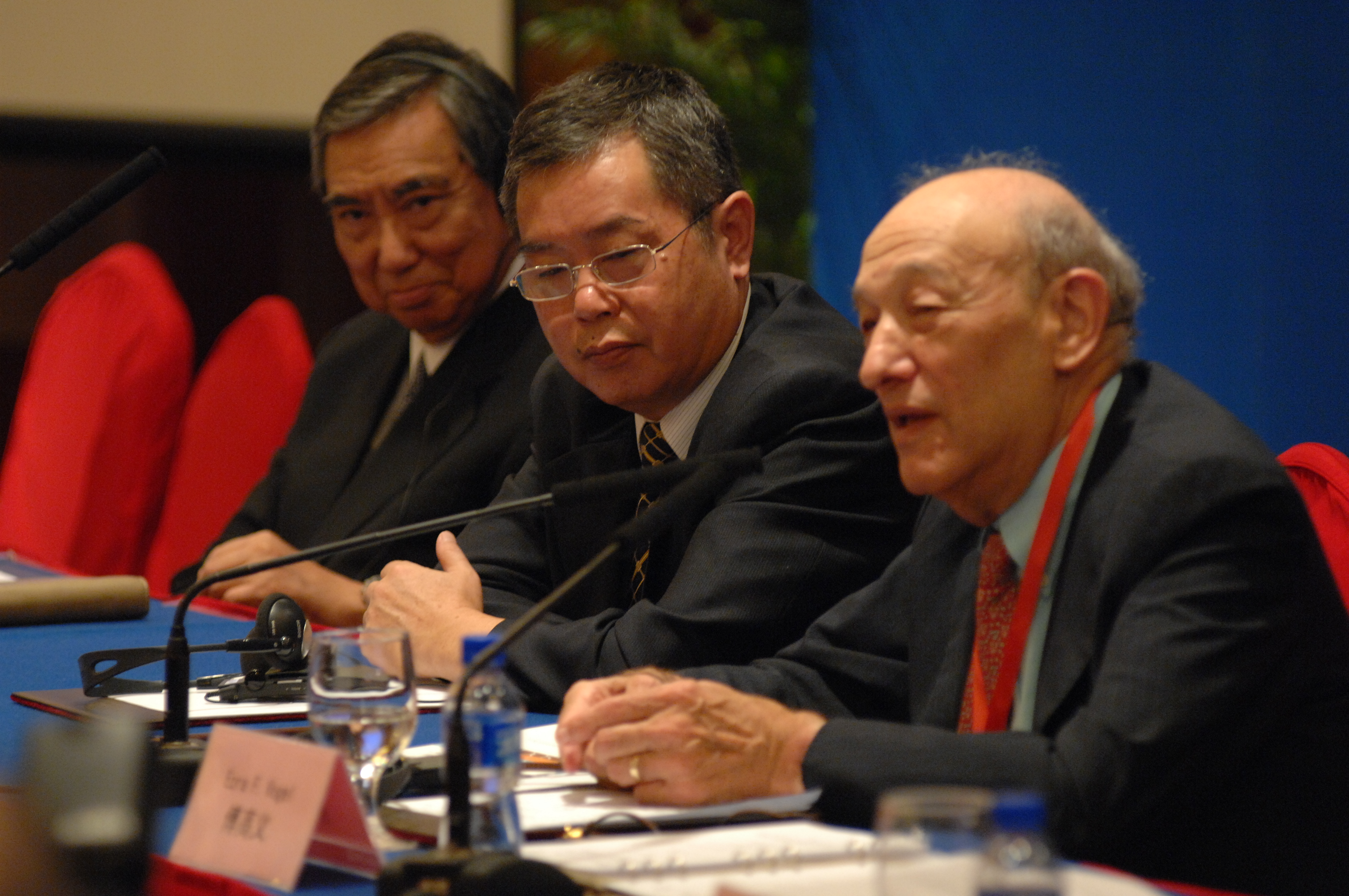 Three decades ago, for instance, the United States feared that Japan would overtake it as the world's number one economy, recounted Ezra Vogel—an expert on both Chinese and Japanese affairs. China was still a poor country at the time and looked at Japan as a model. China no longer sees Japan that way, but there are still many things it can learn, he noted, such as approaches to maintaining social order in the face of a major disaster.
In the United States, there was a jump in the number of scholars researching Japan in the late 1980s, explained University of Hawaii Professor Patricia Steinhoff. There was also a qualitative shift, away from a "monolithic" area studies approach to one emphasizing the training of diplomats, lawyers, and other personnel to deal with Japan as a competitor.
There has subsequently been a shift to achieve a more integrated understanding of Japan as a postindustrial society and culture. While the number of students has declined since the late 1980s, there has been a rise in people staying in academia as specialists, and both programs and resources are expanding.
China, on the other hand, has taken a more pragmatic approach and emphasized research of contemporary realities. Most recently, for example, the emphasis has been to explore whether Japan has a grand strategy, like those explicitly announced by China and United States, commented Li Wei, director of the Institute of Japanese Studies. Such an emphasis has emerged, she explained, since the 1997 Guidelines for US-Japan Defense Cooperation seemed to suggest Japan is expanding its security focus.
In contrast to the realism of Japanese studies in China, Chinese studies in Japan has tended to focus on ancient history, noted University of Tokyo Associate Professor Shin Kawashima. Perhaps because of the romantic nature of the discipline, tensions in the bilateral relationship in recent years have caused the number of students in the field to fall sharply. Scholars, he offered, was in a position to turn such trends around by correcting misconceptions held by members of the public.
Wither the Trilateral Relationship
How, then, should the three countries shape their trilateral relationship in the years to come? Wang Jisi, dean of the School of International Studies at Peking University, believes that in the light of the three countries' common interests, there is considerable room for cooperation in addressing threats to regional and global stability, such as the nuclearization of the Korean Peninsula and responses to climate change. He also expressed concern that failure to improve the weakest link in the triangle—namely between China and Japan, could lead to unexpected accidents, such as last year's trawler incident last year.
Achieving closer ties will require not just efforts to achieve rosy targets but a hard look at the status quo. Strong political leadership must be exercised, said Alan Romberg of the Stimson Center in Washington, DC, to overcome mutual suspicions and fears, which often drive international relations. In that light, the mutual visits by US and Chinese political leaders could help mitigate deep-seated historical resentments and disagreement over contested issues like the treatment of North Korea and US arms sales to Taiwan.
Learning what the other seeks is often not enough to achieve true mutual understanding, said Akio Takahara, professor at the University of Tokyo; there is also a need to understand why they think that way. China, Japan, and the United States should thoroughly review the three sets of bilateral relationships, enhancing their respective strengths and minimizing the vulnerabilities through greater social, cultural, and military exchanges.
In their effort to improve trilateral relations, the three countries must confront the fact, cautioned Toyoo Gyohten, president of the Institute for International Monetary Affairs, that growth models to date—based on the dollar as the key international currency and the inflexible exchange rate of the renminbi—are no longer sustainable.
The Search for a New East Asian Order
The security dimension of the trilateral relationship is perhaps the most sensitive with the greatest room for misunderstanding and friction.
Countering charges that China has adopted a more assertive defense posture, Yang Yi, former director of the Institute for Strategic Studies at the PLA National Defense University, said the government is now advancing peaceful, harmonious development. This, he noted, has left many Chinese people unsatisfied, who believe that the government is being too weak. He also explained that increases in the defense budget were partly due to a significant jump in the salaries of top military officials.
A symbolic step forward in promoting closer relations through direct dialogue will be US President Obama's presence at the upcoming East Asia Summit in Bali. This, commented Patrick Cronin of the Center for a New American Security, represents an attempt to steer America away from the over-militarized approach in the Middle East to an emphasis on soft power in East Asia.
There have been voices in China contending that the US presence is an attempt to "contain" China. This is untrue, asserted Kyoji Yanagisawa, former assistant deputy chief cabinet secretary, who noted that the United States is being invited to the EAS to act as a balancer among the East Asian countries. Territorial and other disputes have strained bilateral relations, but Yanagisawa urged that difficult issues not simply be shelved for the sake of smoothening relations but actively addressed through innovative political approaches.
It was also noted that there appears to be a mistaken view in China that the Trans-Pacific Partnership is being used by Japan and the United States to sabotage Chinese efforts at regional integration. Japan, too, has not yet decided whether or not to join the TPP, noted Tsuneo Watanabe of the Tokyo Foundation, and this will be a hard political choice. Participation, he added, will probably be necessary for Japan to pursue its own economic interests by opening the country up to the burgeoning Asia-Pacific economy.
List of Speakers
United States
Ezra F. Vogel , Henry Ford II Professor of the Social Sciences Emeritus, Harvard University
Kent E. Calder , Director, Edwin O. Reischauer Center for East Asia Studies, SAIS
Patrick Cronin , Senior Advisor and Senior Director of the Asia-Pacific Security Program, Center for a New American Security
Abraham Denmark , Senior Asia-Pacific Advisor, Center for Naval Analyses
Mark E. Manyin , Specialist in Asian Affairs, Congressional Research Service
Alan D. Romberg , Distinguished Fellow and Director of the East Asia Program, Stimson Center
Kay Shimizu , Assistant Professor of Political Science, Columbia University
Patricia G. Steinhoff , Professor of Sociology, University of Hawaii
Japan
Yohei Kono , Former Speaker, House of Representatives
Toyoo Gyohten , President, Institute for International Monetary Affairs
Kaoru Iokibe , Member, Tokyo Foundation Project on Political and Diplomatic Review; Associate Professor, University of Tokyo
Shin Kawashima, Associate Professor, University of Tokyo
Takashi Sekiyama , Research Fellow, Tokyo Foundation; Associate Professor, Meiji University
Akio Takahara , Senior Fellow, Tokyo Foundation; Professor, Faculty of Law, University of Tokyo
Tsuneo Watanabe , Senior Fellow and Director for Foreign and Security Policy Research, Tokyo Foundation
Kyoji Yanagisawa , Advisor, Nippon Life Insurance Company; Former Assistant Deputy Chief Cabinet Secretary
China
Li Yang , Vice-President, Chinese Academy of Social Sciences
Cui Liru , President, China Institutes of Contemporary International Relations
Huang Ping , Director, Institute of American Studies, CASS
Jiang Lifeng , Former Director, Institute of Japanese Studies, CASS
Li Wei , Director, Institute of Japanese Studies, CASS
Li Xiangyang , Director, Institute of Asia-Pacific Studies, CASS
Wang Jisi , Dean, School of International Studies, Peking University
Yang Yi , Former Director, Institute for Strategic Studies, PLA National Defense University
(This article is reprinted with permission from the September 14, 2011, "Summer Davos" Special supplement of the Japan Times .)