Japan's Maritime Options in a Changing Security Environment
July 3, 2017
In June, the Maritime Self-Defense Force invited military officials from 10 ASEAN countries on a tour of the South China Sea aboard the Izumo as the destroyer traveled to the Indian Ocean to take part in joint exercises with the US and Indian navies. Security expert Bonji Ohara puts the move in perspective in the light of a changing regional security environment.
* * *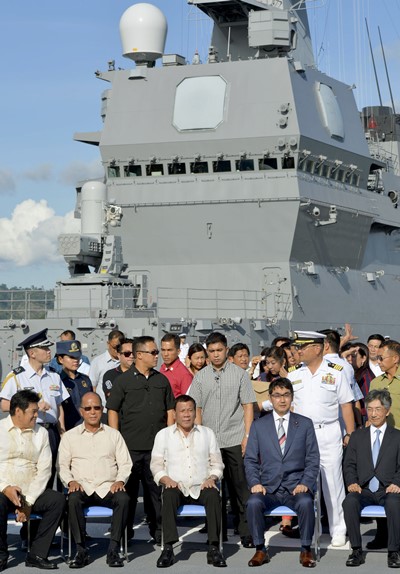 —How has Japan's maritime security policy changed over the years? To what extent has it been affected by China's growing assertiveness in the South China Sea?
BONJI OHARA: Safe maritime transport lanes are of critical importance for Japan. Already in 1981, Japan outlined a policy of sea lane defense extending 1,000 nautical miles to the Bashi Channel, south of Taiwan. If the security environment changes, it's only natural to adjust that policy to ensure the continued safety of sea transport.
The Chinese navy has become more active in recent years and has expanded the scope of its activities, but that in itself does not constitute a change in the security environment. A much more decisive factor is the fact that China is seeking to change the status quo through force. Japan is not directly a party to territorial disputes in the South China Sea, so the concern for Japan is not China's assertiveness on its territorial claims but its attempts to change the existing international order through force, rather than through debate.
—What is the significance of sending the MSDF destroyer Izumo to Singapore to promote cooperation with the Association Southeast Asian Nations? Why did it avoid crossing the nine-dashed line?
OHARA: Japan's actions are based on the belief that it is free to act in accordance with the existing international order. Its goals are not to heighten tensions with China but to demonstrate that this order has not been changed through force. The fact that military officers from 10 ASEAN countries boarded the Izumo and worked with members of the MSDF was no doubt a manifestation of the shared belief among Japan and ASEAN member states that the international order and rules should not be changed through force.
Because the intention was not to raise tensions with China, there was no need to take action that would unnecessarily provoke Beijing. Avoiding the nine-dash line was probably meant convey the fact that Japan did not regard China with hostility.
—Japan is engaged in numerous bilateral and multilateral military exercises but has ruled out taking part in the US freedom of navigation patrols in the South China Sea. How important is it for Japan to play a role in regional security and what more can it do?
OHARA: Japan's participation in joint military exercises is an attempt to build trust with as many countries as possible in dealing with common threats. In addition to enhancing cooperation in the areas of humanitarian assistance and disaster relief, joint naval drills in the South China Sea can help prevent accidental military conflicts. A well-trained coast guard and navy will be better able to defend a country's territorial waters and manage economic activities within its exclusive economic zone, and they will also be able to respond coolly to a crisis, preventing a "spiral of fear" from triggering a provocative or aggressive military reaction.
As a country that relies on the global commons that is the South China Sea, Japan has been providing capacity building assistance for the navies and coast guards of Southeast Asian countries and offering cooperation to maintain order in this region. But there are limits to what Japan can do. The invitation for ASEAN officers to tour the South China Sea aboard the Izumo was not an initiative in itself; the frigate was making a stopover in Singapore en route to the Malabar naval exercises with the US and Indian navies. Japan simply took the opportunity to enhance its cooperation with Southeast Asian countries, and it was not conducting a "freedom of navigation" operation. Japan is unable to conduct such operations for legal reasons and also because it lacks a sufficient number of ships and personnel.
—How should Japan deal with a neighbor that appears to be increasingly interested in rewriting the rules of international relations?
OHARA: Attempts to change the status quo by force are by no means restricted to the South China Sea. In fact, most governments—to a greater or lesser degree—are unsatisfied with the existing order and prevailing international rules, but they generally refrain from attempting to change them by force.
Many nonstate actors, though, are venting their frustrations in violent ways, such as through mass demonstrations against globalization or terrorist attacks. In the past, China expressed its grievances from a position of weakness, but following its economic ascent has begun asserting its will from a position of strength. Now that it has emerged as one of the world's most powerful countries, it needs to be more restrained in its recourse to the use of military might.
China's military capacity is not yet on a par with its economic might, and its leaders are well aware that the country cannot win a war with the United States. Washington, on the other hand, appears to be embracing the tactics of weaker states, such as by prioritizing its own economics interests rather than upholding the ideals of free trade. "Free trade," of course, was never completely free but was managed through a regime of international regulations. Some are worried that China could start rewriting those rules, but the problem is not who writes them; it's what those rules actually stipulate. To create rules that are fair to all, it's important for not just China but also Japan and ASEAN to clearly communicate the kind of rules they hope to see.
Based on an interview conducted with the Straits Times , http://www.straitstimes.com/asia/east-asia/japan-woos-asean-in-aim-to-be-leading-security-player , published June 29, 2017.