Japan-Europe Security Dialogue on the Maritime Domain
July 25, 2013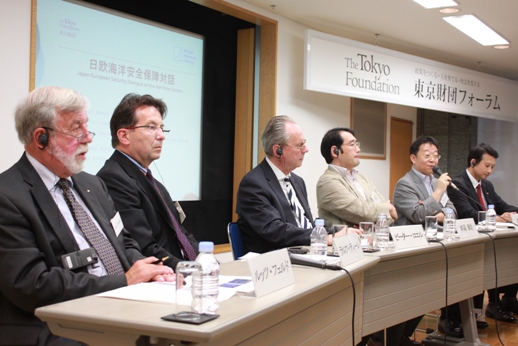 On July 23, 2013, the 63rd Tokyo Foundation Forum welcomed Lutz Feldt, director of Wise Pens International, and other European experts on maritime security for a "Japan-Europe Security Dialogue on the Maritime Domain."
Other European speakers at the Forum included Ralph Thiele, chairman of the Political-Military Society (PMG) of Berlin, and Peter Roell, president of the Institute for Strategic, Political, Security and Economic Consultancy (ISPSW) in Berlin.
The speakers were visiting Japan upon the invitation of the Japan Office of the Konrad Adenauer Stiftung , a German political foundation supporting a proactive approach to international cooperation. The Forum was held in conjunction with an Experts' Meeting on maritime security, organized jointly by the Tokyo Foundation and KAS.
Vice Admiral (rtd.) Feldt, who was president of the German Maritime Institute until June 2012 and also worked for the European Commission as an advisor for the Instrument for Stability, spoke on "The Importance of the Arctic Region and Implications for Europe and Asia," describing the potential of the Northern Sea Route and other Arctic shipping routes and outlining emerging challenges.
Colonel (ret.) Thiele, who has 40 years of politico-military service, including as a member of the staff of the NATO Supreme Allied Commander Europe, offered his perspectives on the US rebalancing toward Asia and its impact on the maritime domain and underscored the importance of maintaining access to the global commons.
Roell, who served as senior advisor for foreign and security policy at the German Permanent Representation to the EU in Brussels, commented on "Protecting the Sea Lines of Communication: Common European and Asian Interests," outlining the strategic priorities of the People's Liberation Army and emphasizing that free maritime trade routes are crucial for the international community and that any disruptions pose a threat to security and prosperity.
Lessons for Japan
Tokyo Foundation Senior Fellow and Director of Foreign and Security Policy Research Tsuneo Watanabe noted that there were lessons to be learned from how Germany is now working hand-in-hand with its former World War II adversaries in the North Atlantic Treaty Organization and the European Union.
Research Fellow Taisuke Abiru commented on the growing strategic importance of Japan's relationship with Russia, pointing out that Prime Minister Shinzo Abe's visit to Moscow in April produced an agreement to launch 2+2 talks between the two countries' foreign and defense ministers.
The forum was moderated by Bonji Ohara, a research fellow at the Tokyo Foundation.