Empowering the Next Generation of Women Leaders: From the Acumen Fund Fellowship to Creating Wedu
July 17, 2012
Mario Ferro participated in the Acumen Fund Global Fellowship Program during 2010–11 along with Chikako Fujita , who was a participant from Japan. Here he relates his experiences during the program, talks of the bright possibilities for fellows following training, and how the program's philosophy and actual training led to his co-founding Wedu, a social enterprise that empowers student leaders from the least developed countries to become masters of development in their home communities.
Identifying with the goals of the Acumen Fund , in 2008 the Tokyo Foundation initiated a partnership, soliciting applications in Japan.
* * *
Wedu is a young social enterprise start up that envisions a future in which people from the poorest corners of the world have the tools to change their lives and society by being masters of their own development.
Our mission is to catalyze the development of young girls in developing countries into local leaders by providing inspiring mentorship and innovative financing options for them to complete university. They will ignite further change by going back to their communities, mentor future leaders, and repay the funds received so that we can sustainably invest into more leaders. We are now working in Cambodia and Bangladesh, and soon we will enter into Myanmar.

This is a long-term game, and we will need patient capital to achieve our mission. We are starting with philanthropic capital, but in the long run we aim to become financially sustainable as well as transformational for local communities and entire economies. So far we have won three business plan competitions awarded by the London School of Economics alumni and Cambridge University Entrepreneurship and mobilized over two dozen volunteers. We were recently awarded the title of Social Enterprise Start Up of the Year by Cambridge University.
Why are we doing it? How did we arrive at Wedu? The core concept was seeded while studying International development in London and working in Haiti after the earthquake in 2010. There, we realized the importance of investing in local leadership, but Wedu as an organization exists because of the Acumen Fund Global Fellowship program .
The Fellowship has been transformational and inspiring. During the last interview by the selection panel, I was asked about my entrepreneurial aspirations, and that simple question started a domino effect. During the first two months of training in New York, we were speaking with remarkable individuals and hearing examples of leadership and success in the for-profit and nonprofit sectors, including Jacqueline Novogratz , who talked about justice, dignity, moral imagination, and how to tackle world poverty.
These conversations have shaped the foundation of Wedu, like the need to support leaders by providing inspiring mentorship and the importance of patient capital. The training was also valuable and fun—in one exercise, we had to set up a business in less than three hours. Our team opted for selling " one poem for one dollar ." It was a great learning experience about teamwork and marketing but was also fun . . . and fairly profitable.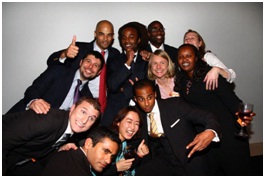 The nine months in the field is where the magic happens. I was assigned to Husk Power Systems (HPS), a company bringing light and electricity in rural Bihar, India. There I met Gyanesh ji , co-founder and CEO. He was originally from Bihar and trained both in India and in the United States. We spent many nights talking about the origins of HPS, his vision, and the role of impact investing.
I remember being puzzled by the location of the first power plant. It was installed in an area that is hard to reach with a high crime rate and prone to flooding. When I asked Gyanesh ji about the reason for this choice, he very simply replied, "I went to the darkest place I could think of." To me he epitomizes the importance of supporting local people to address local development needs. Meeting him has been pivotal to starting Wedu. (Note: "ji" is an Indian suffix used as a sign of respect, very similar to the Japanese "san").
At the very heart of the fellowship, there is the beautiful connection that emerges between the fellows while living together in New York or climbing Mount Kenya. We were like-minded individuals who are searching , through the fellowship, for a way to satisfy a thirst of that no corporate job, no paycheck, can quench, to answer questions that go to the very heart of why we do what we do and what makes life worth living.
One night, while walking in Manhattan looking for a hamburger, I was conversing with a fellow about whether to go for an MBA or start a company after the fellowship program. We were helping each other find our own answers. I cannot forget the pain and emotions of climbing Mount Kenya with Brenda and Khuram, talking about leadership and pushing our limits further. After certain conversations you cannot look at the world in the same way.
How Can You Benefit from This Experience
In fairness I was lucky. I encourage you to apply to the program and to actively look for deep conversations and growth opportunities; do not wait to be fed with wisdom by advisers and entrepreneurs but stay curious, keep searching, embrace difficulties and challenges, and this will make you stronger for life.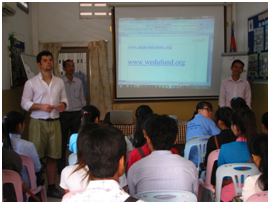 Japan has enormous potential to create leaders in the social investment sector. Mari Sawai from Japan is the co-founder of Wedu and currently serves in an international organization. Her commitment to alleviating poverty and addressing gender imbalances has been a pillar of Wedu. Japan is really lucky that the Tokyo Foundation is ensuring that every year one person from Japan can benefit from the Acumen Fund fellowship.
What global or local issue do you find unacceptable? What forms of injustice agitate you? What are the problems you are scared to tackle? During the fellowship you will have a special occasion to talk about these questions, to understand them, and perhaps to take action. For me, taking action meant creating Wedu.
To conclude, the fellowship gives you time to better appreciate your own potential, explore what you want from life, and undergo training to enable action. It gives you an opportunity to expand your future comfort zone, making you into a bigger being.
This can also translate into brighter possibilities after the fellowship, as long as you are a master of your own personal and professional development. There is no need to start an organization! By joining other leading initiatives or organizations active in your own country, you can become a powerful change agent.
You can follow Wedu and get involved at www.wedufund.org on Facebook here or Twitter @wedufund . Feel free to reach out and ask any questions you may have. I wish you all the best of luck in your endeavor.