Regulatory Reform for Japan's Watershed Forests: Protecting a Public Good
February 19, 2010
Who is buying up Japan's forests? Foreign-owned businesses hoping to exploit their water resources, according to one theory. Whatever the forces behind this disturbing trend, the government currently lacks the tools to identify them, let alone control them. To help remedy the situation, the Tokyo Foundation has drawn up recommendations for systemic and regulatory reform to allow for sensible monitoring and management of Japan's precious watershed forests.
* * *
The long-term decline of Japan's forest industry continues. With profits eaten away by falling lumber prices and a full 29% of forestry workers in the 65-and-over age bracket (as of 2005), the nation's logging operations have reached their limit.. "If I can, I'd like to sell off my forest," confesses one landowner. "I plan to be the last member of my family in the forestry business."
Potential selling pressure has mounted as forestland prices have fallen for 18 consecutive years. In the midst of this trend, a different type of land transaction has begun drawing attention. People in the industry speak of new players on the market, parties with no previous interest in forests or forestry.
An Alarming Trend
Around 2005, word began spreading through the famed timber land of western Saitama Prefecture of foreign entities that were using trading companies as brokers to scout out forestland for purchase. In eastern Yamanashi Prefecture, where melted snow from Mount Fuji flows through the ground to nourish the countryside below, a local real estate firm was approached by a Tokyo broker early in 2008 on behalf of a party looking for a big chunk of mountain property—at least one square kilometer—regardless of its timber potential.
Such prospective buyers are popping up in locales where large-scale land transactions were previously unknown, causing local foresters to raise their eyebrows at offers to buy large tracts of land with little or no commercial timber potential. Stories like this are being told in timber land around the nation, from eastern Hokkaido to Tenryu village in Nagano Prefecture and the Miyakonojo district of Miyazaki Prefecture.
A certain upstart Tokyo real estate firm acquired 200 square kilometers of forestland around Japan in its first five years. A computer software company headquartered in greater Metropolitan Tokyo bought up 43 sq km of forestland nationwide in 2006 alone. A major Japanese trading company is said to be in the market for a mountain property at least 2 sq km in area, ostensibly for research purposes.
According to the Ministry of Land, Infrastructure, Transport, and Tourism, in the three years between 2000 and 2002 sales of property measuring 50,000 square meters or more numbered just over 800 transactions annually. From 2006 to 2008, that figure rose to between 1,100 and 1,200, an increase of about 40%. In Japan's mountain regions (those outside the city planning zones), the amount of land changing hands has more than doubled in the past decade, rising from 140 sq km in 1999 to 320 sq km in 2008 (see figure). The prefectures reporting the most land sold are Hokkaido, Miyazaki, Fukushima, and Kumamoto, in that order, and it can be assumed that the vast majority of that property is in forest or wilderness areas. Furthermore, it is doubtful that the official figures, based on reported transactions, tell the whole story.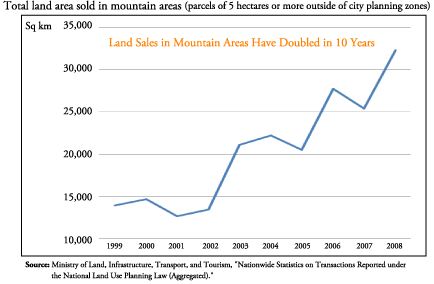 What is behind this surge in forestland sales? People in the industry have a variety of theories as to the buyers and their purpose. Some think they are speculators convinced that forestland prices have hit bottom and can only rise. Others believe the investment is a strategic, long-term one predicated on the idea that forests will gain value as "sinks" that absorb the carbon dioxide responsible for global warming. Another theory holds that, in a world of increasingly scarce water resources, Japan's watershed forests are being targeted for their groundwater.
In most cases it is difficult to identify the real investor in these land purchases, since the transaction is conducted through a series of intermediaries, but there have been ongoing reports of involvement by foreign capital. In May 2009, the daily Sankei Shimbun reported that Chinese companies were stepping up efforts to buy up watershed forests around Japan. It cited the case of a Chinese concern that had approached people in the town of Odai in Mie Prefecture with offers to buy forestland surrounding a dam reservoir near the border of Nara Prefecture.
Forests comprise 67% of Japan's land area, and about 60% of that forestland is privately owned. But the value of our forests cannot be reduced to private gain from the sale of lumber; it has a public dimension as well. Forests provide a public good by nurturing water resources and by preventing erosion and landslides. Japan's watershed forests and the water resources they generate are vital national resources that support life not only in the immediate area but downstream as well. They are part of our basic infrastructure, crucial to the national interest, and for this reason—private property or not—their sale should be carefully monitored and controlled with the goal of preserving our national land resources. Yet presently Japan has no system or comprehensive regulatory framework to allow such management.
An Ill-Equipped System
Broadly speaking, there are three basic problems with the current system. The first is that it is extremely difficult for anyone but those directly involved to monitor the buying and selling of forestland. Information on property purchases by corporations and other groups is open to the public only in the case of listed firms that are working actively to buy up and conserve forestland, including Sumitomo Forestry, Oji Paper Group, and the major lumber distributors.
Under the National Land Use Planning Law, information on sales of land measuring one hectare (10,000 sq m) or more outside the city planning zones must be reported to the prefectural or (in the case of the 12 major cities) municipal government after the fact (within two weeks of the contract's conclusion). But the prefectures refuse to disclose information on individual transactions on the grounds of privacy, and the documents provided under freedom-of-information requests are largely blacked out. Even when the Forestry requests information from the local government, the response is varied, with some prefectures providing nothing at all.
This is not to suggest that the local governments themselves have carefully monitored and analyzed the land transactions in their jurisdiction. Even if one were able to go through their massive real property registers one entry at a time, one would not come away with an accurate picture of the situation, since many landowners have neglected to register their land or report the change in ownership when it passes from parent to child. Transactions may not be reported, and when they are, they may be filed under the name of a dummy purchaser (company or an individual), making it difficult to identify the real landowners in a region.
The second problem is that a good deal of land has yet to be surveyed and recorded in the official land registers (which bear such information as the owner, the type of land, and the acreage) on which legal ownership is based—an unusual state of affairs for an industrial nation. A nationwide cadastral survey was launched in 1951, but so far it has covered only 48% of the country. Astonishingly, the land survey Toyotomi Hideyoshi carried out in the sixteenth century is often the last official record of the ownership and size of property in the mountain forests of Japan.
In fact, an estimated 60% of Japan's forest property has not been officially surveyed, and as a result the real property registers and official cadastral maps present a woefully incomplete picture. Consequently, records of transactions by which to gauge market prices are difficult to find, a circumstance that has given brokers a free hand in forestland transactions.
Elderly and absentee landowners who can no longer maintain their forestland often sell it without clearly establishing its boundaries. Thus, if the new owner fences the property, the fence is likely to become the de facto boundary. Even if he unilaterally moves the boundary so as to expand his own property, encroaching on surrounding land, neighbors may lack the documentary evidence to pursue a complaint. Such cases are all the more likely in remote watershed forests.
The third issue with Japan's current system is the utter lack of restrictions on forestland transactions. The Agricultural Land Law regulates sales of farmland, and although critics complain that enforcement is loose, the law at least establishes a system under which the local agricultural committee must give prior approval for land transfers. In the case of forests, no such mechanism exists. The sole requirement is the aforementioned obligation to report the transaction after the fact under the National Land Use Planning Law, and it is doubtful that this rule is consistently observed.
A Land-Buying Free-for-All
In short, in the sale of forestland, as in any typical economic transaction, seller and buyer need only agree on the terms, and the sale is valid, even if the property boundaries are unclear. Foreign businesses can legally own forestland in Japan, as there are no rules pertaining to the buyer's nationality. Moreover, having once acquired the title, owners are protected by powerful private property rights. Meanwhile, restrictions on the development of woodland other than designated forest preserves are virtually nonexistent.
Most Western societies, viewing land as a public asset that should be used in a manner consistent with the public good, impose strict constraints on land ownership. In Britain, land ownership technically means the right of tenure, not ultimate power of disposition. In countries like France and the United States, public institutions have preemption rights in the purchase of land, and the government has broad power under the right of eminent domain.
Most Asian governments (Dubai being a notable exception) impose stringent restrictions on land ownership by foreign individuals or corporations. Where foreign ownership is permitted, it is generally limited to designated areas and requires prior approval (see table). Japan, however, has placed private land-ownership rights on a par with public rights ever since the Meiji era (1868–1912). The Compulsory Purchase of Land Act is virtually nonfunctional. As groundwater is considered a part of the land, anyone who owns a piece of land can claim the groundwater or hot springs as their personal property to do with as they please.
Restrictions on Foreign Ownership of Land in Selected Countries
| Country | Type of restriction (×=not permitted △=permitted with restrictions ○=permitted ◎=permitted without restrictions) |
| --- | --- |
| China | × Land is the property of the state in principle; local subsidiaries of foreign-owned businesses may acquire land-use rights following government review |
| Indonesia | × Foreign-owned businesses may operate on designated land after receiving development or building rights |
| Philippines | × Foreign investors may lease land is to be used for investment purposes only |
| Singapore | △ Foreign entities may not own land without the permission of the Minister of Law |
| India | △ Foreign ownership of land prohibited in principle; local subsidiaries of foreign-owned businesses may acquire land under certain conditions |
| South Korea | △ Notice or application required in keeping with the Alien Land Law |
| United Kingdom | ○ Landowners have right of tenure only; ultimate power of disposition lies with the state (or crown) |
| France | ○ Government has broad powers of eminent domain; private property rights have been rolled back, as by strengthening public institutions' preemption rights |
| Japan | ◎ No restrictions |
What are the potential repercussions of this situation? As global competition over limited resources heats up, new players on the market could, in a relatively short time, buy up huge tracts of Japanese forestland entirely legally and use them to operate large-scale commercial ventures with little legal obligation beyond that of paying their taxes. Even if such activities affected the forest's ability to provide water for downstream communities or prevent erosion and landslides, even if they raised security issues, the government would be unable to crack down swiftly as long as they were compliant with the law.
And if local residents challenged the new owners over the legality of "gray area" activities, they could find themselves up against powerful organizations (corporations or funds) that had the letter of the law and private property rights on their side. If the organization were controlled by foreign capital, a lawsuit could turn into a wide-ranging debate over the public and social impact, with international rules coming into play. In such a case the litigation could drag on for years, during which time the land and its resources would remain under the owner's control.
Creating a Sound Framework
Some might compare this scenario to Japanese businesses' wholesale investment in American real estate during the bubble years of the 1980s. They might argue that such activity is part and parcel of a free economy and no cause for alarm. Others may protest that the prospect of foreign capital developing Japanese forestland is sheer speculation. But if we wait until the exploitation of Japan's natural resources by global interests is well under way before moving to address the fundamental problems in Japan's land use system, it may be too late.
Japan must decide how it intends to manage and protect the resources of its forestland in the midst of the forest industry's ongoing decline and create a legal and regulatory framework that addresses the potential for foreign interests to take over ownership, control, and management of our forests.
With this in mind, the Tokyo Foundation has developed a three-point policy recommendation.
First, the government must take prompt action to complete the national land (cadastral) survey and make the buying and selling of forestland transparent. It should accelerate the survey process to clearly define the ownership and extent of forest property as a fixed asset and facilitate its responsible use and management.
Second, every effort should be made to bring forestland transactions out onto the open market. The more often such transactions occur on the open market the more information will be available to buyers and sellers, increasing the probability of fair pricing. Disclosure of purchasers' identities will help assuage the anxieties of local residents.
Third, mechanisms should be instituted to protect the public interest in the extended area around forestland by subjecting the sale of such land to tighter regulation. The National Land Use Planning Law should be broadly interpreted and applied to forests with significant public impact, such as watershed forests. Sales of such land should require prior approval by a public authority responsible for verifying the cost and purpose of the purchase.
Translated from an article in the January 26, 2010, issue of the Japanese magazine Weekly Economist . None of the content may be reproduced in any form without the written consent of the Economist , Mainichi Press.
Click here to read TKFD's complete policy proposal in the original Japanese