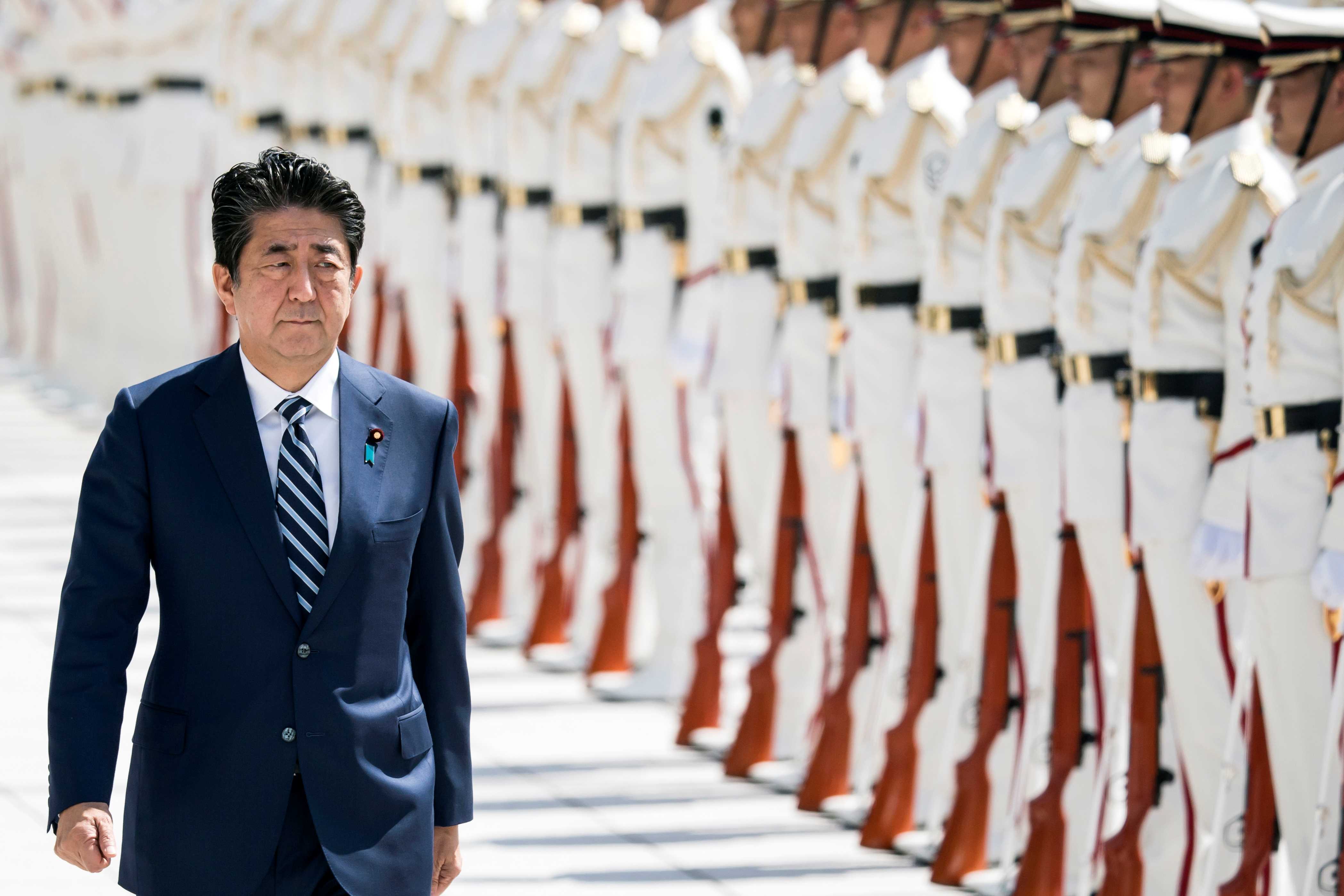 ©Gettty Images
Assessing the Legacy of Abe's Foreign Policy
September 15, 2020
How should we assess the foreign-policy achievements of Prime Minister Shinzo Abe, Japan's longest-serving prime minister? The author argues that Abe has made an important and lasting contribution by laying the foundations for an independent, proactive, and coherent approach to foreign policy.
* * *
When Prime Minister Shinzo Abe steps down from office this month, he will leave behind a significant legacy in the arena of foreign affairs. Even amid diplomatic setbacks on two signature issues, Abe has ushered in important and lasting changes in Japanese foreign policy by articulating a coherent, independent vision grounded in liberal values and by creating the organizational foundation for a top-down policymaking process.
Before Abe, Japanese foreign policy was little more than a patchwork of bilateral relationships. Each policy division in the Ministry of Foreign Affairs worked more or less independently of the others, with a narrow focus on optimizing bilateral ties with another power, be it the United States, China, or Russia. The role of the prime minister and his cabinet was largely confined to reconciling internal conflicts and inconsistencies.
If there was any overall guiding principle, it was simply that of protecting Japanese prosperity and security by working within the confines of frameworks built by bigger powers.
Abe, by contrast, set forth a comprehensive, integrated vision of foreign relations, as summed up in the slogan "diplomacy that takes a panoramic perspective of the world map." Furthermore, he asserted a leadership role for Japan in defending the rules-based international order, as embodied in his "free and open Indo-Pacific" (FOIP) strategy.
FOIP has won the support of the United States and other key players and taken its place as a major international initiative. It is a stellar example of building a regional order guided by Japanese vision and leadership.
Abe also built an enduring legacy in the area of national security policy. His concept of "proactive contribution to peace" based on international cooperation was the driving force behind historic security legislation (passed in 2015) that conditionally opens the door to Japan's participation in collective security activities, as well as in collective self-defense.
Japanese defense policy over the past century had been characterized by nationalism and unilateralism. The nation charged headlong down a militaristic path, particularly following its withdrawal from the League of Nations. After World War II, it embraced unilateral pacifism. Abe's security legislation was historically significant in attempting to extend Japan's policy of international cooperation to the domain of security, in spite of the constitutional questions and other criticism it raised.
Paving the way for Abe's change of course was a major institutional reform designed to strengthen top-down policy-making in the field of foreign and security policy. In December 2013, the National Security Council was established as a control tower under the prime minister's leadership, and Japan's first National Security Strategy was adopted the same month. This reform was predicated on the understanding that a unified, coherent foreign policy was impossible as long as the policymaking process was dominated by sectionalism and interdepartmental rivalries.
Whatever changes in foreign policy future administrations may bring, this institutional reform will surely persist as an enduring legacy of Abe's tenure. In today's uncertain environment, in the long shadow of the COVID-19 pandemic, the NSC has laid the foundation for much-needed interdepartmental coordination and cooperation under the leadership of the Prime Minister's Office.
Thanks to Abe's emphasis on universal values, Japan was able to build strong ties with like-minded countries, and Abe's own brand of diplomacy bore fruit in the form of close personal ties with US President Donald Trump.
However, when it came to dealing with powers that did not share liberal values, Abe's approach was less successful. Russian President Vladimir Putin brushed aside Abe's bid to negotiate a return of the Northern Territories, one of the prime minister's cherished goals. Efforts to resolve another signature issue—Pyongyang's abduction of Japanese nationals—also fell flat in the absence of a bilateral summit with Kim Jong-un. Japan must bring more to the table than just trust and friendship when dealing with such countries.
More troubling was the continued deterioration in ties between Tokyo and Seoul. Amid a chain reaction of mistrust, the two nations no longer see each other as espousing shared values and interests, as exemplified in the omission in Japan's 2018 Diplomatic Bluebook of the customary description of South Korea as an "important neighbor."
But the biggest foreign-policy issue facing Abe's successor may be dealing with the growing tension between the United States and China. The pre-Abe approach would have been to ask how Japan can best survive in the context of the two powers' rival orders. This is the wrong question. The United States is our sole ally, and China is our biggest trading partner. We need both of them. It is up to Tokyo to take the initiative in the creation of an international order that can accommodate the United States and China alike.
Translated from "Kensho: Abe seiken, tatewari haishi anpo tenkan," Kyodo News, August 30, 2020.