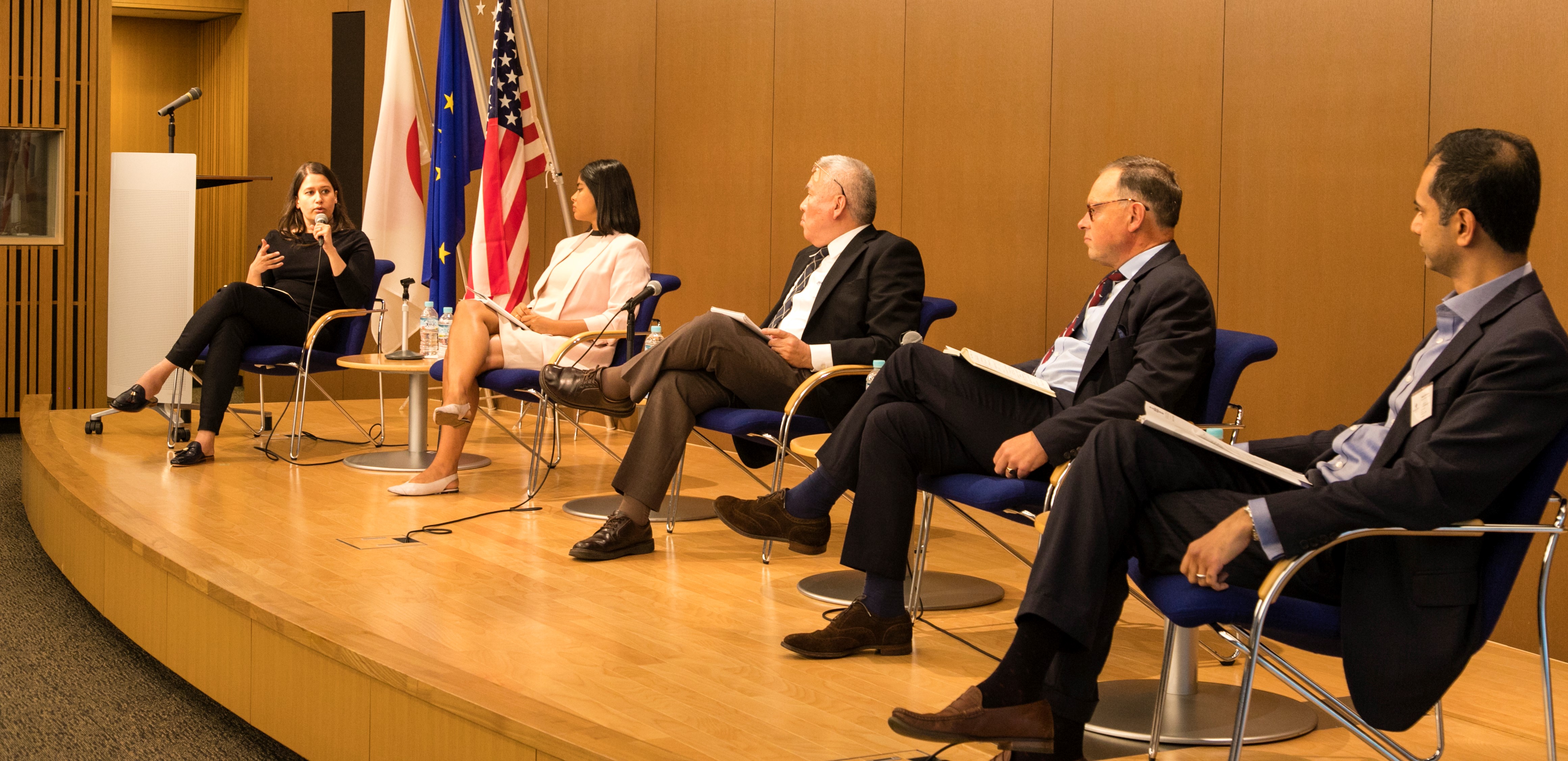 More Europe in the Indo-Pacific: Trilateral Forum Tokyo
October 8, 2019
In an innovative move, the sixth Trilateral Forum Tokyo brought together representatives from not only Japan, the United States, and Europe but also Australia and India on one stage to discuss challenges in the Indo-Pacific. This made the forum a unique Quad+ Europe platform. Quite often Europe seems removed from geopolitics playing out in the Indo-Pacific. This forum challenged that notion by highlighting the common challenges all these like-minded countries face, underscored that Europe's security and prosperity are very much affected by developments in the Indo-Pacific, and highlighted areas of cooperation Europe, Japan, and other Asian partners can build on.
A key theme of the forum was China's regional strategy and the changing balance of power in the Indo-Pacific. While European policy makers don't yet use the term "Indo-Pacific," European governments and publics are increasingly aware of the China challenge—both on the continent and increasingly also in Asia. The forum provided an opportunity to take stock of challenges posed by China's rise, particularly as it continues to violate international norms and rules.
A key contribution of the forum was a practical discussion on how the Quad partners and Europe can enhance coordination and work together in dealing with these challenges. While the South China Sea remained a crucial area for cooperation, the forum also underscored the importance of the Indian Ocean region. Many trends now associated with the Belt and Road Initiative (BRI) initially manifested themselves in the Indian Ocean—including an influx of Chinese capital and investments, debt traps, and fiscal instability, increasing Chinese influence in domestic politics, and a growing footprint of the PLA navy.
All of these are visible from Pakistan and Sri Lanka to quite a few ASEAN countries. The Quad partners envision a greater role for Europe in the Indian Ocean in particular, which carries a majority of European trade and constitutes its "extended neighborhood." Burden sharing in security, particularly in protecting crucial sea lanes and choke points in the Indian Ocean, was highlighted as an area where Europe can contribute to the efforts of its Asian partners.
Another fruitful area of cooperation between Japan, United States, and Europe the forum highlighted was regional connectivity. While many associate infrastructure investments with BRI, "connectivity" is not a Chinese invention, and both Japan and Europe are longstanding players in this field. For decades, Japan has played a crucial role in Southeast Asia, whereas Europe has been building infrastructure networks in its neighborhood.
On September 27 Prime Minister Abe and President Juncker signed the EU-Japan Connectivity Partnership based on "sustainability, quality infrastructure and a level playing field"[1] in Brussels. The EU and Japan pledged to work on joint projects in third countries while "fully taking into account partners' needs and demands"[2] and paying attention to "fiscal capacity and debt-sustainability." This focus on sustainability, both fiscal and environmental, on local needs, and on providing quality infrastructure is a clear sign this initiative aims to provide an alternative to BRI, although neither China nor BRI are mentioned even once in the statement.
While no other initiative can match BRI dollar for dollar, having alternatives is extremely important. It will give smaller countries a choice. It may also improve their ability to bargain and negotiate for better conditions within BRI projects and contracts. In this sense, this connectivity partnership has huge potential. It will aim at the Western Balkans, Eastern Europe, Central Asia, Indo-Pacific, and Africa. It will ensure Europe and Japan play a crucial role in reinforcing international norms and standards.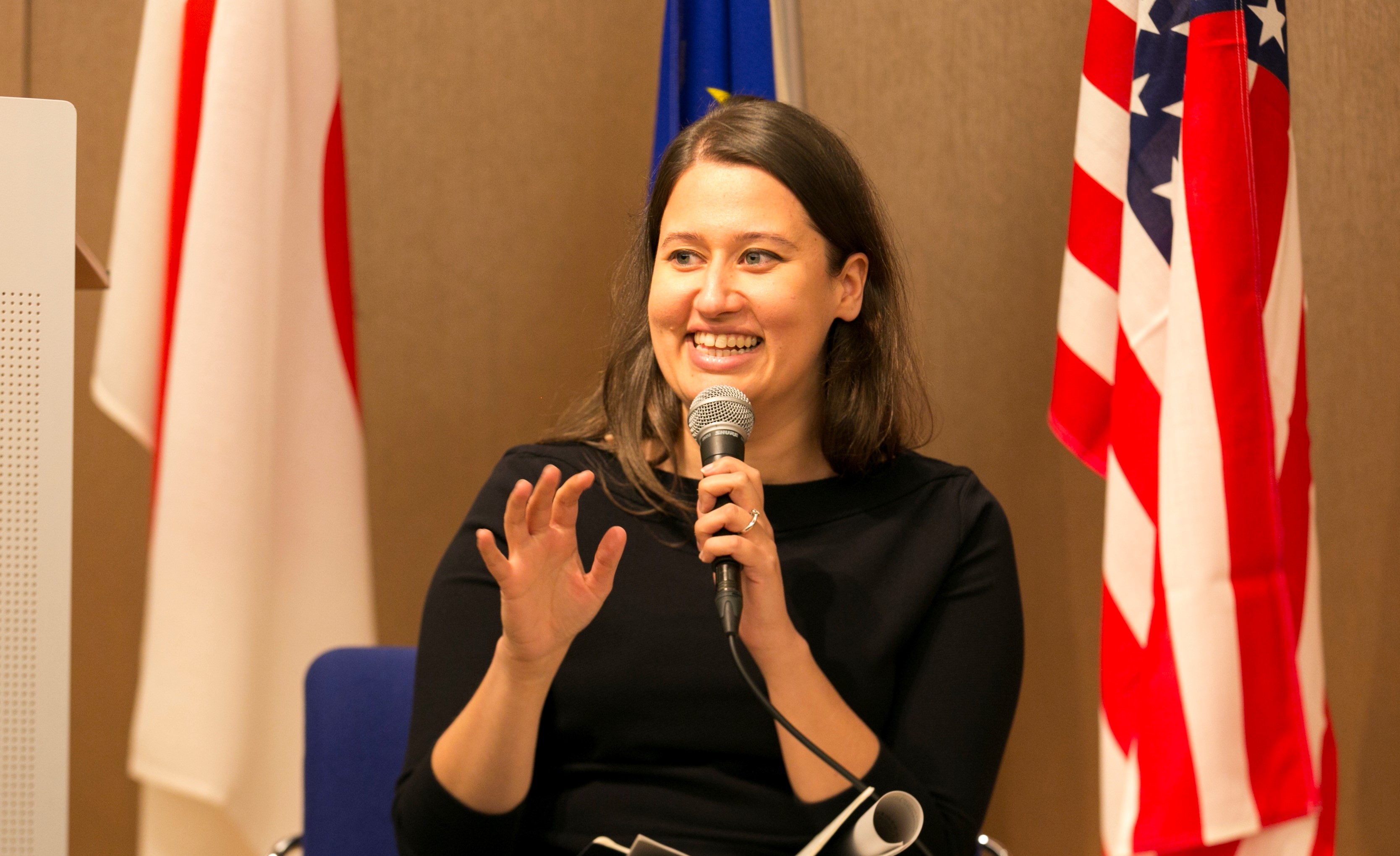 Thirdly, and arguably one of the most important contributions of the forum, was to foster a discussion on new challenges where forms of cooperation don't yet exist—particularly political influencing efforts and geopolitical competition on technology. Here, having participants from Australia included in the forum was a real asset, as they were able to share experiences of dealing with Chinese political influencing attempts as well as the role of state-affiliated companies like Huawei in advancing China's influence abroad. Journalists and policymakers from each region shared their experiences of uncovering targeted campaigns, and the forum highlighted the need to better understand these policy areas in order to come up with more effective responses.
In conclusion, over two days of intense discussions and exchanges the forum highlighted that the Indo-Pacific is not a region too far from Europe. There are many avenues where greater coordination and collaboration between Japan, Europe and the United States is vital. While previous forums have seen some disagreements and different priorities of partners on security challenges in their respective regions, this year's conversations showed a lot of convergence between the three regions. Europe is set to play a greater role in Asia. This is evident in its changed line on China, which looks at China as a systemic rival and economic competitor. It is also visible in the EU's new strategy identifying India as a crucial pillar in a multipolar Asia,[3] in the pathbreaking connectivity partnership with Japan to provide viable, sustainable and quality infrastructure in the region, and in the EU's intent to play a greater security role in Asia.[4]
Taken together all of these constitute the building blocks of a European approach to the Indo-Pacific. This forum played a crucial role in highlighting that regional partners and Japan would welcome a growing European role in the Indo-Pacific.
Dr. Garima Mohan is a fellow in the GMF's Asia Program. Based in Berlin, she focuses on European policy in Asia, Indian foreign and security policy, and maritime security in the Indo-Pacific. Prior to joining GMF, she was the acting team leader and coordinator for the EU's Asia-Pacific Research and Advice Network (APRAN), which supports EU policymakers on issues concerning the Asia-Pacific. She also led the Global Orders program at the Global Public Policy Institute in Berlin.
[1] Japan-EU Partnership on Sustainable Connectivity and Quality Infrastructure, Point 1
[2] Ibid, Point 2
[3] See "India: Council adopts conclusions on a new EU strategy" https://www.consilium.europa.eu/en/press/press-releases/2018/12/10/india-council-adopts-conclusions-on-a-new-eu-strategy/
[4] See "Deepening EU security cooperation with Asian partners: council adopts conclusions" https://www.consilium.europa.eu/en/press/press-releases/2018/05/28/deepening-eu-security-cooperation-with-asian-partners-council-adopts-conclusions/