China's Struggle for Civil Society: A New Perspective on Social Development
September 27, 2013
Although the Chinese government continues to resist democratic reforms, many civic groups are pushing the boundaries of citizen involvement. Junko Oikawa explores the significance of these developments for Chinese society and Japan-China relations.
* * *

China is changing rapidly at the societal level, and one crucial barometer of change is the relationship between civil society and the country's one-party authoritarian government. In the face of unprecedented social and economic diversity, the government is struggling to reconcile competing interests. China today faces a host of mounting problems, from rising discontent of over evictions and seizure of land to problems relating to pollution, labor abuses, food safety, and ethnic unrest in the "autonomous" regions. With protests and dissident movements proliferating around the nation, maintaining social stability is clearly the number one challenge facing China's leadership.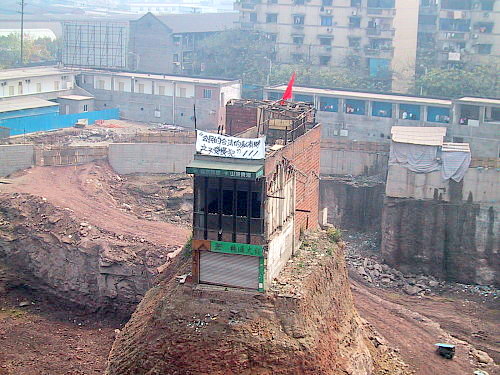 Despite the control that the government and the Communist Party of China continue to exert over society, increasing attention has focused on voluntary action by citizens and civic groups to advance individual rights or the welfare of the greater community. In the following I would like to explore the development of civil society in China, including the recent clampdown by authorities, as a lens through which Japan can gain new insights into Chinese society.
The Rise of Gongmin Shehui
Political scientist Yu Keping, deputy director of the CPC's Central Compilation and Translation Bureau, has written extensively on civil society. As Yu explains it, the concept of civil society implies both "involvement by citizens in public issues" and "limitation of state power by the citizens." Civil society is a sort of "community" located somewhere between the government and private sectors and formed independently by citizens who awaken to their legal rights and join together to defend such rights.
Interest in volunteerism and other forms of community involvement rose rapidly in the wake of the Great Sichuan Earthquake of 2008 and the Beijing Olympics, held later that year. Although major obstacles still confront anyone seeking to establish or maintain a public interest organization truly independent of government or party control, the role of nongovernmental and other public-interest groups in Chinese society expanded rapidly. The Internet contributed substantially to this trend by diversifying the channels for public discourse. As of June 2013, China had an estimated 600 million Internet users—more than 44% of its population. With citizens' consciousness of social issues and modes of engagement evolving rapidly, many discovered ingenious new uses for the Internet as an organizing tool. Growing civic and taxpayer awareness erupted in a variety of civil rights ( weiquan ) campaigns, as citizens began to take ownership of issues requiring action. This phenomenon awoke keen interest in the concept of "civil society" ( gongmin shehui ), among academics and journalists.
Meanwhile, however, the rapid proliferation of organized movements began to alarm the government. In January 2011, officials responded by banning the use of the term gongmin shehui in the media (although gonggong shehui , or "public society," has frequently popped up in its stead). More recently gongmin shehui appeared among seven topics of instruction banned from university classrooms under a policy directive issued in May 2013. Like "universal values" and "freedom of the press" (also among the banned topics), the Chinese leadership has come to view "civil society" as a loaded term with politically sensitive implications.
Xu Zhiyong and the New Citizens' Movement
But banning the word has not stopped private citizens from making forays into this new frontier. One of the most noteworthy experiments is the New Citizens' Movement, led by Xu Zhiyong.
Born in 1973, Xu Zhiyong first rose to prominence in connection with the death of Sun Zhigang in 2003. Sun Zhigang was a young man from rural Hebei who had found employment in the city of Guangzhou. On March 17, 2003, Sun was picked up by police and detained for failing to produce proper identification. Shortly afterwards, he was beaten to death at a detention center. The incident ignited a firestorm of criticism online, together with a challenge from legal scholars, who questioned the constitutionality of a longstanding regulation authorizing police to detain and repatriate undocumented migrant workers in the cities. In an epoch-making victory for citizens' action in China, the government bowed to the combined pressure of public indignation and critical media coverage and repealed the regulation. Xu Zhiyong was one of the three legal scholars whose open letter to the National People's Congress Standing Committee was said to have been instrumental in getting the regulation repealed.
In the wake of this triumph, Xu and his colleagues set up Gongmeng, or the Open Constitution Initiative—an NGO dedicated to the use of legal and judicial means to protect the civil rights of socially disadvantaged persons. Xu also held the position of lecturer at the Beijing University of Post and Telecommunications until recently, but he was barred from teaching in 2009, when authorities decided to crack down on Gongmeng. At that time Xu was arrested and detained on charges of tax evasion, although he was released after about a month.
Xu's next major project was the creation of the New Citizens' Movement, dedicated to the development of a "just and happy civil society" "ruled by democracy and law," with "freedom, righteousness, love" as the new national spirit. [1] The group has lobbied for equal educational opportunities and an end to discriminatory enforcement of the household registration ( hukou ) system. In recent months, some members have even taken to the streets, calling on public officials to disclose their assets. One of the most interesting features of the movement is its strategy of urging supporters all around China to hold simultaneous dinners once a month to discuss social problems facing their communities. The emphasis on convivial dinner parties, as opposed to confrontational demonstrations or rallies, struck a chord with the public and captured media attention as a promising new model of civic involvement.
Activities of this sort are clearly sanctioned by Article 35 of the Constitution of the People's Republic of China, which states that "citizens of the People's Republic of China enjoy freedom of speech, of the press, of assembly, of association, of procession, and of demonstration." But in a state where the will of the party trumps the rule of law, social campaigns and citizens' groups are constantly subject to police surveillance and interference. On April 12 this year, Xu Zhiyong was detained once again as he was preparing to attend a symposium marking the tenth anniversary of Sun Zhigang's death. He was then placed under house arrest without due process before being formally charged on July 16 with disrupting public order. According to human rights observers, at least 15 other activists connected with the New Citizens' Movement were detained during roughly the same period.
Supporters responded with a petition protesting Xu's arrest. Launched by some of China's most prominent voices for democratic reform—including renowned economist Mao Yushi, who has persistently lobbied for political reform, and veteran journalist Xiao Shu, a longtime human rights advocate—the petition collected signatures from more than 2,000 supporters inside and outside of China by the end of July. Email solicitations and supporter websites and blogs have played an important role in rallying support and gathering signatures. But the updates and informational materials posted on these websites highlight the grim realities confronting the New Citizens' Movement.
Popular support for the New Citizens' Movement is mixed at best. Some activists have criticized the movement's nonaggressive approach to building a civil society as naïvely unrealistic, given the situation in China today. Be that as it may, the recent string of arrests and detentions epitomizes the unfolding struggle between private citizens and government authorities over the development of civil society in China. While the powers that be may pay lip service to the rule of law and constitutional government, their treatment of citizens who actually try to exercise their civil rights bespeaks a very different reality.
Paths to Responsive Government
Some time ago I had an opportunity to talk to Xiao Shu about his hopes for social activism in China. He explained his belief that the path to democracy lies not in pro-democracy protests like the 1989 Tiananmen Square demonstrations or the Arab Spring but in focused efforts to resolve specific social problems. Xiao also stressed the importance of profiting from the experience of citizens' movements in Japan. He spoke fervently of his determination to learn more about the roles played by Japanese citizens' groups and media organs in focusing attention on such problems as industrial pollution and contaminated blood products.
Of course, a simple comparison between Japan and China may be misleading, given the differences between our countries' political and social systems. While Japanese civil society may appear highly developed from the perspective of Chinese activists facing harsh government repression, Japan, too, has many problems that remain unaddressed. Still, the basic questions facing Chinese activists today are universal issues, applicable to any society regardless of country, era, or political system: Can changes in people's beliefs and behavior have a real impact on their country's laws and systems? What forms of pressure should citizens bring to bear on their government to advance civil rights in various arenas? And can the power of the private sector be harnessed to build a healthy, reciprocal relationship between the government and the people? From this perspective, it seems to me that a closer examination of gongmin shehui in China can also raise important questions about the state of civil society in Japan.
As readers will have gathered from the emphasis of this article, my focus is on the role of private citizens in the formation of civil society. I believe that we can gain a better appreciation of the changes gradually overtaking Chinese society by shifting our focus from the party and the government to emerging trends in the civic sector. I am also hopeful that, at a time of deeply troubled relations between Tokyo and Beijing, approaching bilateral tiles from the perspective of civil society may open the door to deeper mutual understanding and new possibilities for cooperation.
---