Trilateral Forum Tokyo 2013
June 28, 2013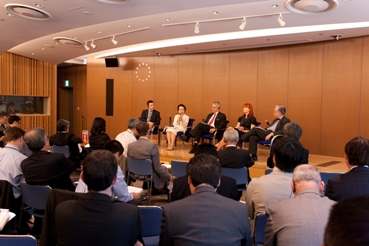 Views on a broad range of topics of vital interest to researchers and policymakers in Japan, the United States, and Europe were shared over the weekend of June 8-9, 2013, in Minato-ku, Tokyo, during the second Trilateral Forum Tokyo, co-organized by the Tokyo Foundation and the German Marshall Fund of the United States.
Some 70 leading scholars, think tankers, journalists, government officials, and business representatives from the three regions met for a Track 1.5 conference to explore avenues for further trilateral cooperation and to discuss topical issues in the Asia-Pacific regional architecture.
The regular sessions covered such topics as how China will relate to the international order, the impact of plethora of trade liberalization talks outside the framework of the World Trade Organization, the role of innovation in driving future economic growth, the viability of the existing nonproliferation order, the expansion of energy options, new frontiers in development cooperation, and the future of Myanmar's political opening.
In addition, breakfast, lunch, and breakout dinner sessions were held focusing on specific topics like security, Trans-Pacific Partnership, public debt, and America's rebalancing toward Asia.
Many Forum participants also made a study tour of Kyoto on June 10, participating in an international symposium at Doshisha University focusing on citizen diplomacy on attempts to draw on centuries of cultural heritage to achieve growth in a globalizing world. (See video of the public symposium )