China's Defense Policy and Implication for Sino-Japanese Security Relations
October 26, 2012
With the fast rise of China and its military power, China's national defense policy is drawing more and more attention of other countries, especially its neighboring countries. The intention, capability, budget, influence, and future development trends of China's military are becoming hot topics for statesmen, mass media, as well as academics. Based on several official documents, here I try to summarize how China assesses its current security situation and identify the threats and risks to its national security, what are the goals and emerging features of China's national defense policy, and what are the implications for Sino-Japanese security relations.
China's Conception of the Current Security Situation: "Complex" and "Volatile" as the Key Words
How does China assess the current security situation, especially considering the fast changing strategic environment in East Asia in the past two years following the Cheonan Incident, the Yeonpyeong shelling, the Diaoyu Islands fishing boat row, the South China Sea maritime disputes, and the US's claimed "return" to the Asia-Pacific? After comparing three relevant white papers issued by the Chinese government— China's National Defense in 2010 , China's National Defense in 2008 , and China's Peaceful Development (2011), we see that while the general tone has not changed very much, still repeating that "[t]he current trend toward peace, development and cooperation is irresistible," and "[o]n the whole, the world remains peaceful and stable," change and "complexity" are given more importance than continuity in China's recent strategic assessment. In China's National Defense in 2010 , such descriptions appear several times:
"The international situation is currently undergoing profound and complex change."
"International strategic competition and contradictions are intensifying, global challenges are becoming more prominent, and security threats are becoming increasingly integrated, complex, and volatile."
"The Asia-Pacific security situation is generally stable. . . Nevertheless, Asia-Pacific security is becoming more intricate and volatile."
When talking of threats and risks to China's national security, "complex" is also emphasized. "China is meanwhile confronted by more diverse and complex security challenges," which the 2000 white paper specified as follows:
China has vast territories and territorial seas and is in a critical phase of building of a moderately prosperous society. Therefore, it faces heavy demands in safeguarding national security.
The "Taiwan independence" separatist force and its activities are still the biggest obstacle and threat to the peaceful development of cross-Strait relations. Further progress in cross-Strait relations is still confronted by some complicating factors.
Separatist forces working for "East Turkistan independence" and "Tibet independence" have inflicted serious damage on national security and social stability.
Pressure has built up in preserving China's territorial integrity and maritime rights and interests.
Suspicions about China, interference, and countering moves against China from the outside are on the increase.
The United States continues to sell weapons to Taiwan, severely impeding Sino-US relations and impairing the peaceful development of cross-Straits relations. It is also reinforcing its regional military alliances, and increasing its involvement in regional security affairs.
International military competition remains fierce, especially in the domains of outer space, cyber space, and polar regions.
Prevention of the proliferation of WMD remains complex, and there is still much to do to maintain and strengthen the international nonproliferation mechanism.
Regional pressure points drag on without a solution in sight. There is intermittent tension on the Korean Peninsula, the security situation in Afghanistan remains serious, and political turbulence persists in some countries.
Nontraditional security concerns, such as terrorism, energy, resources, finance, food, public health, climate change, information, and natural disasters, are on the rise.
The abovementioned challenges are usually described as "traditional security concerns blending with nontraditional ones and domestic concerns interacting with international security ones, making it hard for traditional security approaches and mechanisms to respond effectively to the various security issues in the world." Thus, it should be addressed by comprehensive measures and through the cooperation of all countries, with China's new security concept as the guideline, which includes comprehensive security, common security, and cooperative security, and is based on mutual trust, mutual benefit, equality and cooperation.
The Goals and Tasks of China's National Defense Policy in the New Era: Three " Weihu, " One " Tuijin "
As with the armed forces of every country, the Chinese armed forces undertake the duty of the resisting foreign aggression, defending the motherland, and safeguarding overall social stability and the peaceful labor of its people. Specifically, the goals and tasks of China's national defense policy in the new era have been summarized in the 2010 national defense white paper as the following four dimensions:
Safeguarding national sovereignty, security, and interests of national development

. China's national defense is tasked to oppose, contain, and crack down the separatist forces for "Taiwan independence," "East Turkistan independence" and "Tibet independence." Both subordinate to and in service of the country's development and security strategies, China's national defense is still prioritized to safeguard the "period of strategic opportunities for national development" stipulated on the 16 th National Congress of the CPC in 2002. Regarding China's nuclear and deterrence policy, China consistently upholds the policy of no first use of nuclear weapons, adheres to a self-defensive nuclear strategy, keeps a minimum nuclear arsenal, and will never enter into a nuclear arms race with any other country.

Maintaining social harmony and stability.

Unlike many other countries, the Chinese armed forces play a very important role in supporting national economic and social development, and safeguarding national security and political stability. Through military operations other than war (MOOTW), the military undertakes the arduous tasks of counter-terrorism, stability maintenance, emergency rescue, and the protection of security, and spends much resources in building up the specialized forces and relevant capabilities.

Maintaining world peace and stability

. China expands its participation in international security cooperation, strengthens strategic coordination and consultation with major powers and neighboring countries, enhances military exchanges and cooperation with developing countries, and takes part in UN peacekeeping operations, maritime escort, international counter-terrorism cooperation, and disaster-relief operations. China stands for effective disarmament and arms control, and endeavors to maintain global strategic stability.

Accelerating the modernization of national defense and the armed forces

. To fulfill aforementioned missions at home and abroad, it is necessary for China to build a fortified national defense and strong armed forces compatible with its national security and development interests. Bearing in mind the primary goal of accomplishing mechanization and attaining major progress in informatization by 2020, the PLA invests greater efforts in enhancing all sorts of capabilities in accomplishing diversified military tasks in order to win local wars under the conditions of informatization. This includes building joint operation systems, promoting transition in military training, innovating political work, implementing strategic projects for talented individuals, taking a multilateral approach to building a modern logistics system, and accelerating the development of new and high-tech weaponry and equipment.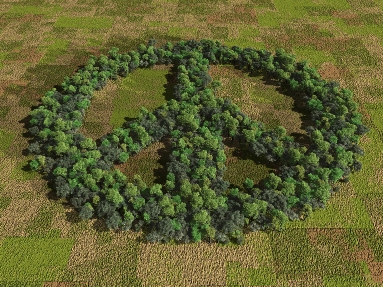 All these goals and tasks sound reasonable, but it remains unclear what goals and tasks take priority when they compete with each other.
Emerging Features of China's National Defense Policy
Despite the fast development of its military power, China still holds on to its national defense policy that is defensive in nature. This is particularly reflected in the seven aspects of the deployment of the armed forces in peacetime, as specified in China's National Defense in 2010 :
Safeguarding borders, coastal, and territorial security
Maintaining social stability
Participating in national construction, emergency rescue, and disaster relief
Participating in UN peacekeeping operations
Conducting escort operations in the Gulf of Aden and waters off Somalia
Holding joint military exercises and training with other countries
Participating in international disaster relief operations
It can be seen that among the seven aspects, the main concerns are with domestic issues, nontraditional security, and MOOTW, and international security cooperation, which may reveal several emerging features of China's national defense policy in the new era. Firstly, though still generally inward-looking, China's national defense policy is becoming more outward-looking with the huge expansion of China's overseas interests. Secondly, MOOTW is becoming more and more important in China's national defense policy, and the military has to adapt to increasingly composite and diversified roles and missions. Thirdly, the PLA has become more active in advancing foreign exchange and multilateral security cooperation. And fourthly, China's national defense policy is becoming more transparent than before, though there are still many things to do.
China's Perception of Japan's National Defense Policy
China has kept a close eye on the development of Japan's defense policy and occasionally warned the danger of the remilitarization of Japan for many years. Several reasons may account for China's anxiety about Japan's defense policy. Firstly, there is still a shadow of Japan's aggressions in China during World War II, although more than 60 years has passed. Secondly, Japan is now the main strategic partner of the US in East Asia. The US-Japanese alliance is the cornerstone of the US-led military alliance system in the Asia-Pacific region and is regarded as the biggest challenge to China's national security in the foreseeable future. Thirdly, Japan has long been the second largest economy in the world until 2010 and thus has the potential to convert its economic power into military power. With Japan's long-term economic depression, chaotic domestic politics, and the impact of the 3.11 great earthquake, this kinds of worries have receded to some extent but have not disappeared.
In December 2010, the Japanese government issued its new National Defense Program Guidelines (NDPG) and Mid-Term Defense Program (2011–15) (MTDP), which identified the current security situation facing Japan, proposed "dynamic defense" and "dynamic deterrence" as key concepts to deal with the new challenges, and expressed Japan's deep concern with the DPRK, China, and Russia. In the eyes of the Chinese military, Japan has already targeted China as a threat by moving its defense emphasis from the North East to the South West offshore islands, though the dynamic defense may partially be a response to the increasing nontraditional security challenges. Regarding Japan's defense policy trend, the mainstream view in China is like this:
Japan will keep following the US leadership, relying on its extended deterrence, and building up its national defense doctrine and policy within the framework of the US-Japan alliance, but its autonomy regarding defense policy will be increasing.
Japan's concern about China is becoming more and more serious and apparent.
Japan seems to be making some effort to collaborate with other NEA and ASEAN countries to restrain China, especially in such areas as maritime disputes and strategy.
Some main parts of Japan's defense policy, like exclusive defense, the principles of no import, no production, and no transfer of nuclear weapons, and the three principles of weaponry export are mostly self-restraint measures, and can readily be changed by Japan.
Thus, China and Japan seem to be entering a classic security dilemma. Both sides only want to seek security, but the final outcome is both sides becoming more unsafe than before. Neither side trusts the other. Under such circumstances, much needs to be done to improve trust between China and Japan.
Policy Implications for Sino-Japan Security Relations
In 2010 and 2011, East Asia witnessed quite a few diplomatic upheavals. As the two largest powers in this region, China and Japan have a vital role in regional security through their bilateral security relations. Though both governments confirmed in the 2007 joint statement to create a new era of a "mutually beneficial relationship based on common strategic interests," and though China-Japan economic interdependence has deepened at an unprecedented pace, China and Japan are facing serious strategic challenges, and a sense of security dilemma seems to be spiraling upward. The power shift between the two countries and the corresponding psychological changes, territorial disputes, pressures from the domestic politics, rivalry over the Korea Peninsula and the South China Sea, all contribute to the tensions and suspicions over both sides' defense and security policy. Bilateral disputes over the boat collision incident in September 2010 have reminded us how fragile the bilateral relations is, and that there were little mechanism for the crisis management and escalation control between the two counties even though we have a "hot line" between the premiers.
After examining both countries' defense policy, we can find that even though the two governments disagree with each other on some points, especially on the recognition of the causes of Asia-Pacific instability, they share a lot in their willingness to maintain bilateral and regional stability, in their identification of threats and risks, especially in nontraditional areas, in reforming their armed forces to adapt to the new security environment, and in strengthening the international security cooperation.
The next step is to develop mutual trust in those promising areas like CBMs, defense exchange, sophisticated and resilient crisis management, UN peacekeeping and national building, regional cooperation over issues like the Korea Peninsula and Afghanistan, the China-Japan-US concert, multilateralism, and nontraditional security issues, while at the same time to reduce or at least limit the impact of negative elements like territorial disputes, ideological blame and alignment, and exclusive military alliances. China-Japan security relations are too important to be ignored.