The Indo-Pacific Security Environment and Prospects for Japan-India-South Korea Trilateral Cooperation
November 29, 2013
Japan, India, and South Korea make natural dialogue partners, given the relative size of their economies, common values like democracy and a market economy, and the shared importance of the maritime domain, noted participants of a Tokyo Foundation Forum on "The Indo-Pacific Security Environment and Prospects for Japan-India-South Korea Trilateral Cooperation."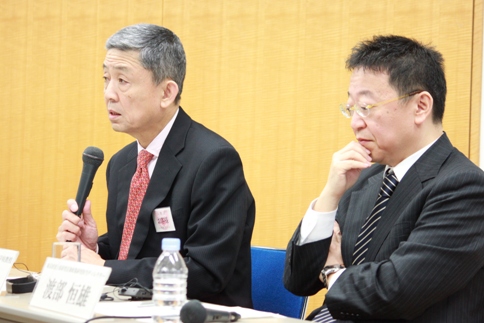 The Forum, the 70th hosted by the Tokyo Foundation, was held on November 29, 2013, inviting experts from leading Indian and South Korean think tanks—India's Institute for Defence Studies and Analyses and the Korea National Diplomatic Academy—with whom the Tokyo Foundation has been engaged in policy dialogue on a broad range of issues since last year.
The public forum was held a day following a very "relevant and meaningful" closed-door meeting on security-related issues of mutual interest to the three countries, as well as on the common challenges. "We agreed there is room for cooperation in the area of nontraditional security threats, including natural disasters," noted Noboru Yamaguchi, a Tokyo Foundation senior fellow and professor at the National Defense Academy of Japan, "and given our shared respect for the rule of law, we can work closer together in international rule-making, especially in the cyber domain."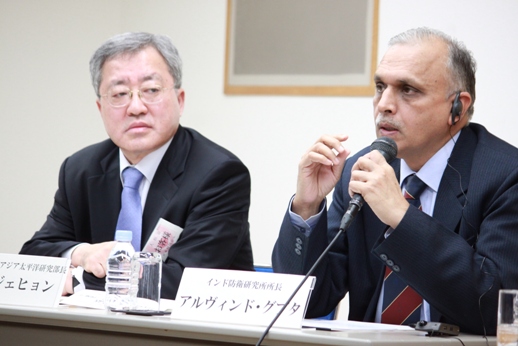 There was a "transformed atmosphere" at this year's dialogue, compared to last year, commented Arvind Gupta, director general of IDSA. Noting that the inaugural conference in New Delhi was still groping for a direction, "We realized this year that the trilateral framework was a very innovative one in the face of a rapidly changing geopolitical environment," leading to the identification of new areas of cooperation. Pointing to the spread of Buddhist teachings from India, Gupta also emphasized the "historical and spiritual connection" linking the three countries, noting, "You feel very much at home" in visiting Japan and South Korea.
Regarding the trilateral framework, Park Jae-hyun, director general of the Department of Asian and Pacific Studies at KNDA, said, "It's important to start with the softer, noncontroversial issues and build confidence in the region through track 1.5 dialogue." While noting that the dialogue should be maintained among the three partners for now, he emphasized that the framework should be nonexclusive and open to any party interested in developing common ideas and understanding that can contribute to peace and prosperity.
The next trilateral dialogue is scheduled to be hosted by South Korea in 2014. Moderating the Forum was Tsuneo Watanabe, director of foreign and security policy research and senior fellow at the Tokyo Foundation.