The Latest Wave of Chinese Emigration
February 24, 2014
While earlier generations of Chinese emigrants settled down and assiduously built careers in their adopted homes, the Chinese who are now moving abroad are, for the most part, affluent individuals who are taking advantage of foreign countries' investment immigration policies to purchase second homes, notably in Malaysia and southern Europe. Anthropologist Chen Tien-shi examines recent trends in the Chinese diaspora and their domestic implications.
* * *
The International Society for the Studies of Chinese Overseas (ISSCO) held its eighth global conference on August 17–19, 2013, in Kuala Lumpur, Malaysia. Organized by the Universiti Tunku Abdul Rahman, the conference drew leading researchers of the Chinese diaspora, providing a forum for them to share their latest findings. Discussions were held in a broad range of fields, including political science, economics, history, anthropology, literature, law, and religion.
Cultural Diversity of Overseas Chinese
The conference was held mostly bilingually in Chinese and English. Additionally, since Malaysia was the host country, for the first time, some sessions were also held in Malay. Researchers from around the world presented nearly 200 papers, with the ISSCO's cultural diversity being clearly evident from the participants' countries of origin, fields of academic research, and spoken languages.
I have been researching the Chinese diaspora since my undergraduate years and have been a member of the ISSCO since its founding in the early 1990s. I have expanded the focus of my research to encompass stateless individuals over the past 10 years or so, so I was participating in the conference for the first time in many years.
As a graduate student, I visited Malaysia so frequently for my fieldwork that I was sometimes mistaken for a local resident. That was around 10 years ago, and this time I was surprised by how fast time flies. I visited Melaka and Penang after the conference, which have since become World Heritage Sites, and the transformation of these areas into bustling tourist destinations made me feel the passage of time.
Also eye opening was the dynamism of the researchers at the conference who were born in China but moved abroad following the period of "Reform and Opening up" and had become faculty members at universities in countries like Australia, Canada, and the United States. They represent, in short, the new wave of overseas Chinese. Compared to those who had emigrated prior to the 1970s—including the prewar years—the achievements of these new overseas Chinese have been truly impressive.
"Malaysia My Second Home"
While visiting Malaysia, one could not help but feel the remarkable rise of China's global presence—through investment and development projects, as well as in the number of tourists.
One example is a segment of Iskandar Malaysia in Johor Bahru that is being financed by China's Country Garden Holdings. Iskandar Malaysia is a large-scale development project being advanced by the central Malaysian and Johor state governments. Country Garden seeks to develop the entire Danga Bay area just across the Straits of Johor from Singapore (and measuring three times the total size of the island country) into a "world city." [1] In addition to building up the existing electric power and petrochemical industries, the project envisions creating a new financial and education center. Country Garden is investing 10 trillion yen in the project and expects to house some 3 million residents.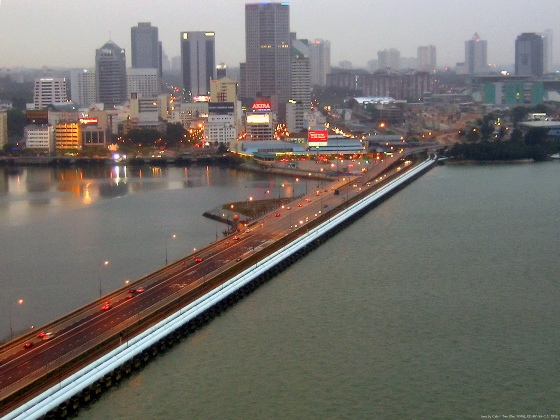 Since Johor Bahru is located along the border, a commute to central Singapore takes just 30 minutes by car. Real estate prices, though, are anywhere from just a tenth to a fifth of those in Singapore, and many people have chosen to live in Johor Bahru and commute to Singapore.
The Malaysian government launched a program known as Malaysia My Second Home (MM2H) several years ago aimed at welcoming new immigrants. Many elderly Japanese couples have moved to Malaysia under this long-term international residency scheme, so I imagine that there is some familiarity with it in Japan. In essence, long-stay visas of up to 10 years are issued under MM2H to foreigners who open a fixed deposit account above a certain minimum, enabling them to freely enter and leave the country.
This was a golden opportunity for Chinese investors. As part of the Iskandar project, Country Garden—one the top 10 real estate developers in China—is building serviced apartments, high-end sports clubs, a shopping mall, and an amusement park over a 55-acre (22-hectare) area. On August 11, Sultan Ibrahim Ismail of Johor was invited to an event marking the start of construction, complete with fireworks, and a photo of the celebration was featured on the front page of a Chinese-language daily in Malaysia. Country Garden is very enthusiastic about the project and is also confident of its success—even asserting that it intends to turn Johor Bahru into a major international hub. If development progresses as planned, the project should expand employment opportunities in Malaysia, so the initiative is warmly welcomed by both the sultan and the Malaysian government. [2]
Buyers have been enthusiastic as well, with 6,000 condominiums being snapped up on the first day that 9,000 units were put on sale. The going price for these units was between 700 and 1000 ringgits—or 20,000 to 30,000 yen—per square meter. Buyers have been both Malaysians and foreigners, including from Japan and China. Private investors from China have shown particularly strong interest, as they need not worry about the language barrier owing to Malaysia's high population of ethnic Chinese, and they are also attracted by the country's stable political system and warm weather.
Taking a tour of the Johor Bahru site were two groups from China. They were informed of the scope of the Iskandar project, various conditions for making a purchase, and the MM2H visa requirements, and they also visited local schools and other facilities. A mother and daughter from Shenzhen purchased a serviced apartment on the spot, saying, "With the MM2H program, living in Malaysia is an attractive proposition. We have relatives in Hong Kong and Singapore, but in terms of buying a home, I think Malaysia offers a better deal. The environment is wonderful, so it was an easy decision to make." Another member of the tour said, "This is a great place for the kids' education, so I'm hoping to buy a unit and move here with the family."
Investment Migration to Europe
Malaysia, of course, is not the only target of investment migration by Chinese individuals. They have long been purchasing real estate in and migrating to the United States, Canada, Australia and Singapore, and increasing numbers are now moving to the Mediterranean and other areas of southern Europe.
Europe was dealt a heavy blow following the 2008 financial crisis, when many overseas investors withdrew their funds. South European countries subsequently relaxed their investment immigration rules, and this resulted in a huge influx of Chinese immigrants. According to one report, 600 vacation homes in Cyprus were immediately snapped up by Chinese investors when they were put on sale last year.
Under Portugal's amended immigration law, officially announced on October 8, 2012, non-European Union citizens may receive residency rights for themselves and their families if they invest 500,000 euros in the country. And if they spend at least seven days in Portugal every year, they may apply for citizenship in the sixth year. Incidentally, 500,000 euros in Portugal is enough to purchase a 200-square-meter house with a pool and garden. [3]
Similar immigration rights can be obtained in Spain for 500,000 euros and in Greece for just 250,000 euros. With many homes in Shanghai, Beijing, and Guangzhou costing over 1 million euros, an investment in southern Europe is not a bad option for the affluent Chinese. Indeed, over 300 Chinese people applied to migrate to Portugal after the new law went into effect at the beginning of this year. [4]
The Latest Wave of Emigration
As I mentioned at the start of this article, many of the new overseas Chinese now active in the ISSCO emigrated in the 1980s, when China was still a developing economy. They went abroad as "student immigrants" and achieved the lifestyles and positions they now enjoy in their new lands through grit and endurance. The older wave of immigrants who left China before the war had generally done so as laborers, starting with nothing and building their lives from the ground up.
The latest group of "investment immigrants" is a completely different lot. They are wealthy individuals with overseas assets who have acquired residency rights and citizenship in foreign countries. Distinguishable from both the older and the more recent emigrants, these "new new" overseas Chinese are not necessarily interested in settling down in new lands, usually buying foreign property for the purpose of acquiring a vacation or second home. They want to be able to travel freely across national borders—and for this the availability of long-term visas, residency, and citizenship is an important consideration. The trend bears some resemblance to the exodus from Hong Kong prior to its 1997 reversion to China, sparked by concerns about Beijing's takeover of the British dependent territory.
The latest wave of emigration has been prompted, I imagine, by such factors as the domestic political situation and anxiety about environmental pollution and their own livelihoods. The movement of Chinese nationals abroad always appears to be linked with domestic conditions, so in this regard, the trend will continue to merit close scrutiny.
---
[1] "Country Garden Recommends Danga Bay on August 11," Nanyang Siang Pau, July 27, 2013.
[2] "Iskandar Malaysia to Turn Johor Bahru into Global City," Nanyang Siang Pau , August 12, 2013.
[3] "Wealthy Chinese 'Occupy' Southern Europe," Nanyang Siang Pau , August 12, 2013.
[4] Ibid.