Abe's Choice: Nationalism or Pragmatism
May 24, 2013
Since the start of the Shinzo Abe administration, any criticism regarding his foreign policy has centered on his perceived nationalist ideology and revisionist views. The success or failure of the prime minister's policy will largely be determined by the extent to which the voice of pragmatism prevails over the voice of nationalism.
Abe's visit to Washington in February helped ease immediate American concerns over the risk of hostilities breaking out between Japan and China. In the joint press conference following Abe's meeting with President Barack Obama, the prime minister had a calm demeanor and emphasized restraint in the face of provocation. He also received good marks for a policy speech that downplayed his controversial ideas about history and that focused on his economic policies—which were already showing signs of success—his intention to take part in negotiations for the Trans-Pacific Partnership, and his commitment to follow through with the existing bilateral agreement on the relocation of US Marine Air Base Futenma.
Lingering Skepticism
Still, some analysts in the United States and China remained worried. They suspected that the prime minister was playing it safe until his party secured a majority in the July House of Councillors election, after which he would show his true colors.
Abe appeared to give charges of revisionism a new lease on life much earlier, though, when he remarked on April 23 in the Diet that there was no universal agreement on what constitutes "aggression." This refueled concerns that his government intended to retract or modify the "Murayama statement," over which Abe had earlier expressed reservations. In the 1995 statement, then Prime Minister Tomiichi Murayama apologized for Japanese aggression and colonial rule in East Asia. The Diet comment set off a firestorm of international criticism, from Western friends and allies as well as from Japan's East Asian neighbors.
On May 8, Abe made it known that government backed the Murayama statement and, echoing the wording of that statement, acknowledged the pain and suffering Japan had caused to Asian peoples living under Japanese colonial rule. He also took on charges of revisionism in an interview published on the Foreign Affairs website (May 16), although his wording—"I have never said that Japan has not committed aggression"—was not exactly unequivocal.
With tensions rising over North Korea's erratic behavior, Washington has been stepping up pressure on Abe to smooth things over with Seoul, which remains skeptical of Abe's nationalist views. Speaking before Congress on May 8, South Korean President Park Geun-hye noted pointedly that "where there is failure to acknowledge honestly what happened yesterday, there can be no tomorrow."
That same day Abe affirmed his cabinet's support for the Murayama statement, and in a separate press conference Chief Cabinet Secretary Yoshihide Suga sought to allay South Korean fears by flatly denying that the government had ever considered modifying the 1993 "Kono statement," which apologized for the Imperial Army's use of "comfort women" taken from their homes on the Korean Peninsula.
Damage Control
Since then, opposition politicians have received an important object lesson in the political consequences of nationalist rhetoric. In mid-May, Osaka Mayor Toru Hashimoto, co-leader of the Japan Restoration Party, drew fire from inside and outside the country for his remarks that seemed to justify the military's use of comfort women.
Women leaders and voters around Japan expressed outrage over Hashimoto's comments. In a poll by the Asahi Shimbun , 75% of respondents said Hashimoto's remarks were "problematic." By contrast, public approval of the Abe cabinet has held fairly steady at around 65%, as of the Asahi 's mid-May survey—a testament to the power of damage control.
Surely the Abe government realizes that its current high approval stems from "Abenomics," which has sent the stock market and voters' hopes soaring—not from its nationalist ideology. But it remains to be seen whether pragmatism will win out over ideological purity. That will only become clear after the July upper house election.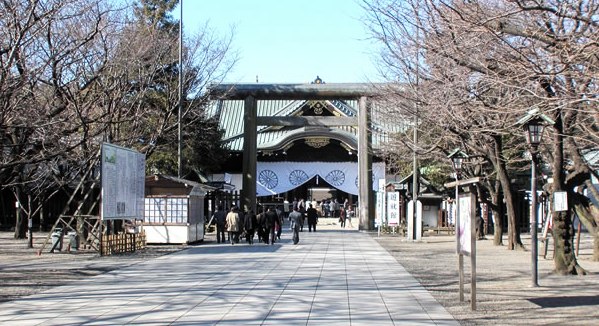 The litmus test will be whether or not Abe visits Yasukuni Shrine after the election. Will the prime minister risk alienating China and South Korea by paying his respects at the controversial shrine, where Japan's war dead are honored? In his Foreign Affairs interview, Abe left the door open to a visit without committing himself either way. But a visit would be a serious mistake. The single most important foreign-policy challenge awaiting the Abe cabinet following the July election is repairing relations with China. This is a goal fervently sought by the Japanese business community, which supported the LDP's return to power; by the New Komeito, the LDP's pro-Chinese coalition partner; and also by Washington. A Yasukuni visit would result in the pointless squandering of his political capital.
The good news is that the forces of diplomatic pragmatism seem to have the upper hand after steering the administration through treacherous international waters with a thoughtful, flexible response to world opinion. The leaders of Abe's foreign-policy team are realists, whose larger goal is to deepen security cooperation with the United States, such as by lifting Japan's constitutional prohibition on collective self-defense. In the long run, this would reduce the risk of more assertive action on the Senkakus by China and lay the basis for constructive engagement oriented to both countries' economic interests. It would dovetail not only with Washington's strategic policy toward China but also with the goal of "mutually beneficial strategic relations" that Prime Minister Abe and Premier Wen Jiabao agreed on in 2006.
If Abe chooses instead to spend precious political capital on a symbolic statement, the repercussions could be huge. History might well compare his decision to the fatal wrong turn of Prime Minister Yukio Hatoyama, whose government lost its way on the Futenma air base issue, struggling to redeem an unrealistic campaign promise. Surely this is one comparison Abe would wish to avoid.