Solar Lanterns Brighten Future for Afghans
February 13, 2013
Where would we be without light when night falls? It is hard to imagine all of the constraints during the long hours of darkness before the sun rises again—no work, no study and no recreation.
But this is the reality for people in many nations. Chikako Fujita wants to change that by selling solar lanterns in one of these countries, Afghanistan, to create a healthier and more prosperous future for its citizens.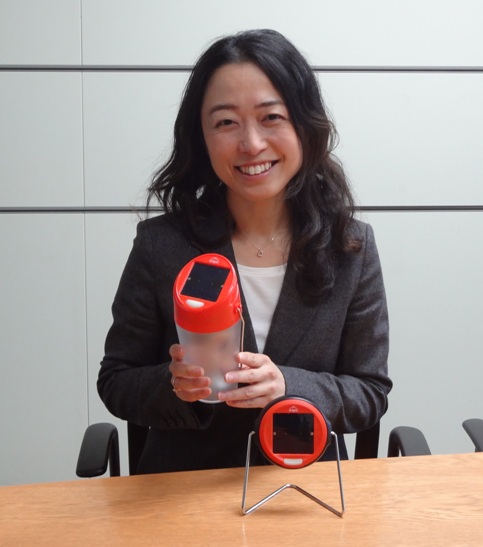 Fujita has been stationed in Kabul since November 2011, marketing solar lanterns through a strategy that targets the so-called bottom of the pyramid—the poorest socioeconomic group — in the war-torn country not only to help those in need but also to build a sustainable business network. In a country like Afghanistan, which relies heavily on foreign aid and donations, that is easier said than done.
"We believe we can create a major social impact in Afghanistan through these solar lanterns, given the nation's current living standards," Fujita said during a recent interview with The Japan Times in Tokyo. "There is so much that Afghans need or want, such as water pumps or television sets, but I hope these lanterns can become a small beginning."
The lanterns are made by d.light , a U.S. for-profit social enterprise that has been producing and distributing solar lights and other power products to developing countries. The lamps have integrated solar panels that can be recharged with sunlight and last between five to 10 years, depending on how heavily they are used, according to d.light .
Electricity remains scarce in Afghanistan, where only an estimated 16 to 18 percent of the population has access to power 24 hours a day. Even in Kabul, just 70 percent of residents have a regular power supply and even for them blackouts are frequent.
"People are spread widely throughout the country and projects to expand the electricity supply network have been taking a very long time," Fujita said. "But on the other hand, it is a country that is sunny around 300 days of the year and is blessed with solar power."
As an employee of Arc Finance, a global nonprofit organization working to expand access to daily needs, including energy and water, so that poor people around the world can boost their financial standing, Fujita is on an open-ended mission in Afghanistan. Instead of giving away the solar lanterns, her job is to sell them for the equivalent of $8 to $13—hardly cheap for the majority of Afghans.
Fujita, however, pointed out that most Afghans still rely on kerosene for lamps, stoves and cooking, which costs them around $5 to $6 per month. If people gradually put a little money aside, the lanterns are not completely out of reach, she explained.
"We think that aid and donations will and should continue, but (the flow of these funds) is unstable—you never know when it will come or how much . . . and I think that people tend to use items with care when you choose to buy something with your own money," she said.
Solar power has long been one of Fujita's areas of interest with a view to protecting the environment. But it was during her trips to India as executive director of the Gaia Initiative, a Tokyo-based nongovernmental organization she helped found in 2007, that she realized solar lanterns were a necessity for the needy for very different reasons.
Fujita saw people living in rural areas of India damage their eyes and respiratory system by using kerosene, and children and youths sitting in the dark doing nothing after the sun set, unable to study without light. One of the Gaia Initiative's projects was to donate the solar lanterns to improve the health and educational prospects of the poor.
"Solar lamps had a more urgent meaning for these people. It wasn't about cutting carbon dioxide emissions—these lanterns improved their health and helped their children get accepted at universities," Fujita said.
More than a year has passed since Fujita moved to Kabul and she has become accustomed to the armed troops that are stationed around the city and the security checks every time she enters a building. She said signs of Japan's assistance can be seen throughout Kabul in bridges and buildings built with funding from Tokyo, while old Toyota vehicles are ubiquitous.
One major breakthrough during Fujita's first year was finding a cellphone company that was willing to partner with her to sell the solar lanterns. While the electricity supply is still low, the spread of mobile phones in Kabul rivals that seen in most other major metropolises, according to Fujita, and demand for the solar lanterns has increased because they can be used as cellphone chargers—a device that many Afghans, especially in rural areas, do not have.
But this is just one step toward Fujita's long-term goal.
"It may take a long time, but I want to see these lanterns lined up in stores and for them to spread in rural areas—not through donations, but because locals are buying them on their own. There is so much that a single lantern can do—it opens the door to many opportunities," Fujita said. "The environment for providing education is still underdeveloped in Afghanistan and we are hoping that the people can use these lanterns to study."
Reprinted with permission from the January 25, 2013, issue of the Japan Times.