Abe in Washington: The Leader behind the Label
March 22, 2013
Prime Minister Shinzo Abe met with US President Barack Obama for a bilateral summit at the White House on February 22. To all appearances, the prime minister got off to an excellent start in his bid to rebuild Japan-US relations. What stood out above all was the public-relations strategy evident in Abe's statements and appearances before and after the talks. The new administration's diplomatic PR, while nothing flashy, is several notches above anything we have seen from a Japanese cabinet since Jun'ichiro Koizumi left office (Abe's previous administration included).
By approaching his visit as an important public relations opportunity, the prime minister was able to make significant progress in softening his hawkish image abroad and dispelling concerns that his administration was spoiling for a fight with China over the disputed Senkaku Islands and other matters. This was also a crucial first step toward defusing the tension that has grown out of mutual suspicion between Tokyo and Beijing.
Sending a Reassuring Message
Abe's determination to counter the reputation that preceded him was evident at the White House press briefing he held with Obama, a video of which was released by the White House website. Responding in Japanese to a question about tensions in the East China Sea and the Senkaku dispute, Abe noted first that the existence of the Japan-US alliance plays an important role in preserving regional stability, and then went on to state, "Japan intends to respond in a calm, levelheaded manner at all times, as indeed we have done to this point."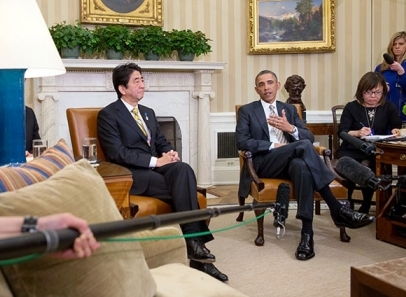 Upon realizing that the interpreter had omitted the second part of the response from his translation, Abe pointed out the omission and made sure the translation was provided. In this way, he was able to demonstrate his acute awareness that a calm, measured approach is vital to containing the Senkaku dispute and conveyed a clear message to the United States, China, and the rest of the world. [1]
Of course, the conference itself was held behind closed doors, and only portions of it were made public. But we do know that President Obama is counting on Prime Minister Abe to head off any clash with China that would compound the challenges Obama faces now, with Republicans in Congress demanding sharp spending cuts and threatening to close down the government.
According to a follow-up report on the White House meeting by Hiroyuki Akita in the March 1 Nikkei , Abe promised Obama that Japan would continue to deal calmly with the incursion of Chinese patrol ships into the waters around the Senkakus and assured him that his aim was to stabilize ties between Japan and China and build a mutually beneficial strategic relationship.
Obama, according to the article, told Abe that the United States appreciated Japan's restraint and hoped for a peaceful resolution to the Senkaku dispute, noting that a stable Japan-China relationship was in America's own best interest. Certainly one would expect nothing less from two levelheaded leaders who have at heart the interests of their own nations and the stability of the region.
The tenor and content of Abe's statements doubtless went a long way toward easing international concerns, and additional reassurance came in the form of the cabinet's response to heated criticism from Beijing during the prime minister's visit.
On February 23, Chinese officials reacted sharply to a Washington Post interview Abe had granted just prior to his trip, in which he touched on the connection between patriotic education and anti-Japanese sentiment in China. Without missing a beat, Chief Cabinet Secretary Yoshihide Suga made it clear that nothing in Abe's comments could be construed as attempting to "instigate confrontation" among countries in the region and reiterated Japan's commitment to a "mutually beneficial strategic relationship" with China. This quick and measured response from Tokyo provided convincing evidence that the prime minister's entire team is on the same page when it comes to the government's China policy.
Japan's Dovish Hawks
In the end, nothing Abe did or said during his recent visit to Washington remotely justified the New York Times ' description of the prime minister as "outspokenly hawkish." He made no denials of Japan's role as an aggressor in World War II, and his remarks concerning China were pragmatic and respectful—in sharp contrast to the notoriously provocative and insulting comments for which former Tokyo Governor Shintaro Ishihara is known.
The fact is that Abe has never been a true hawk by international standards . His earlier positions were only hawkish in relation to the prevailing political climate in Japan—which is decidedly dovish compared with the United States and other countries. In the wake of World War II, the Japanese nation rejected war both legally (through a Constitution that forbids the use of force as a means of settling international disputes) and emotionally, and this pacifist orientation has been a defining feature of Japan's foreign policy and defense arrangements.
The nation's more conservative elements have chafed at these military limitations, which have made Japan highly dependent on its alliance with the United States. It is also true that the frustration of Japan's conservative elements has occasionally manifested itself as an unhealthy tendency to justify the past.
In short, Japan has a small contingent of frustrated, saber-rattling nationalists, and Abe has attracted some support from this group by statements he has made in the past. But Abe's approach to diplomacy has always been grounded in pragmatism and realism, and the bilateral summit in Washington made it clear that his new cabinet has embraced this approach as a defining feature of its foreign policy.
Pragmatism over Ideology
Abe's diplomacy now faces the more delicate task of repairing Tokyo's badly frayed ties with Beijing. While Washington would certainly welcome a drop in tensions between the two nations, it is equally concerned about China's assertive behavior, which is generating friction with its neighbors. Indeed, the central goal of the Obama administration's "rebalancing" to Asia is to induce China to behave in a peaceful manner in the region and abide by the rules of international politics and commerce.
Under these circumstances, Washington is unlikely to welcome any improvement in Japan-China relations that is gained through unilateral concessions by Tokyo, knowing full well that unilateral concessions will merely embolden Beijing to become more assertive, jeopardizing relations further down the line. Surely this message is implicit in the Obama administration's insistence that it welcomes China's rise, as long as it "plays by the rules"—a sentiment that Obama reiterated in his talks with Abe, according to the abovementioned Nikkei report.
In the context of American politics, Obama is typically categorized as a liberal and therefore a dove. Yet his foreign policy exhibits a realistic and pragmatic approach that transcends the traditional left-right, liberal-conservative dichotomy.
In the context of Japanese politics, Abe is seen as a conservative and a hawk. Yet it seems to me that he, too, is striving for a more realistic and pragmatic foreign policy than anything driven by the polarized ideologies of Japan's traditional conservative and traditional liberal camps. While coming from opposite sides of their respective countries' political spectrums, Obama and Abe end up in much the same place.
One reason, as suggested above, is that Japanese conservatism is not very conservative by American standards. Abe's Liberal Democratic Party, which has ruled Japan for most of the past six decades, has always been categorized as a conservative force in Japanese politics, notwithstanding its name. Yet it was the LDP that ushered in comprehensive national health insurance more than half a century before Obamacare and laid the groundwork for a society notable for its economic equality. And although the gap between rich and poor has widened in recent years, the current Abe administration has moved to halt this trend by agreeing with other major parties to raise the maximum tax rate on high income earners, meeting little resistance from within the ranks of his own party.
Journalists have an understandable tendency to rely on established categories as a quick and convenient way of defining the political orientation of individuals and groups. Unfortunately, such labeling frequently leads to oversimplification, especially when the labels mean vastly different things in different social, historical, and political contexts. As long as the media persist in such simplistic labeling, they will never penetrate to Abe's true character as a political leader.
---
[1] The interpreter also mistakenly said "South China Sea" instead of "East China Sea." The erroneous interpretation appears uncorrected in the transcript uploaded on the White House website. http://www.whitehouse.gov/the-press-office/2013/02/22/remarks-president-obama-and-prime-minister-abe-japan-after-bilateral-mee