Managing the Japan-China Row
January 29, 2013
Tokyo Foundation Hosts Dialogue among Japan-US-China Experts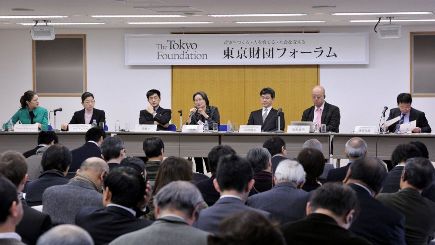 At a time when official Japan-China dialogue has come to a standstill over conflicting territorial claims, the Tokyo Foundation hosted an important Track 2 meeting of foreign policy experts from Japan, China, and the U.S.
Held at the Tokyo Foundation on Jan. 14 and 15, 2013, the meeting highlighted the importance of gaining a better understanding of each other's real concerns—which tend to be overlooked in sensational media reports—and shed new insights on what the two countries must do to prevent an escalation of tensions under their respective new leaders: Shinzo Abe in Japan and Xi Jinping in China.
The gathering also noted the hurdles that President Barack Obama could face in his second term as he seeks to "rebalance" U.S. foreign policy away from conflicts in the Middle East and the role Washington can play in the relationship among the three biggest powers in the Asia-Pacific, which has a big influence on regional and global geopolitics.
The Tokyo Foundation, a not-for-profit, independent think tank, hosted the two-day meeting in collaboration with the Institute of Japanese Studies of the Chinese Academy of Social Sciences, a leading Chinese think tank. The conference was part of a series of forums for trilateral dialogue co-organized with CASS. The first round of meetings was held in Beijing and Tokyo in September 2011.
Two closed-door sessions were held on Jan. 14, and a public symposium with six experts moderated by Tsuneo Watanabe, a Tokyo Foundation senior fellow and director for foreign and security policy research, was held on Jan. 15. The following is a summary of the discussions at the public Tokyo Foundation Forum.
Dealing with Domestic Issues First
Li Wei, director of CASS's Institute of Japanese Studies, opened the Jan. 15 forum with remarks on the directions likely to be taken by China's new leader, Xi Jinping.
Diplomacy, including the territorial dispute over the Senkaku Islands, is high on the agenda for Xi, who replaced Hu Jintao as head of the Communist Party in December. But Xi will need to first deal with domestic issues, Li said, such as the growing wealth gap between urban and rural areas and the problem of rural poverty.
Xi was born in 1953 and was heavily influenced by the policy of reform and opening up that was launched in 1978 by Deng Xiaoping. Xi, therefore, has a good understanding of the world, Li noted. He will no doubt continue to open China's doors and learn from other countries, although he will also need to address pressing domestic issues, she said.
China has announced a plan for growth through 2020 calling for achievements similar to what Japan accomplished during its high-growth years: life-time employment for workers and an egalitarian society of "100 million middle-class people." Under this plan, China aims to double both the country's gross domestic product and per capita income within a decade.
Most Chinese people, she added, feel that the country is still weak and that domestic issues need to be resolved first before responding to other countries' demands for greater international contributions. Xi realizes that other countries expect China to take on a bigger global burden and is hoping to (1) consolidate China's ties with the United States as fellow Asia-Pacific powers and (2) improve relations with Japan and stabilize ties with other regional countries.
The Senkaku Dispute
The Senkaku issue is a major obstacle to stronger bilateral relations with Japan. The announcement by Tokyo Governor Shintaro Ishihara last April that the Tokyo metropolitan government would purchase the islands from a Japanese civilian owner sparked the decision by the Yoshihiko Noda administration to buy three of the islands from the owner for a price of 2 billion yen. Ensuing protests from Beijing marred the fortieth anniversary of the normalization of diplomatic ties in 2012, and China has since been making almost daily incursions into waters near the islands—and more recently into Senkaku's airspace—prompting Washington to express concern about the potential for and consequences of an accident.
Akio Takahara, a Tokyo Foundation senior fellow and professor at the University of Tokyo, strongly emphasized the need for China to stop these incursions, which could lead to accidental collisions and are in violation of the Japan-China Treaty of Peace and Friendship stipulating that bilateral conflicts are to be resolved peacefully, without resorting to the use of force. There is a need to communicate this to a Chinese public that is always told that their government is in the right when it comes to foreign relations and to raise the question of whether this is what Xi means by his pledge to pursue "peaceful development."
Takahara also pointed out that the Ishihara announcement was not without provocation, as Chinese ships have increasingly been entering into waters around Senkaku in recent years. Ishihara, he pointed out, in fact once advocated Deng's proposal to "shelve" the territorial dispute and to advance joint exploration of undersea resources.
One factor behind the increasing incursions, Takahara said, was China's growing economic clout. With the rise in fiscal revenues, Beijing could afford to make bigger budgetary allocations for maritime law-enforcement activities, which led Beijing to reinforce patrols of territories that it believed was its own.
Over the long term, there is little choice but to continue talking, not only bilaterally but also with United States—which continues to maintain a strong regional presence—to nurture trust and achieve strategic coexistence.
"Arguing over sovereignty will lead nowhere because both countries believe 120 percent that the islands belong to them," said Takahara. In the short term, therefore, there is no other option than to "agree to disagree."
The first step towards reconciliation, Takahara contends, is to have a better understanding of each other. This should be achieved not just through the exchange of information but also at the emotional level.
Secondly, efforts must be made to correct the misperceptions of each other's positions. The highly provocative media reports about Japan's "militaristic" intentions must be countered with the truth about Japan's wholehearted repentance over World War II and its peaceful, postwar policies and achievements.
Japan, for its part, must have a greater understanding of China's victim mentality. Ishihara's announcement badly rubbed China in the wrong way and backfired, Takahara said, and it is absolutely crucial for Japan to maintain its pacifist course. Should Japan overturn its position that it regrets its wartime aggressions, it would immediately find its moral standing crumbling and be left without a friend in the international community.
At the same time, Takahara cautioned, Japan must not cave in when China tries to throw its weight around. Giving the impression that Japan can be pushed around will only undermine the position of the moderates in the Chinese government and society and hamper the country's transformation into a more responsible member of the global community.
Senkaku will continue to be a very important issue for China, he noted. "How it deals with Senkaku will determine China's place in the international community. If it can't work with Japan, then how can it be expected to deal with any other country?" Rather than dwelling on the weakest links in the bilateral relationship, he added, both countries should focus more attention on the areas of strength.
China's "Restrained" Response
There is a need to recognize that China's response to Senkaku has actually been quite "restrained," countered Wu Huaizhong, director of the Department of Foreign Affairs in the Institute of Japanese Studies at CASS.
Compared with responses to territorial disputes involving the Falklands, along the India-Pakistan border, and in the Middle East, China is behaving very rationally, he noted.
"Unlike Russia and South Korea," he said, "China has no intention of forcibly taking control of the islands." He urged Japan to recognize that a territorial dispute actually exists and to discuss the matter with China.
There have been a number of hardliners in China making provocative statements in the media, he admitted, "but they don't represent the Chinese view," Wu said, adding that in China, the provocations are believed to come from Japan, while the Japanese side thinks they emanate from China."
China and Japan must learn from each other's history, added Kenji Someno, a Tokyo Foundation research fellow. Echoing Takahara's remarks, he said that China needs to take a closer look at Japan following 1945 and realize that the country will not return to militarism. Japan, on its part, needs to look squarely at its activities in China before 1945.
Putting Senkaku Aside?
Someno also introduced a question raised in the closed-door sessions held a day earlier on what Deng really meant by his proposal to "shelve" the issue so that it can be addressed by wiser men in future generations. "What can the two sides do and what can they not do while the issue is being put aside," Someno asked. "A clarification on this point would probably reduce much of the misunderstanding on both sides."
A good place to relaunch the stalled bilateral dialogue would be to delink political and other issues, advancing cooperation in the private sector through not only business activities but also through environmental and academic cooperation.
"Deng Xiaoping's idea for the Senkaku issue to be left untouched was wonderful," Li commented. "The issue is like a land mine, and it is important to avoid setting it off." She also referred to an idea endorsed by Joseph Nye for disputed territories to be turned into environmental protection zones extending for 12 nautical miles that are off limits to all countries.
The United States has taken a balanced position on the Senkaku question, as it does not want to become a party to the dispute, said Kay Shimizu, a Tokyo Foundation research fellow and assistant professor in the Department of Political Science at Columbia University and the Weatherhead East Asian Institute.
"Given that Washington is standing on a precarious fiscal cliff and is still engaged in military operations in the Middle East, it wants to avoid a conflict in Asia," Shimizu said. Asia will remain important in Obama's second term, but Europe and the Middle East may keep him occupied, she said. Japan is one of Washington's most reliable partners in Asia, but she also noted that Japan's visibility is dwindling, as U.S. think tanks and the media focus their attention on China. This, she said, is a "destabilizing factor in Washington's Asia policy."
Chinese, U.S. Views of Abe
Both China and the United States harbor expectations of the new administration in Japan. Abe's election has been widely reported in China as an opportunity to mend relations, and his policies are being followed closely, Wu noted. Some have expressed concern, though, about Abe's reference to a "security diamond" that appears to be a policy aimed at encircling China.
Many in Washington, noted Shimizu, have been surprised by the market's positive reaction to Abe's announced policy to fight deflation and revitalize the Japanese economy, and hoped this would contribute to the growth of the regional and global economy.
Journalist and Hitachi International Affairs Fellow of the Council on Foreign Relations Alexandra Harney cautioned, though, that there could be disappointments if Abe does not announce Japan's participation in the negotiations for the Trans-Pacific Partnership when he meets Obama in February.
Washington is closely watching how Japan's intervention with the Bank of Japan goes. "If it succeeds," it was noted, "it could give the United States broader options in dealing with its own economic woes."
Reprinted with permission from the Davos special supplement , Japan Times , January 24, 2013.