Toward a New Japan-Taiwan Business Alliance (1)
July 8, 2014
The rapid removal of barriers to trade and investment between Taiwan and China augurs a new age of cross-strait economic integration. The author examines this changing environment and the unique economic opportunities it offers for Japanese businesses able to navigate the unique triangular relationship between Japan, Taiwan, and China.
* * *
Although Tokyo severed formal diplomatic ties with Taipei when it normalized relations with the People's Republic of China in 1972, Japan and Taiwan have continued to cultivate close economic, cultural, and people-to-people ties in the nongovernmental sphere. The two countries have a fundamentally strong bilateral relationship, buttressed not only by economic interaction but also by deep historical roots and a shared commitment to such values as democracy and human rights.
Given this relationship, it is only natural that Japanese and Taiwanese businesses would enter into a variety of partnerships and cross-border strategic alliances. Moreover, the role of such cooperation has expanded greatly in recent years as Japan has shifted production overseas and turned its attention to emerging Asian markets. Today, Japan and Taiwan have more to gain than ever from a new type of business alliance built on a complementary, symbiotic relationship.
In the following, I assess recent trends in bilateral trade, investment, and people-to-people interchange and explore the possibilities for building new business alliances grounded in the close ties already existing between Japanese and Taiwanese companies.
Japan-Taiwan Ties by the Numbers
With the exception of 2009, when the global recession precipitated a sharp decline in commerce, the total value of trade between Japan and Taiwan has either risen or held essentially steady every year since 1990. The 2012 figure of US $66.5 billion ($18.9 billion in Taiwanese exports to Japan; $47.6 billion in Japanese exports to Taiwan) was only slightly below the historical high of $70 billion recorded the year before. Japan is Taiwan's second-largest trading partner, and Taiwan is Japan's fifth-largest. According to trade statistics published by Taiwan's Ministry of Finance, Japan was the world's fourth-largest importer of Taiwanese goods in 2012 (after China, Hong Kong, the United States, and Singapore), accounting for 6.3% of the total value of Taiwan's exports. In the same year Japanese products accounted for 17.6% of Taiwan's imports, the top share for the second year running.
Figure 1. Value of Taiwan's Trade with Japan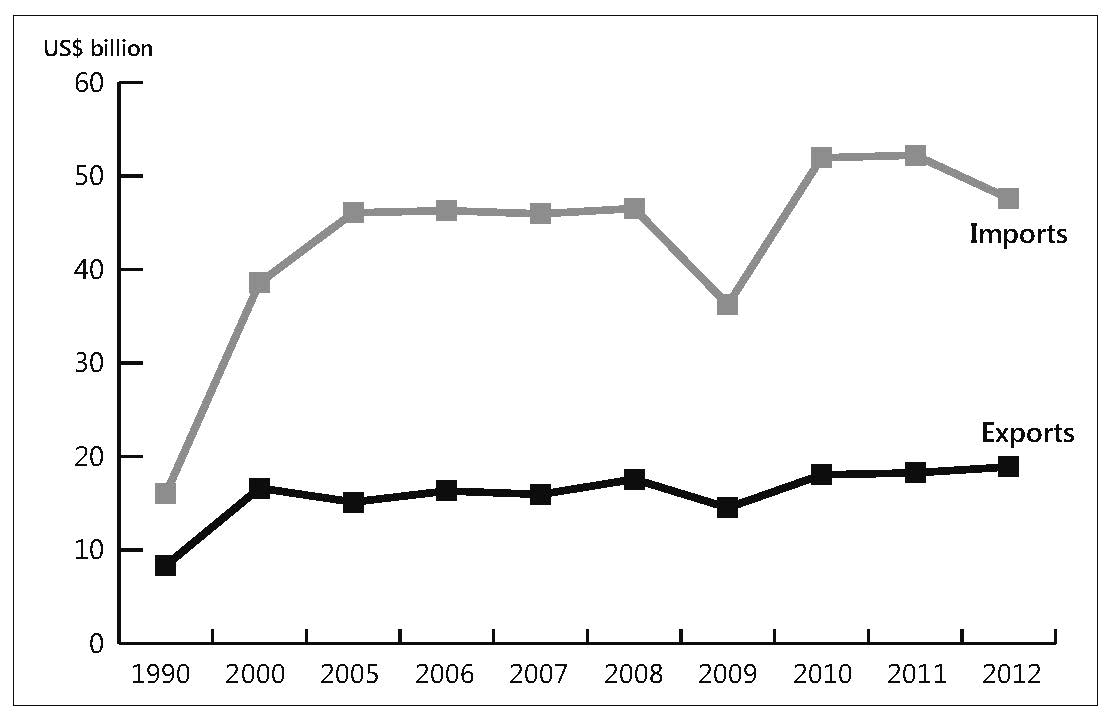 Figure 2. Taiwan's Exports to Top Trade Partners as Percentage of Total (2012)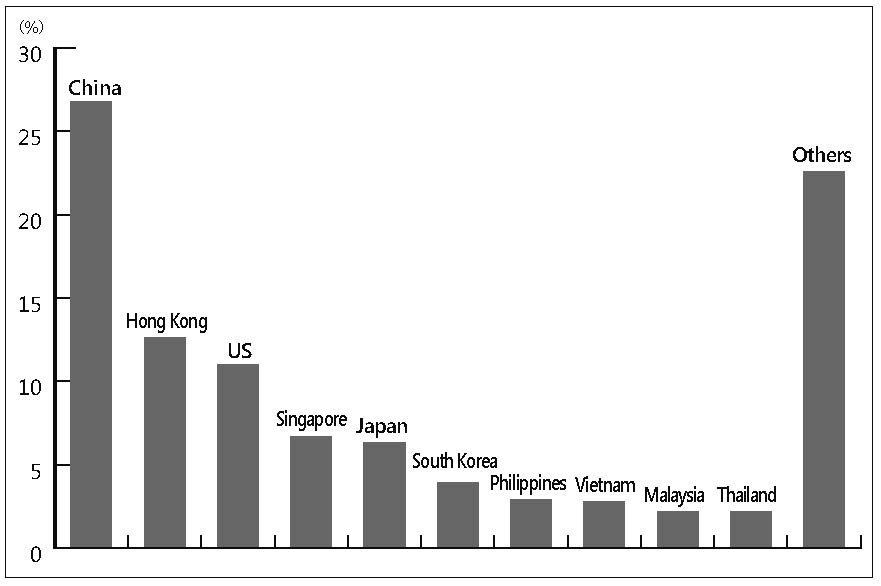 Figure 3. Taiwan's Imports from Top Trade Partners as Percentage of Total (2012)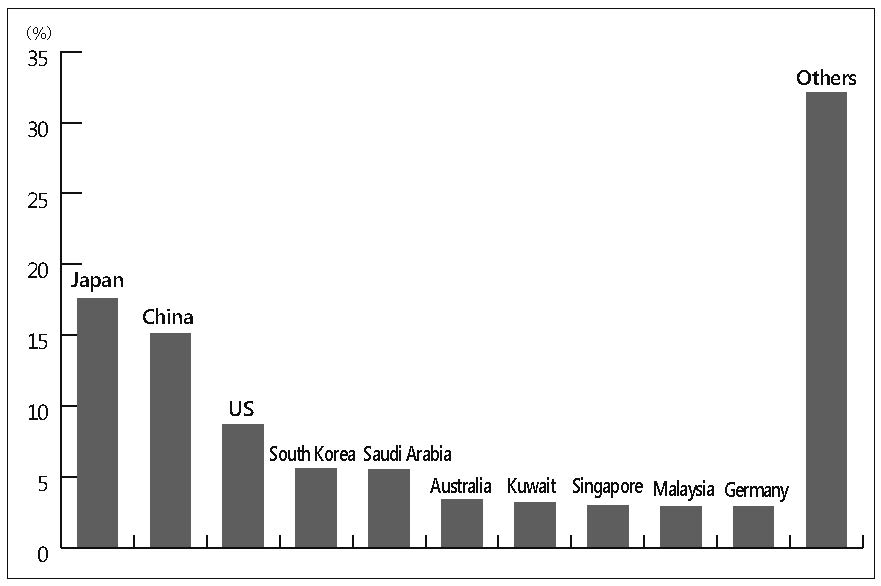 Japanese investment in Taiwan has grown rapidly since the conclusion of the Economic Cooperation Framework Agreement (ECFA) between China and Taiwan in 2010, jumping from 266 cases totaling $240 million in 2009 to 619 transactions totaling $410 million in 2012. A major boost came with the signing of an investment pact between Japan and Taiwan in 2011. That year, Japanese firms invested a total of US $440 million through 441 transactions, the largest numbers ever. This is another sign of increasing economic interdependence between Japan and Taiwan.
Figure 4. Japanese Investment in Taiwan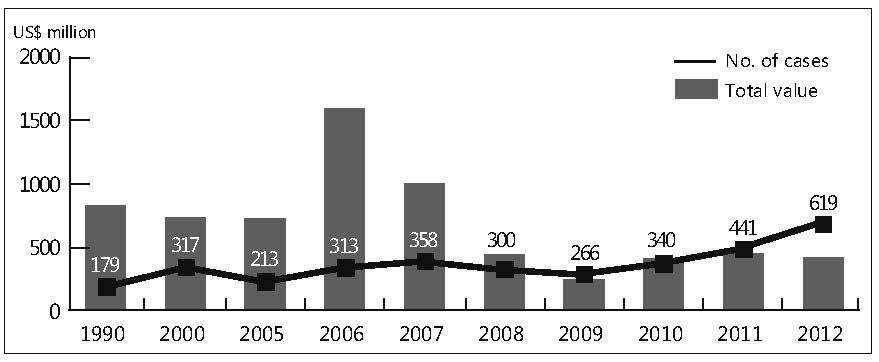 Taiwanese investment in Japan seems to have entered a new phase as well. In 2012, Hon Hai Precision Industry (the world's largest electronics manufacturing service company) began negotiating with Japan's Sharp to buy a major stake in the consumer electronics manufacturer [nk4] . And in July 2013, CTBC, one of Taiwan's top financial institutions, reached a buyout agreement with the major shareholders of the midsize Tokyo Star Bank. If the deal goes through, it will be the first takeover of a Japanese bank by an overseas-based institution. CTBC has also been busy signing cooperative agreements with other regional banks around Japan with the apparent goal of building a new business model centered on financing for Japanese firms that want to expand into other parts of Asia.
With closer economic ties has come a surge in people-to-people interchange. Travel between Japan and Taiwan have been on an overall uptrend in the past five years despite the impact of the global recession in 2009 and the Great East Japan Earthquake in 2011.
Figure 5. Travel between Japan and Taiwan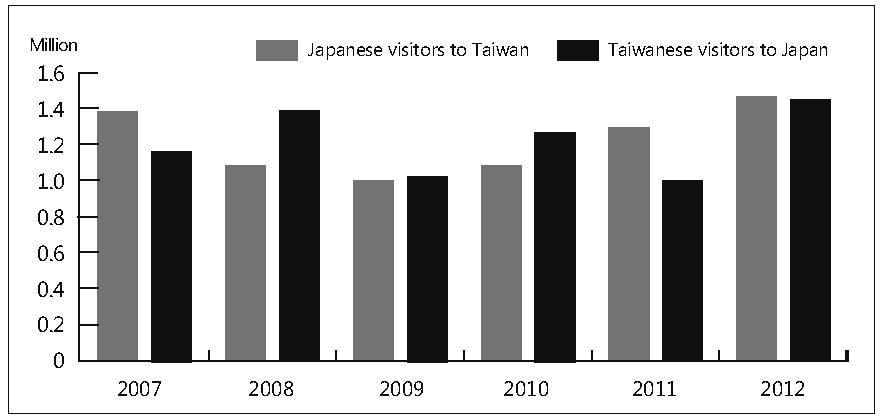 Tourism between the two countries received an important boost from the conclusion of a bilateral open skies agreement in November 2011. Since then, airline routes have opened up between Taipei and such regional Japanese cities as Kagoshima, Shizuoka, and Toyama, and visits in both directions have soared. In 2012, according to statistics from the Japan Tourism Agency and Taiwan's Tourism Bureau, 1.43 million tourists visited Japan from Taiwan, the second-largest number by country. Likewise, Japan accounted for the second-largest number of visitors to Taiwan, with 1.47 million tourists. The result was the largest two-way flow of visitors ever.
Taken together, the ongoing increase in trade, the improved investment climate, and the surge in people-to-people links between Japan and Taiwan make a compelling argument that the two countries are entering a new phase in bilateral relations.
Moves toward Cross-Strait Integration
A key factor behind the increase in economic interaction between Japan and Taiwan is the trend toward economic integration between Taiwan and mainland China.
Taiwanese firms have been expanding into mainland China since the 1990s, when Taipei relaxed restrictions on investment in the PRC. Since then, Taiwanese businesses are estimated to have made roughly 80,000 investments in China totaling somewhere between US $100 billion and $150 billion. In a list of China's biggest exporting firms of 2010, published in 2011 by the Chinese government's General Administration of Customs, 13 of the top 20 companies were based in Taiwan. Making the most of China's industrial agglomeration and the extensive networks linking Taiwanese companies, these firms have emerged as major players in the Chinese market, making an important contribution to the China's economic development.
Foreign investment by Taiwanese firms in China accelerated after President Ma Ying-jeou came to office in May 2008. As part of his policy of reconciliation with Beijing, Ma dramatically loosened restrictions on investment by Taiwanese high-tech firms in China. In 2010, capital flows to China accounted for more than 80% of all foreign investment by Taiwanese businesses. Although diversification reduced that share to 60% in 2012 (according to Taiwan's Investment Commission), China remains far and away Taiwan's favorite target for foreign investment.
Figure 6. Taiwan's Top Foreign Investment Destinations as Percentage of Total (2012)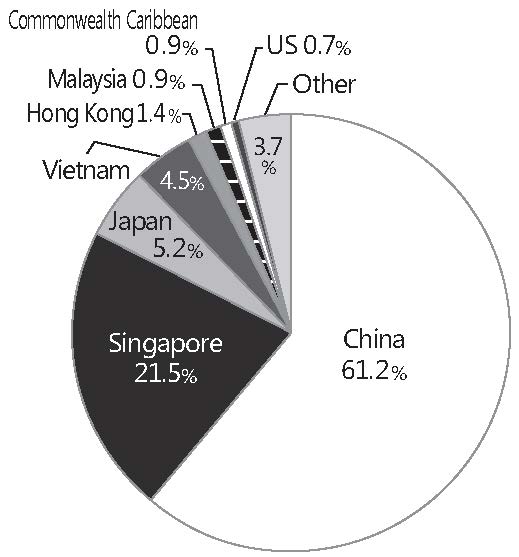 The rate of cross-strait people-to-people exchange jumped when Taiwan lifted its ban on Chinese tour groups in 2008. In 2010, China sent more tourists to Taiwan—1.63 million—than any other country, overtaking Japan to claim the top spot for the first time. The number of rose to 1.78 million in 2011 and 2.59 million in 2012 in the wake of a decision by Taipei to admit individual tourists from 26 mainland Chinese cities between June 2011 and August 2013. Meanwhile, the number of Chinese employed by Taiwanese-owned businesses in China surpassed 12 million, and the number of Taiwanese citizens working in mainland China hit 1 million (3 million including family members). These figures indicate a new burst of economic and interpersonal interaction accompanying recent improvements in cross-strait relations.
The most important development in cross-strait economic integration was the June 2010 conclusion of the Economic Cooperation Framework Agreement, a preferential trade agreement between China and Taiwan that came into effect in September 2010.
The ECFA consists of a wide range of measures for economic liberalization and cooperation grouped under four major headings: trade and investment, economic cooperation, early harvest (accelerated tariff reduction), and other provisions (dispute settlement, etc.).
Under the "early harvest" program, both sides committed themselves to phasing out tariffs on specified products beginning in January 2011. China agreed to lift tariffs on 557 goods and liberalize investment in 11 service industries, while Taiwan pledged to lift tariffs on 267 goods and liberalize investment in 9 service sectors. The Taiwanese products covered by China's tariff reductions amounted to about $13.8 billion worth of imports in 2009, or 16.1% of the total. The Chinese products covered accounted for about $2.9 billion the same year, or 10.5% of the total value of Chinese imports into Taiwan. By January 2013, tariffs on the specified products had been eliminated entirely.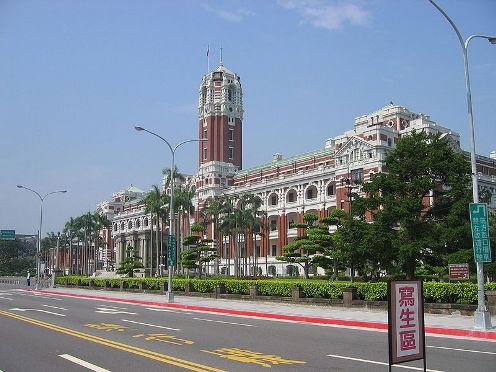 In this way the government in Taipei has actively pursued economic cooperation with China in a bid to avoid the marginalization of the Taiwanese economy amid moves toward regional integration—particularly the China-ASEAN FTA that came into effect in 2010. It is also hopeful that the ECFA will pave the way for bilateral agreements with other major trading partners, such as Japan, the United States, and Singapore, while strengthening the competitiveness of Taiwanese business in the region and enhancing Taiwan's position in the regional economy.
More recently, Taiwan and China concluded an agreement for the protection and promotion of bilateral investment and an arrangement for customs cooperation at the eighth round of top-level talks between Taiwan's Straits Exchange Foundation (chaired by Lin Join-sane) and China's Association for Relations Across the Taiwan Straits (then chaired by Chen Yunlin), held in Taipei in August 2012. The SEF and the ARAT are quasi-official organizations charged with negotiating technical and economic agreements between Taiwan and China.
In the period spanning June 30, 2009, when Taiwan relaxed its restrictions on Chinese capital inflows, and the end of 2012, investment by Chinese businesses in Taiwan hit the $500 million mark. Much of this activity occurred in 2012, when China's Bank of Communications and Bank of China both opened their first Taiwan branches. In 2012, the number of investments from China rose 35% to 138, while their total value jumped 650% to $328 million. With the signing of a bilateral agreement on trade in services in June 2013, the expansion of economic ties between China and Taiwan can be expected to continue full throttle.
Another significant development is the Taiwanese government's decision to allow Chinese businesses and their engineers to operate in Taiwan's new "free economic pilot zones" under the same conditions as other foreign firms and employees. Taiwan has long prohibited Chinese entities from acquiring a controlling stake in Taiwanese IT businesses out of security concerns, but in the new FEPZs, launched in August 2013, these restrictions have been relaxed. For the first time, a Chinese firm will be able to take a controlling stake in a joint venture with a Taiwanese company in such key areas as semiconductors and liquid crystal displays.
One of Taipei's key objectives in liberalizing trade and investment with China in this manner is clearly to facilitate Taiwan's participation in trade agreements with other countries. In early July 2013, Taiwan and New Zealand concluded a de facto FTA, the first such agreement between Taipei and a government with whom it does not have diplomatic ties. In response, China's Foreign Ministry commented that it had no objection to "nongovernmental business and cultural exchanges" between Taiwan and other countries, signaling Beijing's acceptance of such pacts, which it has opposed in the past. The agreement with New Zealand was succeeded by a similar pact with Singapore, and Taipei has expressed interest in an economic partnership with Japan as well. It has also indicated that it hopes to participate in the two regional free trade frameworks currently under negotiation: the Trans-Pacific Partnership, currently consisting of 12 nations, including the United States and Japan; and the Regional Comprehensive Economic Partnership, involving 16 countries spanning Asia and Oceania, including Japan, China, and South Korea.
The trend toward integration of the Chinese and Taiwanese economies can be expected to continue, aided by the ever-expanding activity of Taiwanese business in China. Japanese business leaders and analysts are watching the trend with great interest, since integration promises a whole new range of possibilities for alliances between Japanese and Taiwanese business.