China's Foreign Policy under Xi Jinping
May 15, 2014
One year after China's 2013 power transfer, Waseda University professor Aoyami Rumi plots the trajectory of Xi Jinping's diplomacy and foreign policy.
* * *
After more than three decades of "reform and opening up," China is approaching a major bend in the road. The government today must cope with a host of pressing domestic challenges, including a drop in economic growth, a shifting social structure, and above all, social unrest stemming from growing socioeconomic inequality.
When President Xi Jinping came to office a year ago, in March 2013, his government inherited a daunting policy agenda from the previous regime. This is precisely why the Chinese had such high hopes for a fresh approach that would cut through the web of vested interests and follow through on much-needed reforms. It is also the reason so many foreign observers are anxious to forecast the course of Chinese policy over the next 10 years.
In the following, I offer a quick review of Chinese diplomacy over the past year and a brief characterization of the Xi regime's foreign policy, seen against the backdrop of its urgent domestic priorities.
Taking Charge Domestically
A number of new domestic policies have already come into effect in the year since Xi Jinping took power. Among the most significant are initiatives to rein in shadow banking, root out corruption, and strengthen controls over the media and public opinion.
Shadow banking, the collective term for nonbank financial dealings, has expanded rapidly in recent years, raising fears that a rash of bad loans could precipitate a credit crisis. The government has begun tightening oversight of shadow banking services to discourage incautious lending and avert a crisis.
At the same time, it is taking steps to steer the economy away from the investment-driven growth model that has prevailed in recent years. Amid slowing growth and rising fears of a credit crunch, the world is watching anxiously to see whether the economic policies of Premier Li Keqiang can pilot the Chinese economy toward a soft landing.
The new leadership has also taken a tough stand on corruption. The central government has set up more than 10 regional and sector-specific inspection teams, each led by a former governor or similarly high-ranking retired official under the age of 70. In this way, the Communist Party is taking the initiative in a "mass line" anti-corruption campaign targeting its own members, instead of relying on the legal system. While the aim is doubtless to shore up the party's legitimacy and help ensure the regime's continued stability, there are intrinsic limitations to such an approach.
This effort to strengthen the party's self-purification mechanisms has been accompanied by measures to tighten government control over Chinese society. Media censorship has tightened, and intellectuals have been instructed to steer clear of such sensitive topics as "democratic reform," "human rights," and "universal values."
Active Diplomacy
The Xi regime has also been extremely active on the diplomatic front over the past year, as the following summary will attest.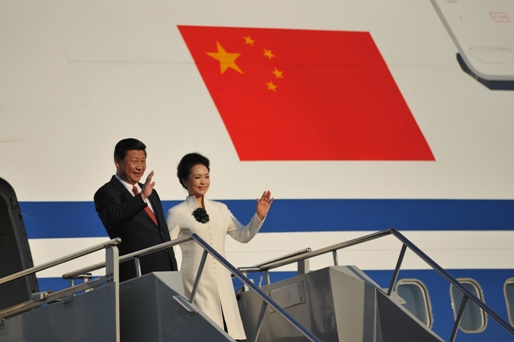 The first foreign country Xi visited after taking office was Russia, where he arrived on March 22. From Russia, Xi headed to Africa to attend the fifth summit of BRICS (Brazil, Russia, India, China, and South Africa) in Durban, South Africa, stopping also in Tanzania and the Republic of Congo. The Chinese official media heaped praise on all three of Xi's African host countries, calling them "China's good brothers, good friends, and good partners." [1] In Tanzania (an "old friend" whose support "China will never forget"), Xi and President Jakaya Kikwete signed a package of agreements that will clear the way for Chinese financing and construction of a port at Bagamoyo on the Indian Ocean, part of Beijing's co-called String of Pearls strategy.
Premier Li Keqiang followed this up with his own maiden tour (May 19–27), traveling first to India and Pakistan, then to Switzerland and Germany. Just three weeks before he arrived in India, tensions had spiked as a result of a standoff between Chinese and Indian troops along a disputed border in eastern Kashmir. Fortunately, a series of high-level talks had defused the situation by arranging a simultaneous withdrawal prior to Li's visit. Before Li left New Delhi, the Chinese and Indian governments issued a 35-point joint statement setting forth areas of agreement on the border dispute, trade, and other pending issues.
Pakistan has emerged as a major focus of Chinese foreign policy ever since Washington announced its intent to "rebalance" strategic resources toward Asia. This was apparent as early as 2012, when a spokesperson for China's Ministry of Foreign Affairs referred to Pakistan as a key "political ally, security shield, and economic market" and characterized the China-Pakistan relationship as "stronger than steel." [2] In the joint statement issued on the occasion of Li's visit, the Pakistani government agreed to join with China in condemning the East Turkestan Islamic Movement in Xinjiang as a common threat to stability and peace.
On the eve of Li's visit to Switzerland, the Neue Zürcher Zeitung carried a signed article by the Chinese premier titled "Why Switzerland," explaining why that nation was chosen as the first European stop on the Xi government's diplomatic itinerary. In the piece, Li notes that Switzerland was one of the first European countries to recognize China's status as a free market and extols the impending China-Switzerland free-trade agreement—then in the final stages of negotiation—as the first such pact between China and any continental European nation.
Li arrived in Germany just as the European Union was deliberating anti-dumping measures against imports of Chinese solar panels, and he was able to extract a promise from German Chancellor Angela Merkel to help avert the imposition of any permanent tariff. (The following July, the EU and China settled the dispute by concluding a minimum-price agreement.)
No sooner had Li returned home than Xi embarked on his second official overseas tour as president (May 31–June 6), this time heading for Latin America. Of the 23 countries that continue to maintain diplomatic relations with Taiwan instead of the People's Republic of China, about half are located in Latin America and the Caribbean. In 2008, the Chinese government issued a policy paper on Latin America and the Caribbean stressing its determination to place greater emphasis on the region. President Xi put this policy into action with state visits to Trinidad and Tobago, Costa Rica, and Mexico. As China's official media explained it, these three countries were chosen in part for their positive response to Beijing's proposal for the creation of a China–Latin America cooperation forum.
In Trinidad and Tobago, Xi had the opportunity to meet with the leaders of eight Caribbean countries. Costa Rica was a natural choice as the only Central American nation with which China has official diplomatic ties (established in 2007), and as the partner in an FTA concluded in 2010. Mexico, a member of the Group of Twenty, has also assumed a position of importance in China's foreign policy. In Mexico, President Enrique Peña Nieto and President Xi signed a 33-point joint statement.
The final stop on Xi's second overseas tour was the United States, where he spent a newsworthy eight hours in tête-à-tête with President Barack Obama. The conversation reportedly ranged across a number of key topics of bilateral concern, including cyber spying, North Korea's nuclear weapons, and global warming. Unfortunately, the only substantive progress announced by the two leaders was an agreement to discuss ways of reducing emissions of hydrofluorocarbons, or HFCs, used in refrigerants.
Neither American nor Chinese media reports on the Xi-Obama summit revealed the specific content of the Xi-Obama talks. Xi left his American hosts with no gratifying memento in the form of a surprise agreement or concession, and as a consequence, the summit was widely deemed a disappointment in terms of concrete results. However, the official Chinese media offered a more sanguine assessment, claiming that it had served its purpose of helping to "build a new type of major-power relationship" and minimizing conflict between the two nations. [3]
Certainly it would be unrealistic to expect longstanding tensions and disagreements between Beijing and Washington to be resolved overnight, or for the two governments to reach a groundbreaking accord as a consequence of one summit meeting. China and the United States have already opened more than 90 channels of intergovernmental dialogue—far more than Tokyo has with Beijing. If Washington and Beijing can take advantage of these channels in the coming months to advance negotiations and minimize conflict, then those eight hours of talks between Obama and Xi will have been worthwhile.
Xi Jinping's Foreign-Policy Priorities
The government of Xi Jinping has its work cut out on the domestic front, though, as it attempts to navigate the shift to a new industrial structure and economic growth phase while containing social unrest and maintaining stable one-party rule. Given these domestic challenges, the overriding imperative for Chinese foreign policy today is to ensure a peaceful and stable international climate.
At the same time, China must cope with the challenges of a changing international environment. In recent years it has come into mounting conflict with some of its neighbors over territorial and maritime issues, and the US administration's decision to refocus its strategic resources on East Asia has complicated the regional situation further. The diplomatic activity described above reflects the foreign-policy priorities that the Xi Jinping regime has embraced in response to these circumstances. They can be summarized as follows.
(1) Maintaining a stable international environment: This posture is apparent in the Xi regime's emphasis on cooperation with the United States and its determination to "minimize conflict" between the two powers, as revealed in the upbeat official evaluation of the Xi-Obama summit. It is also reflected in remarks on maritime policy delivered by Xi in July 2013, in which he became the first Chinese leader to suggest in this context that "maintaining stability" was a priority on a par with that of "safeguarding rights." As M. Taylor Fravel has pointed out, this is a potentially significant departure, suggesting that Beijing may be prepared to adopt a more cooperative approach to territorial disputes, even if it refuses to compromise on sovereignty per se. [4]
(2) Actively cultivating relations with "old friends" in response to Washington's rebalancing policy: Chinese officials and media reports have made a point of identifying the countries on Xi's and Li's itinerary as old friends that "dug the well"—that is, countries that stood by China at some critical juncture, and to whom China owes a debt of gratitude. Not all of those countries have responded with equal enthusiasm to China's overtures, and Beijing may have made less progress on this front than it had hoped. But it may have at least achieved the goal of sending a strong message to the Obama administration regarding the latter's "pivot to Asia."
(3) Expanding China's international clout in the emerging developing world: This, too, is apparent from the prominent place of South Asia, Africa, Latin America, and the Caribbean on the diplomatic itinerary. Conscious of its own growing power, China has been working energetically to strengthen its relations with G-20 and BRICS countries, such as India, Mexico, and South Africa, that are playing a rapidly expanding role on the international stage. The new regime also seems particularly keen to boost ties with energy-producing countries.
As noted above, the Xi regime is devoting most of its energy to the difficult policy issues it faces on the domestic front. Given the extent of these domestic challenges, it seems likely that the government will continue to chart a cooperative foreign-policy course with a view to maintaining a stable and peaceful international climate.
To be sure, one cannot rule out the possibility that the current government will shift at some point to a hardline, hawkish stance in hopes of fanning nationalist sentiment and strengthening unity at home. At present, however, the essence of the current government's foreign policy is to carry on the previous regime's campaign to expand China's clout in the global community, while redoubling its efforts to maintain a stable international environment.
---
1. Xinhuanet, March 18, 2013. http://news.xinhuanet.com/world/2013-03/18/c_115067812.htm
2. Luo Zhaohui, "2011-nian Zhongguo de Yazhou waijiao" (China's Asian Foreign Policy in 2011), People.cn. http://fangtan.people.com.cn/GB/147553/237748/index.html
3. For more on the "new type of major-power relationship," see Bonji Ohara, "Japan in the New Era of US-China Relations." https://www.tkfd.or.jp/en/research/detail.php?id=629
4. M. Taylor Fravel, "Xi Jinping's Overlooked Revelation on China's Maritime Disputes," The Diplomat, August 15, 2013. http://thediplomat.com/2013/08/15/xi-jinpings-overlooked-revelation-on-chinas-maritime-disputes/