The Rational Postwar Development of Japan's Security Policy
April 17, 2014
Japan's defense-related legal system is so restrictive as to hinder timely respon ses to contingencies , which could actually abet the escalation of tensions with neighbors . The reforms being advanced by the Abe administrations, says Senior Fellow Tsuneo Watanabe, are rational moves intended to address such shortcomings.
This paper, presented at a conference on " East China Sea Tensions: Perspectives and Implications " hosted by the Maureen and Mike Mansfield Foundation in Washington, DC, in February 2014, is reprinted here with the permission of the Mansfield Foundation. The program brought together leading experts from government, defense, academia, and NGOs from Japan, China, and the United States for private and public discussions in Washington and Tokyo.
* * *
Prime Minister Shinzo Abe's security policy intentions are often misunderstood or exaggerated, either intentionally or unintentionally. In its December 18, 2013, editorial, for example, the China Daily warned against Abe's "proactive pacifism," asserting that "the catchy but vague expression" is "Abe's camouflage to woo international understanding of Japan's move to become a military power."
Abe's intentions, however, are not to turn Japan into a military power, either in qualitative or quantitative terms. Rather, his security policy is designed to incrementally enhance the functionality of Japanese defense capacity.
The China Daily 's editorial pointed out that Abe's doctrine seeks to turn Japan's Self-Defense Forces (SDF) into "ordinary armed forces." In reality, though, the SDF are far from "ordinary armed forces," which are able to take necessary actions to defend the country and to contribute to regional security promotion. Japan's defense-related legal system is so restrictive, in fact, that the inability to respond to contingencies—even when a defense response is required—could actually abet the escalation of tensions with neighbors.
On February 4, 2014, the prime minister hosted a meeting of an expert panel on reconstructing the legal basis for national security. According to media reports, the panel proposed legislation to enable the use of the SDF to deal with so-called "gray zone" situations categorized between peacetime and genuine contingencies. Under current Japanese law, the country cannot exercise its right of self-defense unless it is under organized, armed attack.
The recommendation to the prime minister came from a panel of coolheaded defense experts, not emotional nationalists. The Tokyo Foundation, too, made the above point in its policy proposal on "Maritime Security and the Right of Self-Defense in Peacetime," released in November 2013 under a project for which I myself served as leader. The recommendation of Abe's panel is closely aligned with our proposal, which called on the government to make reforms to the Diet, law enforcement authorities, and the SDF that are long overdue in order to more effectively defend Japan's territory and avoid an escalation of tensions with its neighbors, especially China, which is now persistently sending paramilitary vessels into Japan's territorial waters.
Currently, the deployment of the SDF is heavily restricted by legal and political concerns, even in addressing self-defense needs. This is based on Japan's remorse for the suffering caused to its neighbors, including China, by its wartime aggressions. This self-restraint was functional during the Cold War, since Japan's exercise of self-defense was chiefly directed against the Soviet Union and integrated into U.S. military strategy. There was no need to address intrusions into its territorial waters by paramilitary vessels.
A military invasion of Japan would be a clear case of a contingency, when the Japanese government can legally order the SDF into action. Considering the current situation surrounding the Senkaku Islands, though, Japan is more likely to face minor yet critical challenges from nonmilitary or paramilitary vessels, which would not be considered armed attacks. This could place the Japanese government in a dilemma. The SDF cannot use their full military capabilities without a defense order from the government clearing the way for self-defense maneuvers. If the government does issue such an order for an incident around the Senkakus, though, this could send the wrong signal.
Ordinary democracies, such as the United States and its European allies, do not have such a dilemma, since pre-defined Rules of Engagement outline the actions to be taken by their military forces. Japan is constricted by its deep remorse for past military aggressions and understands the sensitivity of its neighbors. But we must also keep in mind that lapses in Japan's national security laws could actually lead to a heightening of tensions in the East China Sea.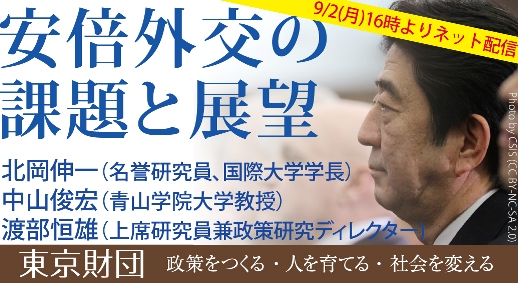 Even if the legal reforms are legitimate, why, critics may say, does the prime minister need to visit Yasukuni Shrine, stirring up new controversy and worrying neighbors? I happen to agree that the visit was ill-timed, but we live in an imperfect world in which emotional nationalism can sometimes become a source of political capital. This is true not only in Japan, though, but also in China, South Korea, and even the United States, which saw an upsurge of patriotic sentiment following the September 11 terrorist attacks.
Despite the image encouraged by China and South Korea, the Abe administration is marked more by realism than nationalism. University of Tokyo Professor Emeritus Shin'ichi Kitaoka, who is deputy chairman of Abe's panel on reconstructing the legal basis for national security, was the leader of a Tokyo Foundation project on Redefining Japan's Global Strategy, which also recently announced its policy proposal. The core message of the proposal was the importance of restraining emotionalism and taking pragmatic steps to find common ground with its neighbors.
I do not endorse the prime minister's visit to Yasukuni Shrine, and neither do the realists in his cabinet. The administration's current security policy initiatives, therefore, are not the result of an emotionally charged nationalism but represent a rational and incremental development of democratic governance in Japan's postwar security and defense policy.