Japanese language is the third most popular foreign language in New Zealand, after French and Spanish. According to the Japan Foundation Survey Report on Japanese Language Education Abroad 2012, conducted in New Zealand on behalf of the Japan Foundation by Massey University's Naomi Collins, there were some 30,000 learners of Japanese in New Zealand in 2012, approximately 0.7% of the population. The following report by Collins, who is also coordinator of the Sasakawa Fellowship Fund for Japanese Language Education (Sffjle) —as NF-JLEP is called in New Zealand— is based on an account of the Koisuru Fortune Cookie Project, originally written by Masayosi Ogino, lecturer at the University of Canterbury, and Akiko Harada, senior expert in the Japanese language at the Japan Foundation. Sffjle implements various programs to encourage Japanese language education at all levels, such as by offering scholarships for university students and a range of support projects for school teachers. The video referred to below has been viewed over 12,000 times as of February 2015.
* * *
Many companies and municipalities have been producing dance videos based on AKB48's massive hit song "Koisuru Fortune Cookie" (Fortune Cookie in Love, also known as "Koitune"), and several of these videos have already been made by Japanese language learners overseas. However, it is noteworthy that our New Zealand "Koitune" video was created by high school and university students studying Japanese in Christchurch, along with their Japanese language teachers. This included 270 people dancing together in a large university lecture theater. Please take a look at our "Koitune" video—it's the world's southernmost version!
One-Day Workshop at the University of Canterbury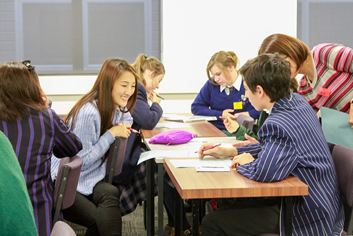 New Zealand has a population of approximately 4.5 million people, but it is a country where Japanese language learning has thrived, as it ranks eleventh in the world in terms of Japanese language learner numbers (based on the Japan Foundation's 2012 data). However, in recent years the number of Japanese language learners in New Zealand has begun to decline, and, according to statistics from a research report commissioned by Sffjle (NZ), "Japanese Language Education in New Zealand: An Evaluative Literature Review of the Decline in Students Since 2005 ," and the NZ Ministry of Education's "Education Counts ," the figure has now fallen to 45% of the peak it reached in 1996. Maintaining learner numbers is proving difficult in Christchurch in particular, partly as a result of the population exodus that occurred following the devastating 2011 earthquake.
The Sffjle research report notes that cooperation between high schools and also between high schools and universities is important for maintaining the number of learners and further enhancing the quality of language learning. With that in mind, and with the invaluable financial support of the Sffjle Program through its language camps, speech contests, and immersion days grants program, the Japanese language teaching staff at the University of Canterbury and high schools in Christchurch cooperated to carry out a "One-Day Japanese Workshop" for high school students studying Japanese. The "Koitune Project" was planned as a part of this workshop with the goal of encouraging learners to study together beyond the classroom and to deepen their interest in popular Japanese culture. But it developed a life of its own.
Completing the "Koitune Project"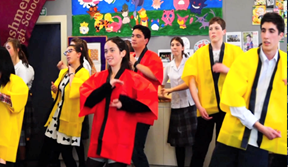 We started this project by asking each high school to shoot and submit a "Koitune" video before the One-Day Japanese Workshop. Then we filmed all the participants dancing together on the day of the workshop, and finally we edited this and the individual school versions together to create the final version. Many students had never heard of AKB48 or "Koitune" despite the widespread popularity of Japanese pop culture, such as the manga One Piece and Shingeki no Kyojin (Attack on Titan). We therefore had some concerns about whether everyone would engage in the project enthusiastically and whether there would be enough time for everyone to memorize the dance. Nevertheless, even those students who were not initially inspired by the idea started to enjoy dancing together after a few practice runs, and keener students even undertook special training on their own ahead of the video shoots.
Finally, the day of the workshop arrived. After splitting up into smaller groups for Japanese lessons, all the high school students gathered in a large lecture theater for the final session. They were joined by 23 university students who had joined their language lessons during the day as mentors and teaching assistants, so the total number of "Koitune" dancers swelled to 270.
For many high school students, this was the first time they had been inside a large university lecture hall, and dancing in such a space was certainly a new experience for them as well. They all joined in the "Koitune" dance together, irrespective of their school, year, or level of Japanese proficiency. It was at this moment that they got a real sense of being part of a larger community of Japanese language learners.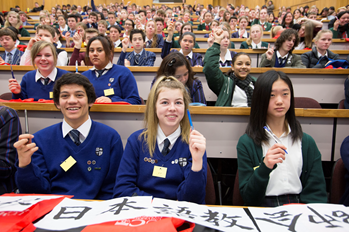 Our "Koitune Project" may have ended, but the video symbolizing cooperation between Christchurch-area tertiary and high school Japanese language teachers and learners remains. In this video you can see our aspirations toward the potential for invigorating and developing Japanese language learning in New Zealand.
We have all been inspired by the spontaneous smiles, the sincerity of the dancers' efforts, the sense of belonging, and the many valuable instances of collaboration that arose out of this project. It has also inspired us to do our utmost to further develop Japanese language education in New Zealand.