Sylff Chamber Ensemble
April 26, 2013
The three music universities in the Sylff community—the Juilliard School, the Paris Conservatoire for Music and Dance, and the University of Music and Performing Arts Vienna—have been taking turns hosting the Sylff Chamber Music Seminar and Concert series since 2006. It was out of such collaboration that the three renowned music schools chose to participate in the Together in Tohoku project as members of the Sylff Chamber Ensembles. The following are short bios of and messages from the participants.
The Juilliard School
Merideth Irene Hite (oboe)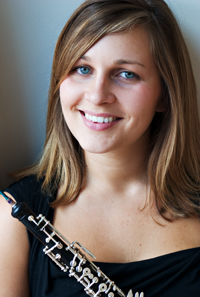 Doctoral candidate at the Juilliard School. Has appeared with the Metropolitan Opera and other orchestras and teaches oboe and chamber music on the faculty of Nyack College and to private students in New York City.
"I grew up in a very small town in rural South Carolina, and when my father bought my mother a piano as a gift, I couldn't wait to give it a try. I struggled a lot with reading music (I played mostly by ear) and so when I decided to join a band when I was 15, it seemed like a different (and exciting!) musical world. I loved to sit for hours at that piano and "pick out" tunes and joining a band meant sharing that experience with friends! Strangely enough, the oboe picked me; I requested the clarinet, but there were already too many people on that instrument. Once I started on the oboe, though, I couldn't stop! I loved the challenge that came with such special rewards. I knew right away that I wanted to spend my life playing and teaching music."p>
Moran Katz (clarinet)
Received a bachelor's and master's degree in music and an artist diploma from the Juilliard School. Was a first-prize winner of the 2009 Freiburg International Clarinet Competition in Germany and was a member of Ensemble ACJW and a fellow of The Academy, a collaboration of Carnegie Hall, the Juilliard School, and the Weill Music Institute in partnership with the NYC Department of Education, performing chamber music at Carnegie Hall and bringing classical music to students in New York public schools.
"My mother is a piano teacher, and it was only natural for me to start learning the recorder at the age of five. My love for music, performing, and my teacher's belief in me—all made me want to be a musician. At 12 my recorder teacher suggested that I start learning to play one more instrument, and ideally one with which I could experience the joy of playing in an orchestra (which I couldn't do with the recorder). I chose the clarinet and I'm so happy to be able to play different styles such as classical, klezmer, and jazz.
Bärli Nugent (flute)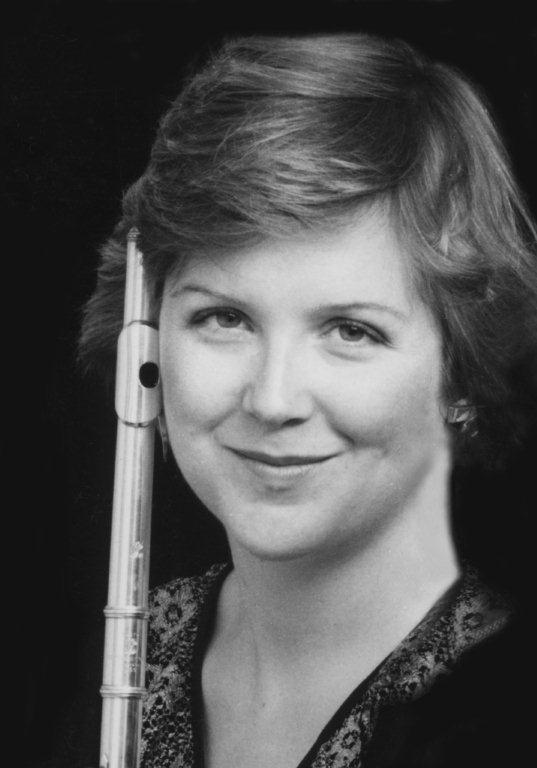 Is the assistant dean, a faculty member, and a graduate of the Juilliard School. A founding member of the award-winning Aspen Wind Quintet and has performed over 1,000 concerts with the quintet worldwide. Has been the principal flute of the Concordia Orchestra for 18 years and been affiliated with the Aspen Music Festival and School for 31 years as a member of the Artist-Faculty and Director of Chamber Music. Has presented master classes worldwide and served as a juror for the 2009 London International String Quartet Competition.
"I was a very shy child and started to play the flute at age nine because the most popular girl in school played the flute. I loved playing in my school band, loved the beauty of the music and the fun of working in a group. I started taking private lessons when I was 11, and became serious about the flute when I was accepted by a famous teacher when I was 14. My band director asked me to teach younger students when I was 14, and I loved that too! I spent 20 years of my career performing in a professional wind quintet, which has been a great joy."
Paris Conservatoire
Dylan Corlay (bassoon)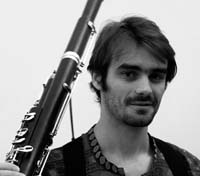 Studies at the Paris Conservatoire. Is interested in improvisation and linking art forms, and created Scènes de Mains (Hand Scenes) with instrumentalists, painter, and actors, which won a prize in the Conservatoires's "Innovatoires" competition. Received the prize for best film music at the 2010 Hamburg International Festival of Short Films, and recently presented l'Ilot Bassons (Bassoon Island), a one-man show for children and adults.
"I started music at four years of age. After playing trumpet and guitar, at 18 years old I started the bassoon. Music has always had a very important place in my life, and I wanted to pursue a career in music. At 21 years old, I enrolled in the Paris Conservatoire in several disciplines (bassoon, composition, and pedagogy), after which I began to play in different symphony orchestras in France and abroad. Music remains my biggest passion! It is unifying and allows me to share experiences with people of different backgrounds. I hope to share emotions, sensitivity, and listening with student musicians in Japan."
Carl-Emmanuel Fisbach (saxophone)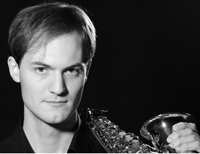 Studied classical saxophone at the Paris Conservatoire, where he obtained a master's degree, before pursuing post-graduate studies. Has won several national and international competitions and regularly gives concerts in France and abroad. Released his first album in March 2011 with pianist Wenjiao Wang centered on Spanish music and tango, and went on a tour around Argentina and gave public master classes.
"I started to play the saxophone at the age of 9, after having going to a concert by American jazz saxophonist Joshua Redman in Paris. At that time, I met a great music professor who convinced me to study with him in the music school of my city. He transmitted to me such a passion for music that after 10 years, I decided to become a professional musician. Today, I am thrilled to be able to work with you in Tohoku. I think music is the best way to share my passion for life!"
Marie Collemare (horn)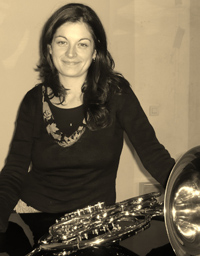 Began her studies of the horn at the age of five upon the suggestion of her father, a professional trumpet player. Believing the instrument to be "too big for a little girl," she tried several other instruments (violin, flute, percussions) but after receiving a lesson from a "great and enthusiastic" teacher, decided to pursue studying the horn. Is currently enrolled in a master's program at the Paris Conservatoire, and has been a soloist at the Orchestres de la Garde Républicaine in Paris since June 2011.
"I have never been in Japan, and I am very enthusiastic about this project. I am deeply touched by the terrible events that happened last year. I feel so sad when I imagine what the Japanese people have been through. I hope to give all my support to them while I am in the country."
University of Music and Performing Arts Vienna
Panju Kim (trumpet)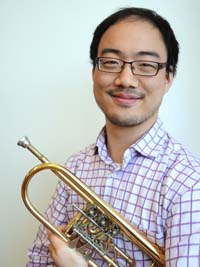 Enrolled in the University for Music and Performing Arts Vienna in 2005 and participated in the 2011 ARD international music competition. Has performed with the Asia Philharmonic Orchestra Academy, Vienna Youth Philharmonic, Webern Symphony Orchestra of the University for Music and Performing Arts Vienna, and the Academy of Vienna Philharmonic Orchestra.
"My father was a trumpet player, so I grew up listening to the instrument, and it was only natural for me to start playing it myself. I attended the Seoul High School of Arts, and after attending a master class with Carole-Dawn Reinhart, decided to enroll in the University for Music and Performing Arts Vienna. I visited Japan two years ago and really enjoyed it, so I'm very happy to be participating in this project. I've never been to the Tohoku area, and I'm looking forward to visiting and meeting everyone there."
Dietmar Nigsch (trombone)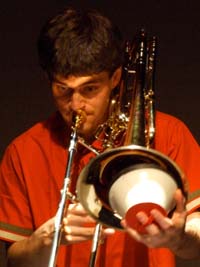 Started to play the piano at an early age because of his musical family background. At age seven, impressed by the local wind band, started to play the trombone. His talent became visible early on, and he won several local and national youth competitions and was a featured soloist at the International Trombone Festival in 1996. Went on to study at the University of Music and Performing Arts in Vienna, and received his bachelor's and master's degrees there. Performs regularly with well-known orchestras across Europe, is a member of the International Trombone Ensemble, and also tours the world as a freelance musician.
"Dear fellow musicians! I am very much looking forward to sharing the joy of making music with everybody involved in this project. The whole world witnessed the natural tragedy that occurred in the Tohoku area, and if making music together can be a small step on the way to recovery and have a positive impact for the future, I would be very proud and happy to be a small part of this. Making music has always been a source of great inspiration and pleasure for me, and I am eager to share my experiences and to learn from yours."
David Christopher Panzl (percussion)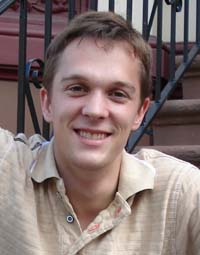 Born to a family of musicians in Austria and started playing drums at the age of three. Attended the Konservatorium Wien (KWU), from where he received his bachelor's degree in music (percussion), and is now enrolled in a master's program at the University of Music and Performing Arts in Vienna.
"Since my early childhood my main goal was to become a drummer. Since my parents are musicians, I was always surrounded by music. My father took me to rehearsals and the many concerts in which he played, and my mother took care of my music education. I was always jealous of the percussionist because I wanted to play instead. At high school I played in the school symphony orchestra, sang in the choir, and played in a jazz combo. I decided to become a professional percussionist not only because my parents are musicians but also due to an experience in high school. After my first year, I transferred to a school with a focus on math and physics, and there was no time to play music. After a few months I watched the drummer at a great concert and just knew: "This is what I want!" So I quit and went back to my old school. Two years later I visited the Manhattan School of Music in New York, and this visit changed my whole life and my approach to music. I would say become a professional musician only if you really want to. Don't look for shortcuts and don't push too hard, because this can ruin your creativity and musicianship!"