A Small Seed That Yielded Fruitful Results: A Successful JIP Project in Indonesia
February 26, 2009
The large amount of waste thrown into rivers in Jakarta and West Java caught SYLFF fellows' attention and led them to take action to clean and green the community environment. They involved not only people of the local community but also the regional government to change the environment in which their everyday life takes place.
* * *
Our Joint Initiative Program (JIP) project, conducted February 2006-April 2008, started with a small question in 2005: After all that we have learned and all the discussions that we have had, what can we do to help solve the world's problems? That simple but deeply meaningful question arose in a gathering of SYLFF fellows at the University of Indonesia (UI), after a series of discussions of various topics by members of the Association of SYLFF-UI.
The Waste Management Situation in Indonesia
The large amount of waste thrown into the rivers in Jakarta has been clogging the artery of city life for years. This problem, which worsens every year, has many negative consequences for Jakarta's inhabitants, including flooding that causes much discomfort in people's daily lives and results in millions of dollars in damage each year. The waste that is accumulating in the rivers is causing them to get shallower, and at some places people can cross a river by walking on the waste. And because the riverbanks have in effect become waste-disposal areas, people cannot leisurely walk there and enjoy nature.
Jakarta is also facing problems concerning final disposal sites. In many localities, accidents on such sites have cost the lives of scavengers working there. In addition, Jakarta is also facing a lack of such sites, and in many instances plans to create final disposal sites have been opposed by local communities.
But the real problem is deeper than that. The situation regarding the waste problem in Indonesia is analogous to dirt being swept under a carpet. One cannot see the dirt until one examines the conditions closely, a problem that is compounded by some people saying that the problem of waste in Jakarta is not very bad. This failure of people to acknowledge the problem is what drove us to plan the JIP project. Thus, part of the problem is people's attitude toward waste.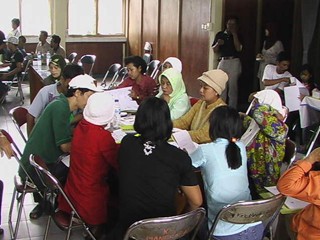 People think that once their waste has been collected, the problem is solved. People do not want to see what happens to their waste. All that matters for them is that their waste is removed on time and that they don't need to see it again. But those are only superficial considerations. People rarely examine their behavior or consider that they are just paying somebody to take their waste away and that the trash collector then pays poor people who agree to let the waste be dumped in their yards because they need the money. This is in effect a NIMBY ("Not in my back yard") attitude, because Jakarta dumps its waste in neighboring cities.
To help deal with the above problems, we started by forming a team consisting of SYLFF fellows from the University of Indonesia and Gadjah Mada University. Our first step was to collect preliminary data by creating a simple questionnaire that we used when interviewing and talking with people in Manggarai, South Jakarta. When we learned of the Tokyo Foundation's call for JIP proposals, we presented the results of our research in a proposal to the Foundation.
The first part of the project was designed to raise people's awareness of waste management through environmental education in the Manggarai community of South Jakarta. All the people there are members of one neighborhood association, RW 10 (RW stands for rukun warga, "neighborhood association"). That neighborhood association consists of 18 smaller neighborhood groups totaling 3,200 people. Our team's preliminary research indicated that 39 percent of the people throw their waste into a nearby river. The other 61 percent dump their waste in vacant areas or pay a small amount of money to have someone pick up their waste and dispose of it somewhere else.
Together With Local Communities
Our team designed a social intervention program (hereinafter "SIP") based on a literature review done prior to and during the program. The SIP emphasized the role of block leaders, high public participation, and frequent visits by the team. The team often met after dark following meetings with about 25 community members. The SIP provided training and workshops in waste management for the people, and this was warmly received by the community. About 40 people actively participated in the entire program we initiated and also started their own initiatives. One reason why citizen participation was very high and progress was so fast was explained by one of the community members, a 50-year-old male: "We are happy and grateful because you work with us, talk with us, and continuously visit us. We had many people come from universities before. But they just collected data and left us once they got what they were seeking. We never saw them again."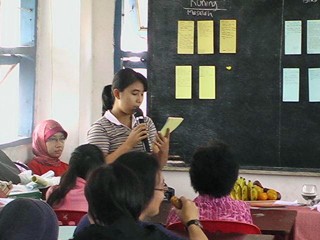 The program also brought the local residents into more contact with the local government.
Our two-year JIP project has had several positive results. Neighborhoods in the community became cleaner and greener by people creating both home gardens and community gardens. Our JIP project also made some community members aware of income-generating opportunities, such as producing and marketing homemade biofertilizer, collecting and selling recyclable materials, making products from recycled materials, and selling decorative plants.
We realized during the first year of our JIP project (April 2006-March 2007) that raising people's awareness of waste management is not enough. More effort is needed to have an impact not only at the community level but also at the governmental decision-making level.
Moving Forward With Stakeholders
We also realized that without cooperation from all stakeholders, integrated waste management is not sustainable in the long run. Waste management problems cannot be solved only at the community level; they must involve a broad range of stakeholders. For this reason, our team met again and planned further steps for the second year of our JIP project: "The Institutionalization of Sustainable Waste Management: An Extension Program of Environmental Awareness in Jakarta and West Java."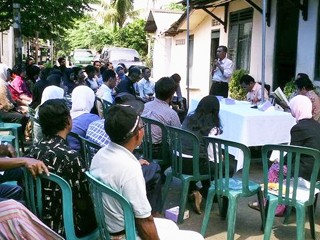 The second year of our JIP project (March 2007-April 2008) was designed to facilitate meetings involving all stakeholders in waste management in Jakarta and West Java: representatives of local and provincial governments, NGOs, and the business sector; local residents; academicians and other experts; and informal sectors and legislators. Our initial plan was to establish contact with all stakeholders, then to hold regional waste-management forums with them in Jakarta, Depok, and Bandung. The plan sounds simple, but the results were beyond what was expected.
A Focus-group Discussion in Jakarta.
The change of the program proved to be very useful for us by providing a good base and data for use in preparing the forums. Later on, we decided that we should take the form of workshops, one of which was organized as a national, as opposed to just a regional, event. The workshops were attended by more than 103 representatives in Jakarta and over 84 in Depok. Waste-management stakeholders, including local governments and important national government agencies, as well as representatives from the House of Representatives of the Republic of Indonesia were in attendance.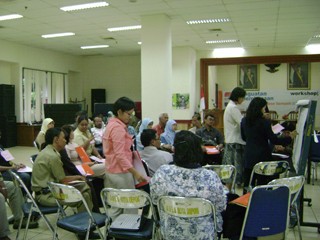 What the team felt was special was the trust placed in us by all the stakeholders. The team is small, and an informal group at that. We felt honored to be trusted by all the important stakeholders who responded to our invitation to work together. Some participants voiced their appreciation for our initiative, which provided a forum for all stakeholders to voice their opinions concerning the problem, saying, "Never before was there an initiative to allow us to meet decision makers and be given the opportunity to be heard. We thank you for that."
The Waste Management Act
At the end of the program, the team was greatly pleased at witnessing the passage of the long-awaited Waste Management Act by the government of the Republic of Indonesia on May 7, 2008. Thus, one important recommendation made by many working groups in the workshops to encourage Indonesia to adopt waste management, that is, to have regulations at the national level, has been realized.
The Waste Management Act, which is applied nationwide, is divided into 18 chapters, including general prescription, the government's authority and obligations, people's rights and obligations, waste management implementation, cost and compensations, cooperation and partnership, restriction, monitoring, administrative sanction, dispute settlement, investigation, and transitional rules. This act is expected to make a major change in waste management in Indonesia. The regulation states that government regulation and ministerial decree should be finalized within a year after this regulation is enacted, while local government regulation (by the provincial and municipal government) should be finalized within three years. During the transition, local government should close any open dumping sites within five years and start making plans to close these sites within a year of enactment of the act.
The second year project focused on the capacity building of waste management in Indonesia. This approach is different compared to the previous efforts. This project was helping various stakeholders to work together in solving waste problems in Indonesia. The issue of waste regulation, among other things that were deemed important, was discussed widely, not only by stakeholders who previously worked exclusively on the drafting through enactment stages but also by other stakeholders who never gave any attention to the regulation. At the end of the workshop, each stakeholder committed themselves to applying their efforts anyway they can to realize the recommendations made by the working groups. Soon after that, some stakeholders-who were also the facilitators in the working groups and were cooperating with the JIP team to hold the workshop, and who have been working for years on the regulation-came to the House of Representatives with new materials. The draft of the waste management act was then agreed to be enacted without much time and difficulty. This act marked the shifting of the waste management paradigm in Indonesia from collect-transfer-disposal to one that incorporates the concept of waste management hierarchy, more popularly known as the concept of 3R (reduce, reuse, and recycle).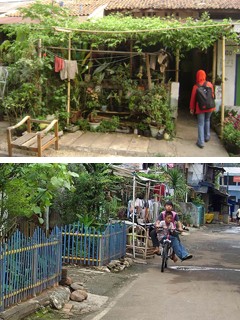 If we are asked how, with limited funds and time, we were able to attain high participation from local people and the cooperation of stakeholders, we might not be able to give you a definite answer. What we can say is that we gave people opportunities to act on their ideas and to contribute in anyway that they saw fit. We acted as participating facilitators, not as outsiders higher than the people. Also, the Tokyo Foundation, which funded the project, trusted us and gave us room to maneuver and to make changes to the initial JIP proposal. That trust means a lot to us. In addition, our hard work and devoting our time to the project were of course very important. We feel very much rewarded by the outcomes of the project.
Even though our JIP project has ended, our journey continues. The team is still receiving requests from local people, government bodies, and other stakeholders to become involved in further meetings and discussions, to present the results of the project in seminars and articles, and to give our "expert" support. We believe that the adage "A journey of a thousand miles starts with one step" applies well in this case, and that our project was such a first step. Indeed, it was a step whose good results will give rise to the next steps. We hope the fact that a small and simple initiative such as our JIP project can produce such a big change will inspire many similar works in the future.
---
Citra Wardhani
Sylff Fellow
Earned her M.A. in Environmental Studies in 2002 and her M.A. in Social Psychology in 2008 from the University of Indonesia. Is currently conducting research on urban mobility culture, poverty, and migration.
Sarojini Imran
Sylff Fellow
Earned her M.A. in Anthropology in 2002 from the University of Indonesia. Has been a lecturer at Pancasila University, Jakarta, Faculty Architecture Engineering since 1993 and is coordinating research programs for the faculty.