Reframing the Japan–Russia Relationship: A Report from the Valdai Club
December 3, 2010
At the seventh meeting of the Valdai Discussion Club last September, the author took advantage of a rare opportunity for direct dialogue with top Russian leaders to sound out President Vladimir Putin on the state of Japan-Russia relations and the potential for bilateral cooperation on nuclear energy amid a shifting power balance in the Asia-Pacific region.
* * *

From August 31 to September 9, I participated for the first time in a meeting of the Valdai Discussion Club, a forum for international specialists on Russia sponsored by the Russian state news agency RIA Novosti and other organizations. This year's event marked the seventh annual meeting of the Valdai Club, first held in 2004 under then President Vladimir Putin.
During the first half of the conference, approximately 50 Russia specialists invited from overseas meet with about the same number of experts from inside Russia to discuss the burning issues of the day. During the second half, the overseas participants have the opportunity to enter into dialogue with Putin and other top Russian officials. [1]
Face to Face with Vladimir Putin
The conference has received international accolades for offering foreign experts a rare opportunity to question Russian leaders directly and hear their answers on the spot. Japan is customarily allocated one seat at the conference, and this year I was honored to become the third Japanese participant to fill that slot, following Professor Shigeki Hakamada of Aoyama Gakuin University and Professor Nobuo Shimotomai of Hosei University. [2]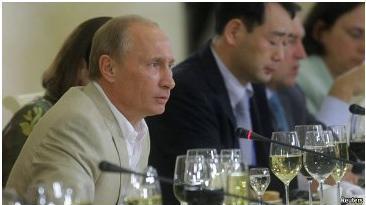 The first half of this year's meeting was devoted to five major topics: Russia viewed historically, modernization, relations with neighboring countries, Europe and Asia, and Russia and the world. The second half provided opportunities for dialogue with five top Russian officials—Governor of Saint Petersburg Valentina Matviyenko, State Hermitage Museum Director Mikhail Piotrovsky, Foreign Minister Sergey Lavrov, Prime Minister Putin, and First Deputy Prime Minister Igor Shuvalov. The highlight, needless to say, was the dinner party with Prime Minister Putin on September 6. It was held at Sochi, a major Russian resort on the Black Sea where the Olympic Winter Games are to be held in 2014. [3]
As I had been told, there was no prior screening of questions. Prime Minister Putin called on questioners at random and responded to them on the spot. The dialogue continued in this manner for about three hours. Seated just two seats to the left of Prime Minister Putin (see photo), I had my opportunity to speak about two hours into the session.
Russia Between East and West
Typically, the participant from Japan asks some question relating to the disputed Northern Territories. Although making mention of the issue, I chose a somewhat different tack. Here is what I asked Prime Minister Putin.
Japan and Russia are embroiled in a difficult territorial dispute, but I wonder if it is not necessary to reframe the bilateral relationship in a larger strategic context in order to take it to the next level.
From this perspective, how do you view the possibilities for nuclear-energy cooperation between Japan and Russia in the years ahead?
As a side note, since the Japanese nuclear power industry is becoming integrated with that of the United States, Japan-Russia nuclear cooperation has the potential to develop into a trilateral strategic partnership.
To begin with, let me explain why I asked this particular question. One of the sessions during the first half of the conference was devoted to the topic "Should Russia look forward to Asia or back to Europe?" I was interested to see how much of the discussion of Russian foreign relations over the mid-to-long term focused on the future of ties between Moscow and Beijing, perhaps in part because ties between Moscow and Washington have stabilized under the US administration of President Barack Obama. In addition, I was struck by the assumption that seemed to underlie most of the debate—that Russia had only two choices, to ally itself with China or to aim for membership in the European Union.
My response was to substitute "Asia-Pacific" for "Asia" and offer the following observations on trends in Russian diplomacy in that region from a Japanese perspective:
Russia's oil and natural gas export efforts, formerly focused on Europe, are diversifying into Asia-Pacific markets, as seen in the Sakhalin-2 liquefied natural gas project, in which Japanese businesses are involved.
Nuclear power has emerged as an increasingly important tool of Russian diplomacy, witness the recent nuclear energy cooperation agreement with Japan and Russia's successful bid to secure the first contract for an extensive nuclear power project in Vietnam.
Russia has begun capitalizing on the shifting power balance in the Asia-Pacific. For example, with tensions rising between China and Vietnam over the Paracel and Spratly islands in the South China Sea, Russia has agreed to sell six diesel-electric submarines to Vietnam.
My point was that Russia has already embarked on the path of diversification, not merely broadening its diplomatic focus from Europe to include Asia but also diversifying its focus within the Asia-Pacific region rather than putting all its eggs in the China basket.
Partners or Rivals?
The question I put to Prime Minister Putin was predicated on these observations. To spell it all out a bit more explicitly, given the growing tension between Hanoi and Beijing over the Paracel and Spratly islands, Moscow's decision to sell six diesel-electric submarines to Vietnam, together with its commitment to build a nuclear power plant in that country, inevitably puts Russia's strategic interests in the Asia-Pacific at odds with China's. In fact, in this sense Russia's strategic interests vis-à-vis China would seem to coincide with those of Japan and the United States, which worry about China's increasingly assertive presence in the East China Sea (Japan's Senkaku Islands) and the South China Sea (the Paracels and Spratlys). Might it not be advisable to reframe relations between Japan and Russia within this new strategic context and seek possibilities for cooperation? For example, with Russia having secured the contract for the first phase of Vietnam's nuclear power project and the second phase likely to go to Japan, might Japan and Russia not benefit from a cooperative arrangement of some sort in connection with Vietnam's nuclear energy program?
Prime Minister Putin's answer was essentially as follows.
To begin with, he said that in his view relations between Japan and Russia were by no means in a bad way overall. He cited cooperation in the Russian Far East and Sakhalin and Toyota's expanding operations in Russia as signs that things are headed in a positive direction.
In terms of nuclear energy, he said that Russia had plans to build an additional 28 nuclear power plants domestically. He also noted that Russia was building plants in China and India and had entered into what was essentially an alliance with German-based Siemens in the European market. He noted on the other hand that Russia and Japan were in a competitive relationship over uranium ore. He also said that he recognized the excellence of Japanese technology,
Putin stressed that Russia offers other countries a package deal that includes financing, construction of the nuclear power plant, nuclear fuel supply, and take-back of spent nuclear fuel. Finally, he promised to ask Sergei Kiriyenko, chief of Rosatom Nuclear Energy State Corporation, to consider what the possibilities might be for nuclear energy cooperation between Japan and Russia.
Recent History
At this point, a brief review of recent developments in the area of Japan-Russia nuclear energy cooperation is probably in order. [4]
In May 2009, on the occasion of Prime Minister Putin's visit to Tokyo, Japan and Russia signed the Agreement Between the Government of Japan and the Government of the Russian Federation for Cooperation in the Peaceful Uses of Nuclear Energy. [5] For Japan, a key aim in signing the Japan-Russia Nuclear Energy Agreement was the procurement of nuclear fuel. Since 2006, one Japanese corporation after another had secured uranium mining interests in Kazakhstan with the active support of Japan's Agency for Natural Resources and Energy. In signing the May 2009 agreement, Japan hoped to open the way for arrangements under which uranium ore extracted from Kazakhstan could be shipped to neighboring Russia, which has the largest uranium enrichment capacity of any country in the world, for processing into nuclear fuel. Of the Kazakh projects in which Japanese businesses are taking part, one of the most important is the Kharasan uranium mine, in which four regional electric power companies (Tokyo, Chubu, Tohoku, and Kyushu), Marubeni, and Toshiba are all involved. [6]
At the same time, last August three Japanese companies—Tokyo Electric Power Company (TEPCO), Toshiba, and Japan Bank for International Cooperation—had to abandon plans to acquire a management stake in the Canadian firm Uranium One, which holds extensive uranium mining interests in Kazakhstan, after Russia's state-owned AtomRedMetzoloto (ARMZ) acquired a controlling interest in the Canadian-based company. This is doubtless what Putin was thinking of when he referred to Russia and Japan as competitors for uranium ore during the Valdai Club meeting. [7]
That said, as long as this competition over Kazakhstan's uranium resources does not threaten Japan's involvement in the Kharasan project, there is no reason Japan and Russia cannot build a cooperative relationship in the area of nuclear energy. Indeed, this was clearly the assumption of Japan's Agency for Natural Resources and Energy last July, when it announced the launch of a feasibility study on the "Russian Far East route," a scheme under which uranium ore obtained by Japanese businesses in Kazakhstan would be enriched in Russian uranium-enrichment facilities and then shipped to Japan and other parts of the Asia-Pacific via ports in the Russian Far East. [8] Work on a joint project for storage of enriched uranium from Russia inside Japan and elsewhere is also under way.
Prospects for Cooperation
Given these circumstances, how might Japan and Russia cooperate on nuclear energy in Vietnam, as I have suggested?
As I noted above, Russia has already been chosen for the first phase of nuclear power plant construction in Vietnam. In Japan, meanwhile, 13 companies—including TEPCO, Kansai Electric Power, Chubu Electric Power, Mitsubishi Heavy Industries, Toshiba, and Hitachi—joined forces this year under the guidance of the Agency for Natural Resources and Energy to launch International Nuclear Energy Development of Japan Co., Ltd. (JINED) in hopes of landing the contract for the second phase. Those expectations came to fruition with an agreement signed on October 31 by Prime Minister Naoto Kan and Vietnamese Prime Minister Nguyen Tan Dung.
This development opens the door to cooperation between Japan and Russia on fuel supply for Vietnam's new nuclear power reactors. Fuel mined by Japanese companies in Kazakhstan could be enriched in Russia and transported to the Pacific by the Far East route. From there it could be shipped to Vietnam via Japan. Farther down the road, Japan and Russia might want to consider cooperating on construction of a storage facility for the enriched uranium in Vladivostok or elsewhere in the Russian Far East.
Once marine transport of nuclear fuel from the Russian Far East to Vietnam is under way, Russia's interests will coincide with those of Japan and the United States in respect to securing sea lanes through the East China Sea and the South China Sea. It is worth noting in this regard that just last October the Russian Naval Command suggested reviving Russia's defunct naval base in Vietnam's Cam Ranh Bay. Meanwhile, Japan, working closely with the United States, can be expected to play an increasingly proactive role in territorial issues in the South China Sea.
In short, the basic message implicit in my question to Prime Minister Putin was simply this: The time has come to reframe Japan-Russia relations in a larger strategic context.
---
[1] The other sponsors are the Russian Council for Foreign and Defense Policy (CFDP), Russia Profile and Russia in Global Affairs magazines, and the Moscow News newspaper.
[2] Of the 97experts invited, 43 were from Russia, 12 from the United States, 11 from Britain, 9 from France, 4 from Germany, 3 from Poland, 3 from China, 2 from Italy, and 1 each from Canada, the Czech Republic, Slovakia, Hungary, Japan, Turkey, Israel, Iran, Ukraine, and Georgia.
[3] Following the Valdai Club meeting, participants were also given the opportunity to take part in an international conference hosted by President Dmitry Medvedev in the central Russian city of Yaroslavl. Unfortunately, my schedule did not permit me to attend.
[4] See my article "Japan, Russia, and the Future of Nuclear Energy," Tokyo Foundation website, http://www.tokyofoundation.org/en/articles/2010/japan-russia-and-the-future-of-nuclear-energy-1.
[5] According to Japanese government sources, preparations are currently under way to submit the Japan-Russia Nuclear Energy Agreement to the Diet for approval in 2011.
[6] See Kyushu Electric Power Co. press release of December 25, 2007, http://www.kyuden.co.jp/press_h070925-1.html.
[7] See Toshiba press release of October 9, 2010, http://www.toshiba.co.jp/about/press/2010_08/pr_j0901.htm.
[8] See Agency for Natural Resources and Energy, July 23, 2010, http://www.enecho.meti.go.jp/info/tender/tenddata/1007/100723a/100723a.htm.