Symposium Report: Dietary Culture in the Global Age
January 24, 2008
Date: January 24, 2008
Panelists: Giacomo Mojoli , Spokesman, Slow Food Italy
Natsu Shimamura , "Rediscovering the Treasures of Food" Project Leader, The Tokyo Foundation, and author
Moderator: Hideki Kato, Chairman, The Tokyo Foundation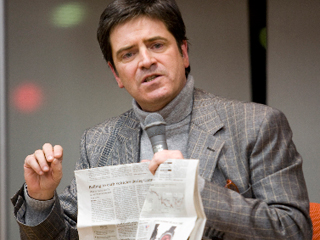 Giacomo Mojoli, Spokesman, Slow Food Italy: The Slow Food movement aims to reevaluate regional ingredients and dietary culture. It started in a small town in Italy and has now spread across the world. Needless to say, it has caught on in Japan as well?school meals are making use of local ingredients, and initiatives for local distribution of locally produced ingredients are being carried out around the country.
Slow Food is not just about eating tasty produce, though. It also aims to establish environmentally friendly systems of food production and to provide foodstuffs from which we can learn about history. Developed countries have been propelling the mass production and mass consumption of foods, which have resulted in various problems such as the distribution of potentially unsafe foodstuffs and the standardization of dietary culture typified by fast food. A variety of initiatives have been tested around the world to address these issues. One example is the movement in Japan to buy food directly from producers. This movement, which traces its origin back to the 1970s, involves producers delivering ingredients directly to consumers. I believe that the proliferation of this distribution model has led consumers to understand the background of food production, and as a result, they have changed from people who simply eat to coproducers with a partial role in production. I also think that this connection could well extend to the relationship between cities and agricultural communities. I believe that in the near future we are going to see the coming of an age in which the lifestyle of agricultural communities will, in a sense, cultivate the cities.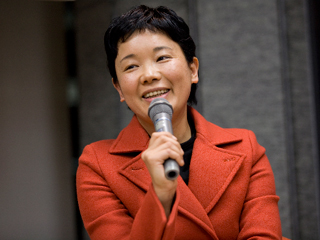 Natsu Shimamura, "Rediscovering the Treasures of Food" Project Leader, The Tokyo Foundation, and author: Japan's dietary culture underwent a huge change following the end of World War II. Cheap ingredients began to be imported from overseas and used to prepare meals, and the Japanese diet became increasingly Americanized as a result of influence from the United States. At the same time, self-sufficiency and a semi-agricultural, semi-fishing lifestyle came to be seen as behind the times. I think, though, that changes are appearing in this trend. The problems of obesity and lifestyle-related diseases caused by the Americanization of the diet have become more acute, and this has recently led to a reevaluation of the healthy Japanese diet and Italian cooking. Also, there has been an increase in the number of people turning to slow lifestyles and lifestyles close to nature, particularly among the younger generation.
If I could talk about my own experience, I left Kyushu to go and live in Tokyo, and I then moved to Italy, the cradle of the Renaissance. I went to Italy in search of culture, but Italian people there taught me the value of rural communities, and I felt glad to be able to look back at where I had come from. Also, Mr. Mojoli told me that he had traveled to various parts of Japan, and he said there surely were not any other countries with so many remaining wild areas? I could see what he meant. Mr. Mojoli talked just before about "cultivating the cities," and I think we are reaching the time for a reevaluation of lifestyles propped up by mass production.
Proper dietary education would make "best-before" dates unnecessary
Hideki Kato, Chairman, The Tokyo Foundation: I sympathize with the idea of Slow Food, and at the same time, as a member of a policy think tank, I am looking at how to introduce slow food into the scheme of our country. As a pointer, perhaps you could give us your thoughts on best-before dates. There has been an increase in the number of incidents that have brought into question the responsibility of companies with respect to best-before dates, but I feel that the real question lies elsewhere.
Mojoli: I believe that education about ways of eating and best-before dates is very important. If given the appropriate education as children, consumers are likely to use their own sense to choose food products. As an example of what I mean: If we were to promote a cultural cultivation of the sense of smell for food products, I think consumers would come to know whether or not a particular food product could be eaten, with or without a best-before date displayed. Also, consumers would be able to judge the worth of a particular food product just by looking at it or touching it. However, you cannot tell whether a food product contains noxious substances just by looking at it, so I think there is a need both for better food education and for scientific analysis of food.
Shimamura: Italian people don't drink canned coffee very much, apparently because they dislike the taste of the can. Also, I remember once giving a priest some wasabi in a plastic tube, and he commented that it tasted of plastic. I do think that best-before dates should be displayed, but it is also important to cultivate finely-tuned senses like these.
Young people around the world returning to rural communities
Kato: I think best-before dates have their roots in the culture of mass production, mass distribution, and mass consumption, and it rather looks as though we need to make a reevaluation from this starting point. Also, what does the Panel think of socioeconomic disparity? Listening to what you say, Mr. Mojoli, it sounds as if you are recommending poverty.
Mojoli: Rather than poverty, I think it would be better to call it a new lifestyle of living within moderation. Advanced countries have attached great value to economic wealth, but recently there have been an increasing number of people looking for a different set of values. For example, there is a wine-growing region in northern Italy called Barolo. When a Fiat factory was opened there, the farmers left off growing grapes to go and work in the factory, and the agricultural land fell fallow. However, the price of agricultural land in Barolo has actually risen recently, because young people are moving to the region and are starting to grow grapes again. These young people are building new communities and a new culture. This sort of thing is not confined to Barolo? young people are returning to agricultural communities in France, in the United States, and just about everywhere across the world.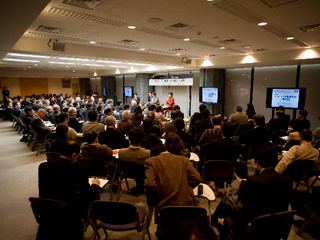 Shimamura: Italy has an association called "The Most Beautiful Villages in Italy," and some of its representatives were invited to Japan. The Japanese host organization was very keen to make beautiful villages into new tourist attractions, but the representatives of the association said that they had not come to carry out tourist promotion? they had come to show their high standard of living. I think this is an indication of different value systems.
Mojoli: I think you could say the same thing about food. The number of supermarkets and shopping centers in Italy is increasing, and food is becoming standardized. However, there are increasing numbers of Italian people who think that the food culture of the past is more important than the standardized food of today.
Kato: In Japan, people used to buy fresh ingredients at greengrocers and fishmongers and cook them in their homes, but now more and more families are cutting out the effort by buying ready-cooked foods. Ready-cooked foods are more expensive than the fresh ingredients, so the price per meal becomes higher. I think this creates a vicious cycle in which people have to work more to earn enough to be able to afford the difference, and because they work more they resort to using more ready-cooked foods. It seems to me that this mindset supports mass production and mass consumption, and the Slow Food movement is questioning this mindset exactly. I believe that this manner of questioning provides pointers for examining the question of socioeconomic disparity.
---
Giacomo Mojoli Spokesman, Slow Food Italy
For quite some time now people have been speaking of globalism in a derogatory way, but ever since its birth as an international organization, Slow Food has been striving to put globalism on solid ethical footing. With the good sense of human beings serving as its base, Slow Food has used a variety of the information society's communication tools to build up an international network. Born with a rather utopian philosophy, the Slow Food organization slowly but successfully turned its ideals into concrete entities in the course of 20 years of activities. Today it has grown into an extensive network with more than 80,000 members spread all over the world. Through its new form of globalism, it has become a huge community of the world's slow-food producers, cooks, university researchers, and others, including musicians who represent the food community. Now the Slow Food organization is embarking on a fresh start with the assistance of its international food network, and the members of Slow Food Japan have begun to play an important role within it.
Profile: Graduated from the University of Milan, where he studied in the Faculty of Arts and Philosophy. Worked as a teacher in communications, marketing, and other fields. Currently teaches design theory in the School of Design, Politecnico di Milano. Active as a food and wine writer, is a member of the final selection committees for the globally popular guidebooks Italian Wines and Wines of the World. Has served as vice-chairman of Slow Food International. Known as an ardent fan of Japanese culture.
Natsu Shimamura Project Leader, "Rediscovering the Treasures of Food" Project; writer
The broad currents of globalization are causing homogeneity to spread even in the foods the Japanese eat. Such is the intensity of the pursuit of international competitive power and economic efficiency in the world of cuisine that the way of life of chefs, artisans, and others, including those who engage in small-scale farming and coastal fishing, has come to be endangered. Complicating the situation, Japanese society is aging, and problems of finding successors abound. Day after day the mass media train a spotlight on environmental concerns, but even so we are seeing the permanent loss of the people who keep alive the archetypal images and dietary culture dear to the Japanese. Farmers in Gifu are valiantly sustaining the production of dried persimmons in a tradition carried down for a thousand years, one that was highly appreciated by the lords of feudal Japan; villagers in the mountains of Niigata continue to burn fields in a long 50-year cycle in order to grow delicious turnips; and while the traditional cultivation sites of Asakusa-nori seaweed have vanished from the waters of Tokyo Bay, fishers in Kyushu continue to cultivate it, however inefficiently with such thin seaweed, in a bid to preserve the taste of nori that virtually melts on the tongue. Vast quantities of genetically modified soybeans are now being imported, and yet even though domestic self-sufficiency has fallen to 3%, farmers in Chiba are aiming to revive production of native varieties and to maintain supply routes into metropolitan areas. Herein, I believe, lie the keys to a Japanese revival and the renewal of regional vitality, as well as to the creation of models of everyday life for the age of concern for the environment. The Ark of Taste of Slow Food Japan, which I support in a number of ways including my writings, is a network dedicated to preserving the diverse tastes of the world. Our food treasures project draws on the experience of all involved to constructively and flexibly energize producers and their communities, making use of collaboration from time to time.
Profile: Graduated from Tokyo Geijutsu Daigaku (Tokyo National University of Fine Arts and Music), where she studied in the Faculty of Fine Arts. Member of the Japan Writer's Association. In charge of the Ark of Taste of Slow Food Japan. Author of Suro fudo na jinsei!—Itaria no shokutaku kara hajimaru (Slow Food Life!—Starting from the Italian Dinner Table, Shinchosha Publishing), Itaria no maryoku (The Magical Power of Italy, Kadokawa Shoten Publishing), Suro fudo na Nihon! (Slow Food Japan! Shinchosha Publishing), Baru, kohi, Itariajin—Gurobaruka mo nan no sono (Bars, Coffee, Italians—Globalization Is No Problem, Kobunsha), and other works.