2018 4.19 THU
Kickoff Event for the Tokyo Foundation for Policy Research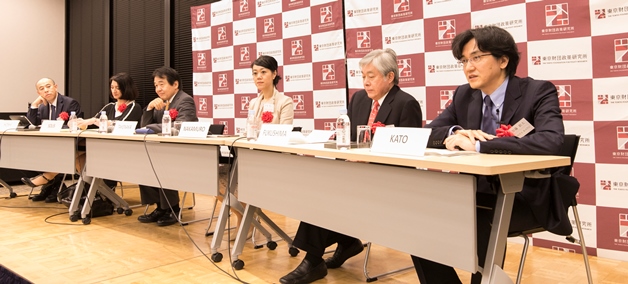 The recent launch of the Tokyo Foundation for Policy Research was commemorated on Tuesday, April 17, 2018, with a public symposium and gala reception, attended by lawmakers, government officials, academics, and think tankers.
After congratulatory remarks from Nippon Foundation Chairman Yohei Sasakawa, Distinguished Fellow Katsuhito Iwai delivered a keynote address examining the history of virtual currencies and the future of capitalism.
A panel discussion on the role of think tanks in shaping Japan's policy followed, featuring Glen S. Fukushima, Senior Fellow at the Center for American Progress; Keio University Associate Professor Makiko Nakamuro; Tokyo Foundation for Policy Research Chair of the Board Takeo Hoshi; Mireya Solis, Senior Fellow and Philip Knight Chair in Japan Studies at the Brookings Institution; and Toyo University Professor Heizo Takenaka. The discussion was moderated by the Foundation's Research Director Sota Kato.
Panelists pointed to the important role think tanks have in linking academic research with the practitioners charged with implementing policy. They highlighted some of the issues confronting think tanks in Japan, such as lack of funding, shortage of human capital, and a non-liquid labor market, as well as taking note of more recent trends, such as the public's suspicion of expertise and the growing partisan divide.
While an oversized bureaucracy is generally regarded as having precluded the development of influential, independent think tanks in Japan, panelists also noted that there were notable government initiatives in the past that paved the way for administrative and political reforms in subsequent decades, creating the potential for Japanese think tanks to become more influential.