EXPERTS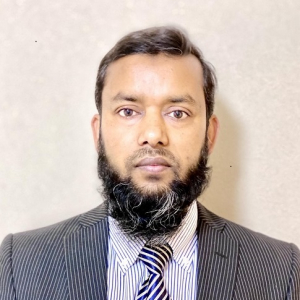 SENIOR FELLOW
Md. Mizanur Rahman
Last updated : September 23, 2023
Associate Professor (Visiting), Hitotsubashi Institute for Advanced Study
Areas of Expertise

Development and implementation of innovative approaches in public health
maternal and child health
healthcare financial risk management
policy formulation
Bio
Dr. Rahman obtained a bachelor's degree in population science from Rajshahi University in 2004, a master's degree in population science from the same university in 2005, and a doctorate in international health policy studies from the Graduate School of Medicine at the University of Tokyo in 2013. He became an associate professor at Rajshahi University and an assistant professor at the University of Tokyo in 2013 and assumed the position of specially appointed associate professor at the Hitotsubashi Institute for Advanced Study in 2021 before assuming his current position in 2023.
Research Program
Rethinking Global Health Policy in the Post-COVID Era
Using Health Metrics to Monitor and Evaluate the Impact of Health Policies
Select Publications
Papers
Rahman MM, Hossain F, Islam R, Jung J, Mahmud SR, Hashizume M. Equity in antenatal care visits among adolescent mothers: An analysis of 54 country levels trend and projection of coverage from 2000 to 2030. J Glob Health 2022; 12: 04016.
Rahman MM, Jung J, Islam MR, Rahman MM, Nakamura R, Akter S, Sato M. Global, regional, and national progress in financial risk protection towards universal health coverage, 2000–2030. Soc Sci Med. 2022 Nov 1;312:115367.
Rahman MM, Taniguchi H, Nsashiyi RS, Islam R, Mahmud SR, Rahman S, Jung J, Khan S. Trend and projection of skilled birth attendants and institutional delivery coverage for adolescents in 54 low-and middle-income countries, 2000–2030. BMC Medicine. 2022; 20:46
Patwary MM, Alam MA, Bardhan M, Disha AS, Haque MZ, Billah SM, Kabir MP, Browning MH, Rahman MM, Parsa AD, Kabir R. COVID-19 Vaccine Acceptance among Low-and Lower-Middle-Income Countries: A Rapid Systematic Review and Meta-Analysis. Vaccines. 2022 Mar; 10(3):427.
Rahman MM, Islam MR, Rahman MD, et al. Forgone healthcare and financial burden due to out-of-pocket payments in Bangladesh. Health Economics Review. 2022; 12:5
Mahmud MS, Kamrujjaman M, Adan MMIS, Hossain MA, Rahman MM, Islam MS, et al. Vaccine efficacy and SARS-CoV-2 control in California and U.S. during the session 2020–2026: A modeling study. Infect Dis Model. 2022 Mar; 7(1): 62-81
Taniguchi H, Rahman MM, Swe KT, Islam MR, Rahman MS, Paesell N, Hussain A, Shibuya K, Hashizume M. Equity and determinants in universal health coverage indicators in Iraq, 2000-2030: A national and subnational study. Int J Equity Health. 2021; 20:196
Publications
Global monitoring report on financial protection in health 2021. Geneva: World Health Organization and International Bank for Reconstruction and Development, 2021. License: CC BY-NC-SA 3.0 IGO.
Sakamoto H, Rahman MM, Nomura S, Shibuya K. Japan Health System Review. Vol.8, No. 1. New Delhi: World Health Organization, Regional Office for South-East Asia, 2018.