EXPERTS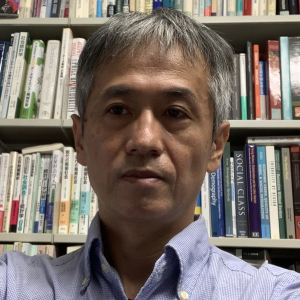 RESEARCH DIRECTOR
Hirohisa Takenoshita
Last updated : March 21, 2023
Professor, Department of Politics, Faculty of Law, Keio University
Areas of Expertise

Sociology
social stratification
statistical methodology
Bio
Hirohisa Takenoshita is a professor of sociology. He has addressed the issues of inequality and stratification, as well as immigrant integration, using statistical methodologies. He received a BA from the Faculty of Letters, Keio University, in 1994 and an MA from the Graduate School of Human Relations, Keio University. He was a research fellow at the Japan Society for the Promotion of Science. He joined the Faculty of Humanities, Shizuoka University, as an associate professor of sociology and quantitative methodology in 2005. In 2012, he joined the faculty of Sophia University as an associate professor and became professor of sociology in 2014. In 2017, he joined the Faculty of Law of Keio University as a professor of sociology and inequality.
Research Program
Evidence-Based Policy Research Leading to the Promotion of a Gender-Equal Society
Select Publications
Low Fertility in Advanced Asian Economies. Springer, 2020. (Co-author)
Creating Social Cohesion in an Interdependent World: Experiences of Australia and Japan. Palgrave Macmillan, 2016. (Co-author)
Labor Markets, Gender and Social Stratification in East Asia. Brill, 2015. (Co-author)
International Migrants in Japan: Contributions in an Era of Population Decline. Trans Pacific Press and Kyoto University Press, 2015. (Co-author)
"The Recent Economic Crisis and Unemployment of Immigrants in Japan." Journal of International Migration and Integration, 18: 563-585, 2017.
"Social Capital and Mental Health among Brazilian Immigrants in Japan." International Journal of Japanese Sociology, 24: 48-64, 2015.
"Segmented Assimilation, Transnationalism, and Educational Attainment among Brazilian Migrant Children in Japan." International Migration, 52 (2): 84-99, 2014. (Co-author)
"Labor Market Institutions and Job Mobility in Asian Societies: A Comparative Study of Japan and Taiwan." International Journal of Japanese Sociology, 23: 92-109. (Co-author)
"Labour Market Flexibilisation and the Disadvantages of Immigrant Employment: Japanese-Brazilian Immigrants in Japan." Journal of Ethnic and Migration Studies, 39(7): 1177-1195, 2013.
"Family, Labour Market Structures, and the Dynamics of Self-Employment: Gender Differences in Self-Employment Entry in Japan, Korea and Taiwan." Comparative Social Research, 29: 85-112, 2012.